Interview: Warbly Jets prove they're "Alive" with rocking debut single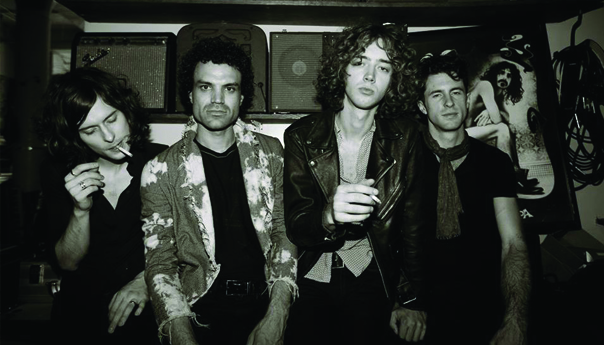 Samuel Shea's and Julien O'Neill's trip to Los Angeles in January 2015 was just supposed to be a visit. The New York City duo had an opportunity to record a few tracks and log some time on the beach.
"We had had an offer through one of Julian's friends to come out to L.A. for three months and record, said Shea, a North Carolina native who with O'Neill would go on to start the Warbly Jets. "We just thought, 'Well, let's just get away from the harsh environment of the winter and New York and kind of run away to the sunshine.'"
The Dandy Warhols, Telegram, Warbly Jets 
9 p.m., Saturday
The Fillmore
Tickets: $27.50
He met O'Neill, who hailed from the Detroit area, a couple years before that and the two hit it off creatively. They spent nearly two and a half years toying with the idea of starting a band—the sound they wanted to create, what they wanted to achieve—before jumping at the opportunity to record on the West Coast.
However, instead of a sunny vacation, Shea and O'Neill confronted a much darker reality. The offer fell through and they found themselves couch surfing and staying in cheap motels while they searched for a production space. Despite the challenges, they decided to make the most of it in Southern California rather than heading back east.
"We were both over the music scene in New York," Shea said. "L.A. … naturally became a home for us when we were not necessarily looking for one. After a couple months here, we felt about as acclimated as we had from a few years in New York, I think."
Though they migrated away from NYC, the name they chose for themselves has intensely New York roots. Warbly Jets is a reference to West Side Story.
"We were going for a sort of like a gang mentality and still something that related to sonics," explained O'Neill. "It just sort of came out of nowhere."
"I think it has something to do with the disposition of the two: something that's powerful, but also not completely solid at the same time," Shea added.
The pair found some stability when they added bassist Dan Gerbang and drummer Justin Goings. As comfortable as they are in their new home, they say they are ready to spur change in the L.A. music scene. Shea said he's concerned by the "lack of care" some musicians exhibit when recording.
"I don't really see a lot of kids who are very forward thinking with music these days," he sad. "Julian and I are both kind of studio guys. We love working with gear and love finding new sounds instead of just plugging our guitar into an amp, putting a microphone on it and deciding that's all that needs to be there."
Warbly Jets, Shea countered, tries to layer and blend sounds together to create something more, something different. He said the goal is to push the sound to the "next level."
"That could be inside of recording or inside of a live performance," said Shea. "We're just really trying to make everything larger than life and shoot for a next level that we feel like hasn't really been achieved yet."
The band's first attempt at that is debut single "Alive." Full of big rock guitars, '90s-era grunge and driving bass, the song also features an electronic component and energetic vocals. Shea said the band chose to release it first because it represents the Warbly Jets' sound well, but it also details the struggles he and O'Neill faced to make their crazy dream a reality.
"The verses have the message of trial in them and the chorus is like hitting that moment where you break through to some degree," he said. "Everybody has these trials and that's part of it. Sometimes feeling alive, you have to go through the dumps and crawl through the trenches to be able to get to that point of some sort of vindication."
There's no set release date yet for the Jets' full-length debut, though they are shooting for spring 2017. As they put the finishing touches on it, they're also finessing their live performances. The band hit the road for a few shows around New York last year and have played a handful of West Coast dates in spurts in 2016. They're finishing the year opening for The Dandy Warhols at the Fillmore Saturday before launching a 10-show West Coast tour with stops in L.A., San Diego and Salt Lake City in 2017.
"We get to drive across the United States of America with our best friends doing what we love to do, which is play music," Shea said. "There's nothing but excitement for me."
Follow journalist Brandi Smith at Twitter.com/BrandNewSmith, Facebook.com/BrandiSmithTV and BrandiSmith.me.