20th Street Block Party: Neon Indian, Kilo Kish to headline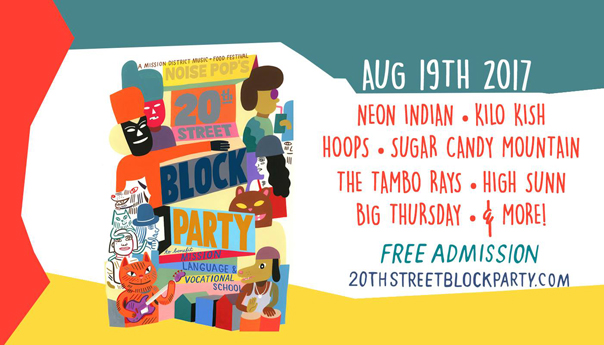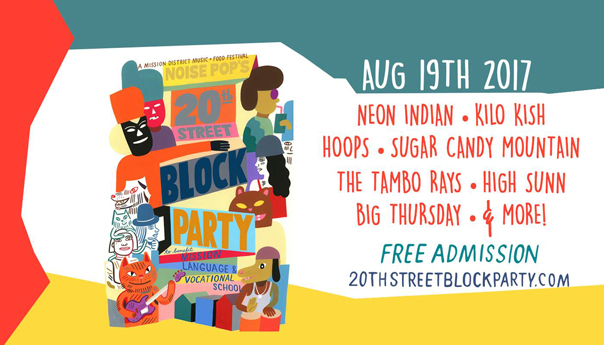 The Mission District will once again see some noise this August, during the 5th annual 20th Street Block Party. The one-day community festival will be held Aug. 19 between Harrison and Bryant streets on 20th street.
Neon Indian, a popular electronic outfit, will head line the Florida Street Stage. Kilo Kish, Hoops, and Sugar Candy Mountain round out that stage's performers. Local artists the Tambo Rays, High Sunn and Big Thursday will perform at the on the smaller Bandwagon Stage.
The event will once again benefit the Mission Language and Vocational School,. MLVS is a private, nonprofit community education and workforce development center, providing occupational skills training and Vocational English as a Second Language to Latino, unemployed and working-poor immigrants and their families, as well as other underserved groups in the San Francisco Bay Area.
The 20th Street Block Party is free to attend but donations are accepted. VIP tickets are available for $100 and offer a private viewing area as well as swag and free drinks.
San Francisco based independent music promoter Noise Pop sponsors the yearly festival. It will also include some tastes of some of the best restaurants in the Mission District, as well as a family friendly Art Row.
Culinary offerings will be provided by some of the Bay Area's favorite restaurants. Last year, Flour + Water, Burma Bear, Farmhouse Kitchen Thai and Universal Café were on-hand. This year's lineup will be announced at a later date.