Recap: Arroyo Seco Fest has something for everyone
PASADENA– Arroyo Seco Weekend proved a success, delivering a multi-generational music festival with something for everyone. Held in the shadow of the Rose Bowl on June 24 and 25, its slant toward jazz and funk brought out the Pasadena locals, armed with their deck chairs and picnic blankets. Young parents came with strollers in tow, visiting the Kidspace tent where little ones made cardboard guitars, banged drums and seemed content to later join seasoned festival-goers for Alabama Shakes and Tom Petty.
There were more gray-haired gentlemen and mother-and-baby groups than, say, Coachella, but the strong lineup was impossible to resist even by millennials.
Broken Social Scene, who has not released an album for seven years, played a one-off show Saturday. The Shins played Sunday, following five years away. They delivered favorites like "New Slang," "Australia" and an encore with Los Lobos, who covered their new song "No Fear." Weezer's Rivers Cuomo and Brian Bell, dressed as Guns N' Roses, gamely delivered hit after hit to the eager masses on the opposite stage.
Bringing some Bay Area funk earlier that same day was Con Brio. They did not disappoint with Paradise favorites like "Money" and "Free & Brave." Their stellar musicianship and frontman Zeik McCarter's showmanship were on point. McCarter kept the crowd wanting more with Michael Jackson-like moves and onstage somersaults, and he slowly stripped from a jacket over a mesh top to baring his ripped abs.
Jamtown, the self-confessed "oldest baby-band," featured Donovan Frankenreiter, G. Love and Cisco Adler. Frankenreiter and Love appeared to tire from the intense heat, but all were in good spirits. Seasoned performers on their own, a recent recording session with Adler as producer revealed they had written their best songs together as a trio. Their set was another highlight. They imbued The Willow stage with a modern saloon bar vibe; everyone clapped and danced along to their hybrid Malibu surf-meets-country sound.
Here's a few other things that set this festival apart:
Jeff Goldblum & The Mildred Snitzer Orchestra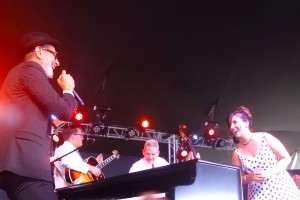 "I hear all the kids love jazz," said Goldblum, working the raucous crowd at the Willow tent. In-between deep jazz cuts from Thelonious Monk and Charles Mingus, Goldblum, seated at the piano, delivered jokes and quizzed the audience on headliner Tom Petty's acting credits. Goldblum segued seamlessly into a bossa nova version of "American Girl." He was joined by jazz singer Gina Saputo, who led him in a duet of jazz standard, "Bye Bye Blackbird."
All That Jazz, Funk and Alabama Shakes
The concentration of Southern soul in all its permutations made for an experience that could easily convert fresh ears. The energy of New Orleans Preservation Hall Jazz Band, with its woozy horns and Afro-Cuban rhythms, was irresistible. The funky grooves of veteran funk stalwarts The Meters were electric and encouraged hip gyrations. Charles Bradley was visibly slimmer after his fight with cancer and delivered a solid performance with his band The Extraordinaires. The 68-year-old broke out the smooth moves a-la James Brown and was all heart, thanking folks for the countless get-well cards he received. But the best act, arguably for the whole weekend, across any genres, were Southern-soul rockers Alabama Shakes. Frontwoman, Brittany Howard, with her Elvis-meets-Aretha punk vocals, brought me to tears on searing renditions of "Miss You," "Don't Wanna Fight" and crowd-pleaser "Sound and Color."
Life's a Picnic
Fancy picnic baskets, which sold out in advance online, came in the shape of a cardboard suitcase and dotted picnic blankets throughout the grounds. Unlike other fests, Arroyo Seco Weekend allowed picnic chairs, which took up valuable space around empty picnic blankets.
Festival Libraries
It is not every day that a music festival boasts its own festival libraries, but Goldenvoice in an effort to support community, invited independent bookstore Vroman's to curate books. These were placed in library boxes, designed and built by Side Street Projects, which brings art to local schools. The bird boxes were stocked with curated books on Pasadena art, culture and architecture. By the end of the weekend, festival-goers were invited to take books home.
Start Them Young – Festival Babies
In an attempt to corner the festival market in all demographics, Arroyo Seco wooed young parents with visions of green meadows, shady oak trees and Pasadena gem, Kidspace Children's Museum. Kids 10 and under could enter for free, and toddlers with cardboard guitars slung around their necks, sitting on the shoulder of a parent, was a common sight. Anne Herman, from nearby Highland Park, came with her husband and 2-year-old son Jack and was most excited to see Broken Social Scene. "My husband was worried there might be drugged out or wasted people," she said. "I was super-stoked that the Mothers and Baby group I belong to, which has about 200 members, were talking about attending the festival. I thought, yeah, we can do this too."
Follow Celine Teo-Blockey at Twitter.com/CelineT_Blockey and Instagram.com/celineteoblockey.