Know your fest: Arroyo Seco Weekend emphasizes jazz and rock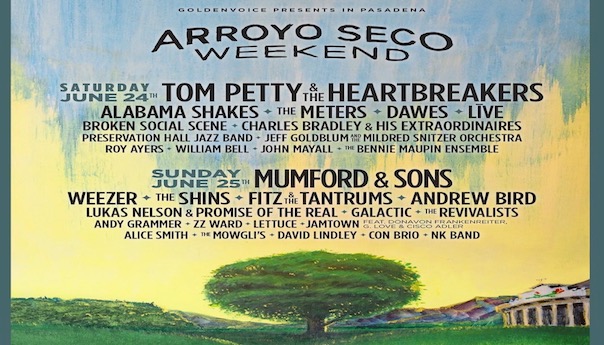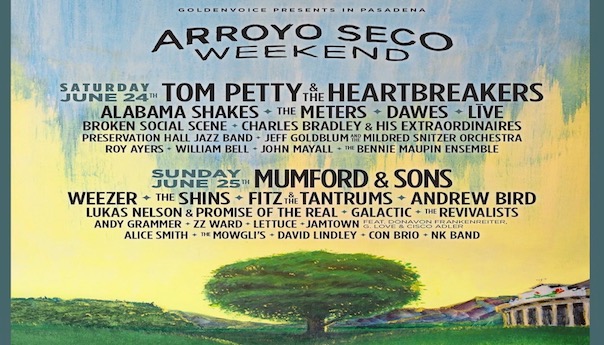 Pasadena's inaugural Arroyo Seco Weekend festival will forego EDM in favor of jazz and funk during its two-day, 30-act lineup. Charles Bradley & His Extraordinaires, New Orleans torchbearers the Preservation Hall Jazz Band and the Meters share the bill with headliners Tom Petty & the Heartbreakers and Mumford & Sons, along with indie rock favorites like Weezer, The Shins, Dawes and Broken Social Scene.
Arroyo Seco Weekend
12 p.m., June 24 and 25
Brookside at the Rose Bowl, Pasadena
Tickets: $125-$225
As the nationwide trend for music festivals to offer a smorgasbord of musical genres has resulted in largely the same acts playing many festivals, Arroyo Seco Weekend takes a different approach, one which also fits the city's love for jazz.
Festival director Nic Adler co-founded Arroyo Seco Weekend with Goldenvoice CEO Paul Tollett.
"Other festivals offer plenty of options in terms of musical genres; for Arroyo Seco, Paul wanted to make sure that the instrument was the star," Adler said. "Everyone is a musician. So if you look at the lineup, you'll see that everybody is a 'player,' and there is no electronic act. … This is not a diss on electronic music."
After all, Goldenvoice organizes several festivals, Coachella being its biggest, that offer more than ample emphasis on electronica.
"We also took a lot of cues from the New Orleans Jazz Festival–no festival was really doing jazz or funk," Adler said. "We also wanted something that sounded as good in the front row as way back, 100 feet away, under the oak trees."
It is the only festival so far to offer Jeff Goldblum and the Mildred Snitzer Orchestra on its bill. Goldblum plays a jazz show every week at the Rockwell. He is L.A.'s answer to Woody Allen, who for decades now, has played regularly with a jazz band at New York's Café Carlyle. Actor Peter Weller, Goldblum's co-star from the cult '80s movie Buckaroo Banzai, sometimes joins him on horns. It's mind-blowing for fans of the cult classic, which featured them as intergalactic heroes and bandmates of the fictitious Hong Kong Cavaliers.
"There's an excitement in L.A. with Jeff Goldblum's show," Adler said. "It is something that everyone here wants the opportunity to see. However, for whatever reason, you just can't make it out. It's kind of how we looked at food at the festival as well; sometimes you just never can get a reservation for a restaurant on the right night, or can't ever make it out to see Jeff Goldblum, but you will get that chance at Arroyo Seco."
In a town where celebrated actors like David Duchovny can pick up their guitars, sing and tour like a rock star, and comedian Maya Rudolph can perform her Prince tribute show at a traditional rock music venue like the Teragram Ballroom, this could perhaps lend the festival it's own niche for the future.
"Paul [has] a laser focus on how he picks his music for specific festivals," said Adler, who's no stranger to curating music festivals. He co-founded the Sunset Strip Music Festival in 2008, and more recently, Eat Drink Vegan, a vegan beer and food festival. Adler's father, Lou Adler, helmed 1967's landmark Monterey Pop Festival featuring Bob Dylan, Jimi Hendrix and Janis Joplin.
Adler and Tollett came up with the idea for the Arroyo Seco Weekend while tailgating at a UCLA football game four years ago.
"Arroyo Seco is the area where the Rose Bowl is: on top of a hill with a dry creek running through it," Adler said. "It was definitely love at first sight in terms of the location. … We were sharing beer, looked up and realized we were in this majestic park-like setting that lends itself perfectly to a festival. We said to each other, 'Wouldn't it be great to do something here?'"
Their next challenge was to get the city of Pasadena on board. These days, festival organizers know they have a responsibility to communities beyond the duration of the festival.
"You look at Coachella and the positive impact it's had on the desert communities," Adler said. "You need to be part of it. You can't just plop yourself in someone's backyard, throw an event and leave."
As such, apart from the many other measures that Goldenvoice has undertaken to foster good relations with Pasadena, they have mandated that 30 percent of the food vendors at the festival be local. Respected chefs and local craft breweries are featured strongly alongside the gourmet picnic-basket offerings that highlight the best of L.A.'s fine dining restaurants.
Eventually, Adler hopes the festival will attract fans from across California, the U.S. and internationally.
"It is really important for us that this be Pasadena's festival first," he said. "The people that are going to talk about it from here on will be the folks that drove 10 minutes, or walked to the Rose Bowl. Or the family that took the Gold Line in to the festival."
Follow Celine Teo-Blockey at Twitter.com/CelineT_Blockey and Instagram.com/celineteoblockey.