BottleRock 2019 Day 2: Neil Young and 14 other sets we loved on Saturday
NAPA — BottleRock Napa Valley's Saturday headlining slots covered the generational and cultural spectrum. On one corner of the grounds, you'd find a rare appearance from legendary singer-songwriter Neil Young with Promise of the Real. In another was pop hitmaker and R&B superstar Pharrell Williams. Nearby, Latin sensation Juanes performed to another massive crowd. The options gave a clear contrast for the 40,000 attendees.
For fans of Young, the BottleRock performance was a can't-miss opportunity to see the 73-year-old singer-songwriter who rarely hits the road on extended tours. The fans, generally of the older (and highly prepared) persuasion brought their blankets early and staked out any square of unclaimed real estate they could find. The addition of Young to this year's lineup was especially prescient, coinciding with the 50th anniversary of the legendary Woodstock, where Young played with Crosby, Stills, Nash, and Young.
Neil Young took the stage fashionably late and led The Promise of the Real through a dramatic build-up as the band tweaked its instruments and got its sounds dialed in. Young, donning a beanie and dark jacket, launched into "Love and Only Love," (his song with the band Crazy Horse) with vim and vigor. His atmospheric guitar playing soared above the masses. The addition of Lukas Nelson's band—Promise of the Real—proved to provide the perfect foundation to bring Young's timeless material to life even more.
Lukas and Micah Nelson, sons of Willie Nelson, operated the   Promise of the Real almost like a jam band, with Young leading the younger musicians through extended instrumental interludes that felt like they honored the Woodstock legacy. Young kept the pace up by giving "Mansion on the Hill" and "Alabama" an extra roots flare, with his trademark high register vocals shining through. Young took a moment to raise a glass (or, a mason jar) of water to the crowd.
Young's penchant for extending songs with improvised guitar solos and jams left his set relatively short in terms of quantity of songs. He continued with classics "Harvest Moon" and "She Showed Me Love" before closing out with the natural choice of "Rockin' In The Free World." All of the song extensions did eventually prove problematic as Young faced the dreaded 10 p.m. curfew during the latter song; this led to his sound being cut, but fans picked up the slack by singing and finishing out the song.
Pharrell Williams
Those who weren't at the JaM Cellars stage watching Neil Young were most likely catching Pharrell Willians in his first Bay Area performance since appearing with N.E.R.D. at Outside Lands last year. And Williams' stage was surrounded by thousands of eager fans. Seven or so dancers preceded him onto the stage in tight formation, and he would go on to interact with them on several songs, such as "Come Get It Bae." The click- and snare-heavy song, which features Miley Cyrus, instead had a vocal assist from one of the dancers.
Williams, wearing a sweatshirt with the words "ye must be Born again" (it could have been a religious statement or a message to Kanye West), scooted across the stage, walking with his dancers in front of a wall of strobe lights. He followed that up with "Marilyn Monroe," which he dedicated to "different women." Pharrell worked different parts of his range, at times singing in a falsetto, such as on "Feels," the Calvin Harris song on which he collaborated alongside Katy Perry, and "Gust of Wind," which features Daft Punk. At that point, Williams was just getting started.
Cypress Hill
Cypress Hill's B-Real and Sen Dog, along with percussionist Eric Bobo, brought legendary DJ Mix Master Mike along with them. The four made for an exhilarating set of classic hip-hop. Mix Master Mike went first, spinning rock and hip-hop classics.
The group then performed songs like "Tequila Sunrise," "Dr. Greenthumb" and "How I Could Just Kill a Man," along with crowd pleasers like "Jump Around" and "Insane in the Brain." One of the most exciting moments came in the form of a mid-set musical interlude with Mix Master Mike and Eric Bobo doing a percussion and beat mash-up that was as thrilling as it was unpredictable.
View this post on Instagram
Nathaniel Rateliff and the Night Sweats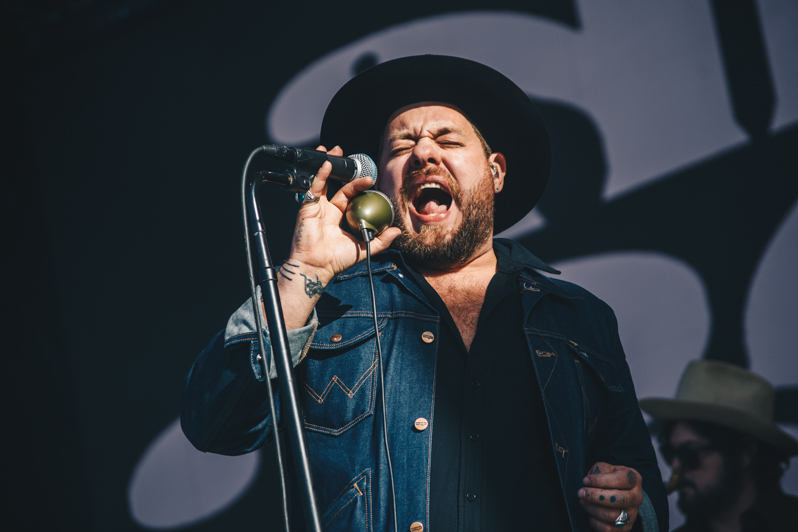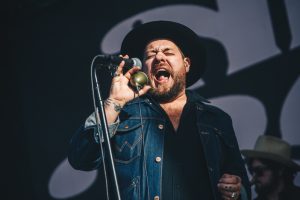 Denver native Nathaniel Rateliff and his band performed a 16-song set that ran the gamut from mournful requiems to euphoric church revival.
After opening with the likes of "Shoe Boot" and "Look It Here," the band picked up the energy with rockers "You Worry Me" and "Intro." Sandwiched between those two was "Wasting Time," a slow ballad with a descending scale a la Bruce Springsteen's "My City of Ruins."
"A Little Honey" and "S.O.B" ratcheted up the euphoria further, the latter of which turned into a 10-minute song with various other bits thrown into the pot. Nathaniel Rateliff and the Night Sweats concluded with "Tearing at the Seams," which Rateliff dedicated to the late musician Richard Swift.
Chevy Metal
Unquestionably the weekend's loudest band, Chevy Metal may also qualify as the most fun. A cover band side project of Foo Fighters drummer Taylor Hawkins, the band played a full-throttle high energy set of classic rock that reverberated well beyond the limits of the FireFox stage. Hawkins, behind the drums, played part DJ and part MC, casually conversing with the crowd. The set varied between a number of different artists, all of which the band jammed through fast and loose, including Van Halen's "Panama" and The Knack's "My Sharona."
Juanes
You know what we learned while watching Juanes Saturday evening? That we're not as proficient in Spanish as we were in high school. This meant that we had to understand his set of pop, blues rock, cumbia and other genre-blending songs emotionally rather than technically.
The Latin pop star and Grammy winner attracted a huge crowd of fans, many of whom were salsa dancing in every available patch of grass nearby. Juanes performed in front of a brightly-lit screen on songs like "Nada Valgo Sin Tu Amor," "Volverte A Ver" and "La Plata."
What were those songs about? No idea. But they did make us want to dig out our dancing shoes.
The Regrettes
Every time we see The Regrettes, we are reaffirmed that, despite their ages, they're a terrific band for any age. That singer-guitarists Lydia Night and Genessa Gariano are able to keep their momentum despite having to replace their rhythm section over the past year is also impressive. Night is a terrific band leader. She's got the swagger of a Gwen Stefani. Gariano, meanwhile, has the huge task of keeping the music going while Night does frontwoman stuff.
The Regrettes played quite a few newer songs Saturday, opening with 2018 single "California Friends" before transitioning to "Red Light" and "Come Through." The latter led into a cover of Katy Perry's "Hot N Cold," which was sped up and given a rougher edge. Another new cut, possibly called "I'll Catch You," had more of a Brill Building sound, much like The Regrettes had on "Hey Now," which they of course also played.
Madison Beer
If you saw Madison Beer's set at the Bai stage, you're likely going to remember it for two things. First there was a 20-minute delay due to the video screen not behaving, which actually had some fans booing and declaring, "I'm missing Chevy Metal for this?" The second came about 15 minutes after she and her dancers finally took the stage, when a commotion turned into a frenzied run by everyone to get as far away as possible.
What may have been lost was that Madison Beer's performance was one of the more entertaining ones from the first two days of the fest. As she delivered sexy, slinky R&B pop songs one after the other, her two dancers encircled her while showing off moves in many contemporary and urban styles. The set, though it felt disjointed because of the original delay and the brief, panicked pause, included bangers like "Home With You" and "Fools," as well as "Teenager in Love," which had fans swaying along.
Ballad "Tyler Durden" proclaimed love for an unrealistic man—or for "Fight Club." "Say It To My Face" and "Hurts Like Hell" likely helped some people catch their breaths following the commotion.
We Banjo 3
Irish bluegrass band We Banjo 3 had neither three members—there were four of them—nor three banjos (we counted two). Yet the Galway band's set, which included everything from breezy folk to (most often) foot-stomping fiddle-led jams, was one of the best of the day.
"The only thing you need to know about us is that our music is for dancing," singer-guitarist David Howley declared. Their songs, such as "Get On Board" and "We All Need More Kindness in This World" were the type of music BottleRock had plenty of the first few years but has slowly decreased.
The two sets of brothers, played more than straightforward bluegrass, however. They mixed in elements of Celtic folk like a solo on the traditional bodhrán hand drum (that would be by fiddler Fergal Scahill), and turning a traditional Scottish bagpipe song into a raucous dual-banjo rocker. Oh, and they covered Stevie Wonder's "Superstition" and blended their tune "Dawn Breaks" into Whitney Houston's "I Wanna Dance With Somebody."
Elle King
Elle King brought her hell-raising attitude to her lively afternoon set. King and her band were rolling on all cylinders from the first note with her tough-to-pin-down mix of rock, pop, country and Americana. She let her performance do the talking, saying few words over the course of an hour. Her voice was powerful, soaked in whiskey and cigarettes, but would occasionally let out a howl akin to Bon Scott.
King rolled through rockers like "Last Damn Night," "Chain Smokin, Hard Drinkin, Woman" and "Shame." She used her own personal setbacks to fuel the recording of her latest album, and the confidence that came from that process showed on stage. King strapped on an acoustic guitar, banjo and even a Flying V electric guitar, and kept the crowd jumping and dancing along with infectious "Ex's and Oh's."
View this post on Instagram
Gary Clark Jr.
After a Friday night aftershow set in downtown Napa that went on well past midnight, Gary Clark Jr. returned Saturday for his festival performance. Clark took the stage dressed in black from head toe, sunglasses and his hat tilted to the side.
Opening with "Bright Lights," Clark effortlessly crisscrossed between hot blues licks and soulful vocals. He continued with "What About Us" and "When I'm Gone," flashing his impressive guitar skills. Throughout his set, Clark kept a cool demeanor, occasionally flashing a quick smile at the conclusion of his songs. He ultimately closed with the scintillating "I Walk Alone," which transitioned into a cover of The Beatles' "Come Together."
Against Me!
Florida rockers Against Me! had no slow gear. Every song had many beats per second, which would test most drummers, yet Atom Willard never wavered. Laura Jane Grace seemed to increase intensity as the set rolled on, from emo cuts like "True Trans Soul Rebel" to "White Crosses," which upped the fist pumping and head-banging while adding an operatic element.
Through "Walking is Still Honest," "FUCKMYLIFE666" and "Pints of Guinness Make You Strong," the songs blended together without a chance to catch a breath between them.
"The irony of that song is that it's a song about alcoholism, drinking Guinness, by someone whose dry, at a wine festival," Laura Jane Grace said of the latter. Against Me! then launched into "Unconditional Love" and hit "New Wave."
Jared and the Mill
Phoenix indie rockers Jared and the Mill brought passion and authenticity to their afternoon Lagunitas Stage set. Frontman Jared Kolesar showed constant energy throughout, and the band's sound was a varied and eclectic mix of revivalist rock and country rooted in a foundation of Americana. There was an evident Tom Petty influence with deeper country roots.
The band's set featured everything from blistering guitar solos to banjo accompaniment to slide guitar overtones. Midway through, Kolesar and guitarist Larry Gast jumped down to the ledge of the stage to burn through a high-powered instrumental. Kolesar concluded by bringing the crowd in close and encouraging them to embrace the people around them. He led a call-and-response sermon before performing a five-part harmony into the single onstage mic.
Slothrust
Slothrust may be newer than some of the more established acts on Saturday, but the L.A. trio was also one of the best ones. Vocalist-guitarist Leah Wellbaum, bassist Kyle Bann and drummer Will Gorin's set was tight, varied and followed by a figurative exclamation point. Most of the songs were also under three minutes, which let the band keep the moment strong.
Blistering new cuts like "Peach" and "Planetarium" fit alongside R&B-inflected slow-burner "On My Mind," slinky "Double Down" or an instrumental cut or extended jam session. Between "Horseshoe Crab" and "7:30 AM," the band switched from grunge to rockabilly. And no matter what direction the trio veered in, it sounded just as capable of performing it.
Elley Duhé
Elley Duhé performed with a DJ/hype man early in the day on the JaM Cellars stage but we think her voice would be great a fit alongside a rapper. Her lower register and touch of vibrato had an effect not unlike Miley Cyrus or LP. She's got some work to catch up on in terms of stage presence, but she was on the right path at BottleRock on songs like "Can You Touch," the Middle-Eastern-tinged "Fever" and "Way Down Low."
On "Savior" she paired '80s synths with a modern hip-hop beat, and she explained how her song "Counterfeit" was about dismissing the people who were dragging her down.
—Staff Report
Follow writer Mike DeWald at Twitter.com/mike_dewald. Follow editor Roman Gokhman at Twitter.com/RomiTheWriter. Follow Shawn Robbins at Instagram.com/photo_robbins and Twitter.com/ShawnTheRobbins.