Review: Monsters of Folk (almost) reunites at Hardly Strictly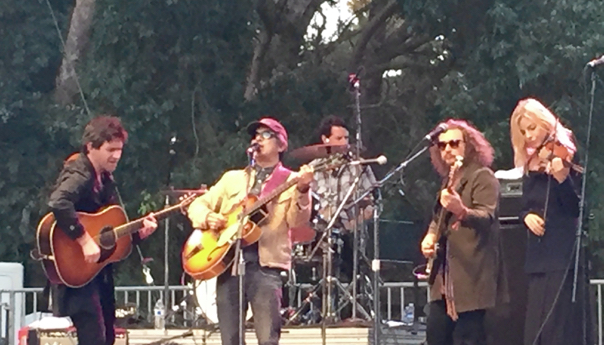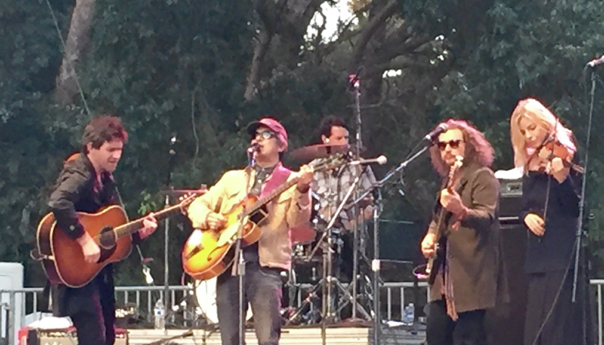 Photos: Nick DeCicco
SAN FRANCISCO — An almost-reunion for rock supergroup Monsters of Folk was the highlight of a strong Conor Oberst set to close out Friday's first day of the Hardly Strictly Bluegrass Festival in Golden Gate Park.
Jim James and M. Ward joined Oberst for a pair of Monsters of Folk songs during the Bright Eyes singer's set, teaming up for "Say Please" and "Whole Lotta Losin'" from the collaboration's lone, self-titled project.
"If you close your eyes, it's gonna be 2009 all over again," Oberst said.
Monsters of Folk's last gig was in 2010, according to Setlist.fm. Multi-instrumentalist Mike Mogis, the group's fourth member and also part of Bright Eyes, did not participate Friday, with Oberst's guitarist Megan McCormick standing in.
It was the highlight of a stellar 75-minute set to conclude first first day on the Rooster Stage. Oberst complimented a set that included fresh cuts from his forthcoming LP Ruminations with selections from the Bright Eyes' catalog, including "Four Winds" and "Bowl of Oranges."
For the fifth consecutive year, Oberst curated the day-one lineup on the Rooster Stage as part of the festival's "Conor Brings Friends for Friday" feature.
Among this year's friends was Jim James. The My Morning Jacket frontman's set included nothing from the group, but several tracks from the forthcoming Eternally Even that are not yet available to stream.
In contrast to his My Morning Jacket performances, James took center stage, prowling with the microphone cord wound looped in his hand. On a few selections, such as newcomer "Hide in Plain Sight," he stepped to a guitar secured to a stand. It's functionality was questionable given James' insistence on playing it as though it were slung around his neck with a strap, tilting backward onto the balls of his feet to rip a solo or interject color into some songs. He also played keyboard.
Philadelphia rock group Hop Along had the hardest-charging set of the day on the Rooster Stage. Guitarist and singer Fran Quinlan's distinct, pained howl guided the propulsion that came from the band's players, who matched her vocals. The combo made them one of the highlights of Friday's slate.
Guitarist Joe Reinhart shined throughout the set, using a tone that matched Quinlan's sneer. His fireworks on "Sister CIties" were his flashiest work of the day.
Omaha, Nebraska-based Anna McClellan delivered an intimate set of originals, hitting tracks from last year's Fire Flames. MiWi La Lupa, a New York-based rock musician, showed warmth as he invited fans into his music, including selections from March's Ended Up Making Love and the recently released Beginner's Guide. Twin Limb, which doubled as James' backing band, kicked off the day.
Venture capitalist Warren Hellman founded the festival in 2001 as the Strictly Bluegrass Festival. The event rebranded as it grew to include artists in a wider range of genres. Hellman died in December 2011, but the free festival continues thanks to his largesse.
The 2016 installment continues from 11 a.m. to 7 p.m. Oct. 1 and 2 in Golden Gate Park.
Setlists
Conor Oberst
Time Forgot
Four Winds
Cape Canaveral
Sausalito
Next of Kin
Till St. Dymphna Kicks Us Out
Take it Easy (Love Nothing)
Desert Island Questionnaire
Bowl of Oranges
You All Loved Him Once
Say Please
Whole Lotta Losin'
A Little Uncanny
Train Under Water
Napalm
Jim James
Know Til Now
Same Old Lie
Here in Spirit
Hide in Plain Sight
Dear One
Worlds Smilin
A New Life
State of the Art (A.E.I.O.U.)
Hop Along
The Knock
Waitress
Kids on the Boardwalk
Texas Funeral
Powerful Man
Well-Dressed
Sister Cities
Tibetan Pop Stars
MiWi La Lupa
Cold Moon
Beginner's Guide
Giant Sleeping
Refreshments
Plagued by Rules
The Bright Side
Holiday
Big Heart
Ended Up Making Love