ON THE GROUND at BottleRock 2016 – Part 3
NAPA — The fourth installment of the BottleRock Napa Valley music, drink and food festival was perhaps its most cohesive, with a strong lineup from the very top with Florence and the Machine, Stevie Wonder and Red Hot Chili Peppers, all the way down to the Napa Youth Orchestra and tween hard rockers The Helmets.
We're reporting from Napa with several of the musical performers. Part three concludes the series with English glam-rockers The Struts, Australian indie rock duo Atlas Genius, English blues singer-songwriter Jamie N Commons and San Francisco dark pop favorites Dangermaker.
The Struts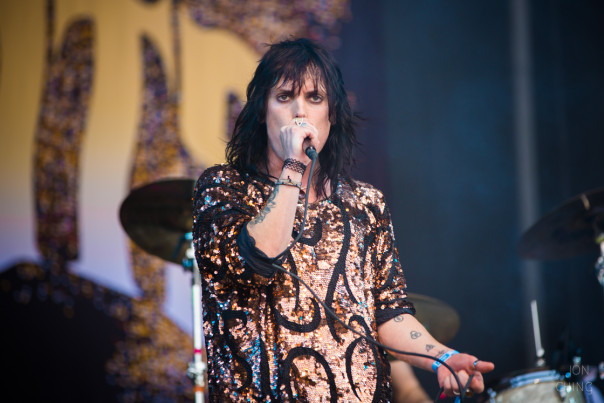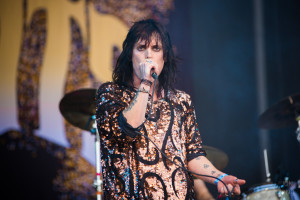 The Struts, who are currently touring in support of their American debut album Everybody Wants, are a spectacle to behold on the stage, with glitter, makeup and dramatic delivery for miles. Off the stage, frontman Luke Spiller, guitarist Adam Slack, bassist Jed Elliott and drummer Gethin Davies are much more introspective and make for a thoughtful conversation, even when they're comparing themselves to Spın̈al Tap.
You play numerous festivals in the summer, but BottleRock is one of the first, if not the first. How do you keep them separate? How do you remember what happened where?
Luke Spiller: It's quite hard, actually, because the schedule is quite relentless, and we're doing, on average, about three, maybe four shows in a row, including festivals. So it is pretty hard keeping up, knowing exactly where you are. I normally just get our tour manager … to write down on the set list. Very Spın̈al Tap. That's the best way to keep tabs on where we are.
Jed Elliott: I also remember each of the shows by the weather. I remember Memphis was a muggy one where it was raining, and we all got our boots ruined in the mud. I remember this one as the one with all of the wine and the sun, which is pretty good going.
Spiller: We won't forget this one. I think this one has definitely been one of the highlights of our year so far. Like yesterday, the crowd was nothing short of breathtaking. It was great.
Gethin Davies: Many beautiful old women drinking wine. How can you forget?
Spiller: It's cougar town around here. Gethin's aroused.
Davies: Don't let me out of my cage.
Do you have any other favorite Bay Area memories? Have you traveled here as children, or have you played here before?
Adam Slack: No, we have not. The first time here was the other day.
Elliott: We've been out [in the US] since last August, we've always wanted to come to San Francisco, and this is the first time. We still haven't really seen a lot of it, because we've been on the festival site. But we've eaten some good paella, had some good vino.
Spiller: We've basically just been walking around this festival, and that's about it. Well, we had a little bit of a drive. We had a drive coming into San Fran, and we did a radio show where we drove right along the…
Slack:It's near the bridge going to Oakland…
Elliott: Azkaban?
Spiller: …Would you call it a "mouth to the sea?" There was a giant bow and arrow sticking into the ground. So we saw that, which is quite nice. I've noticed a lot of the residential architecture is quite similar all around. Very square. There's no such thing as a traditional triangular roof, in San Francisco, not where I could see anyway.
Atlas Genius
Brothers Michael and Keith Jeffery and their bandmates put on one of the strongest Saturday sets, with songs from debut album When It Was Now blending seamlessly into material off 2015 follow-up Inanimate Objects. Later, I found out that to make the Atlas Genius performance happen, Keith had to power-up with allergy medicine to fight through a hay fever attack. It wasn't the first time on their current tour where a performance wasn't complicated with medical issues.
Michael, you fell and hurt your arm at a show a couple months back. Was it just a strain or more serious?
Michael Jeffery (drums): Yeah, we were in Washington state, I was playing a show, and the wall that I thought was a solid wall ended up being a sheet pulled tight. I went to brace myself to get behind the drum kit, braced myself against the (sheet) and it just gave way. I fell down about 4 or 5 feet, but I fell awkwardly amongst lighting and cables and pulled my right arm back behind my head in a weird position and it sort of strained it a bit. Our tour manager could hear a popping afterwards after I moved it back.
Keith Jeffery (vocals): It was gruesome.
Michael: Yeah, and there's still a bit of pain there, but it's going (away). I just need to stretch it out a bit. Luckily it didn't break anything and I could still play the shows, which was lucky. Touch wood. It was painful, it was hard to extend my right arm out and hit cymbals, but I managed. I had to alter my playing a bit there.
Has everything worked out exactly as you guys would have hoped for the new record, or is there anything you would've done differently?
Michael: I don't think anything ever goes the way you think it's going to go, in life, just in general. The first album, our musical careers (have) always been full of surprise, I mean that's the nature of the business and nature of the art. We get to travel and do what we love, so that's gone the way that we want to. We're traveling, we're touring, we've had a great six months on the road. I don't really know what my expectations were, but it's been great.
Jamie N Commons
Jamie N Commons pulled double duty at BottleRock, first with his own set and then joining X Ambassadors on stage to perform their two collaborations, "Jungle" and "Low Life." Commons has a new self-titled EP out now, but he's already looking forward to completing work on a debut album, for which dozens of songs have been written. When posed with the question of which song written by someone else he wished he would have come up with himself, he had the answer instantly.
What song written by another musician do you wish you would have written yourself?
Oh my word. So many. Just because I did a cover of it the other day, it's one of my favorite songs of all time and it's so simple. It's the most beautiful song I know. It's a song by Sufjan Stevens called "John Wayne Gacy, Jr." off Illinois. It's the sweetest song ever about a child rapist clown and it's one of those things—I don't want to sound super emotional—even thinking about it I can't not cry. It's so sweet but so horrific at the same time, it captures all that innocence and pain in one thing. There's something about it, it's magic. It's full-on magic, that song.
It's so tight. Every verse he steps it up, it gets darker and darker. It never overexerts. It's a two-and-a-half-minute song. It's that childish innocence, but it's also about raping and murdering kids. It's crazy. I think arguably, maybe not the best song ever, but the most effecting. Even thinking about it, the dynamic of it, it's too much. I did a demo of it the other day, like a cover of it and sent it to my girlfriend [with a note stating], "I'm so sorry. This is going to full-on ruin your day." Have some beers, listen in a hangover, and just cry for an hour. It's brutal. One of the best songs ever written. At the same time, I don't even want it in my life. I love it so much but I don't even want it.
Dangermaker
The four members of San Francisco dark pop band Dangermaker want people to know that they're more of a nighttime band. At BottleRock, the band performed around 1 p.m., which was a bit of a change, but didn't knock them off their stride. Several hours later, we met up to discuss many topics such as when their fans can expect to hear more music, and tell some bad jokes. By that point, evening was approaching, and the four were likely itching to get back up on stage.
Do any of you spend a considerable amount of time here in Napa?
Adam Burnett (guitar, vocals): I love [San Francisco], but it's also equally important to get out and do something different. I have a lot of friends here. I have good friends, one of whom was just here, who were born in Napa, actually. I've been up here quite a bit.
David DeAngelis (keys): This is my first time in downtown Napa, which is crazy because I've lived [in the Bay Area] for six years. But, I go to Sonoma all the time. I've been to Sonoma or Hillsborough, right like off the 101. I've never actually made it to Napa proper, so this is really cool. I love Sonoma, the North Bay. I'm trying to get my parents to move out here.
Neko Matsuo (bass):I tend to be an urban kind of cat. I don't really do this whole "pretty" thing very well, but I do have a lady friend who really likes this country thing. She's helped me cultivate the love of this kind of environment. I've been to Napa a couple of times and actually love it. I can genuinely, honestly say she's converted me on that front.
Carlos Rodrigues (drums):I really like it. The weather here; I love the heat.
When can people expect to hear new material from you?
Burnett: We have another new EP that's done and we're just trying to figure out when to put it out; soon.
Matsuo: We can't pick the right font.
Burnett: I have, like, 5,000 fonts.
Matsuo: He is going through 10 fonts a day, so it is going to take him 500 days to get through this. What is that?
Burnett: So, early 2018.
DeAngelis: No, it'll be coming out pretty soon. Summer or fall.
Burnett: We have stuff ready and it's just sitting there.
DeAngelis: We also tend to move pretty deliberately. We've invested the time in trying to record something really well put together. I want to make sure the stuff gets out there and gets the time it deserves. As opposed to releasing something as soon as it's done and having it out there and being like, "Oh, let's move on to the next thing."
Rodrigues: You are actually going to see that in these three new songs that are coming out. We've gone back and said, "There's something not right." We went in and and actually made a couple of tweaks here and there.
You named the after a character from "The Avengers," right?
Rodrigues: It was one episode. I'm a fan of the show. I love the '60s classics like "The Saint," Roger Moore… it speaks to the influence of the culture from that. Yeah, so I suggested that name. The Dangermakers were these ex-military veterans who weren't satisfied with life, so they were going out looking for a buzz doing really dangerous stunts, like jumping off of buildings, getting themselves killed.
Burnett: There was a list of maybe 500 potential names.
Rodrigues: On a spreadsheet. We had a poll vote.
Burnett: We went through a serious process.
Follow editor Roman Gokhman at Twitter.com/RomiTheWriter.