Survival Guide: Outside Lands stage times announced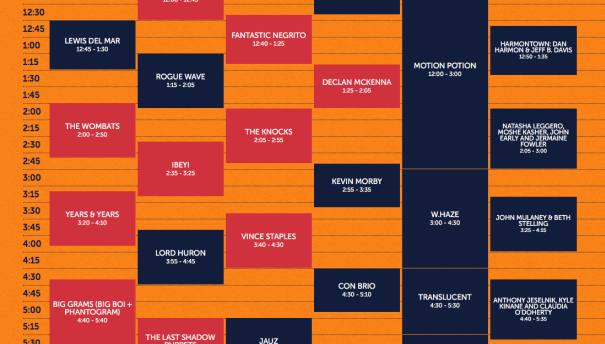 What do you all massive festivals with multiple stages share in common? It's always difficult to navigate and impossible to see every artist. Outside Lands, which released its daily stage time schedule today, is no exception. Just one of many conundrums: Gorillaz at Lands End or Alt-J at Twin Peaks?
While RIFF can't help you be at two places at once, we can help you sort through the madness and make these difficult decisions just a tad bit easier.
Friday
Sometimes this is an easy decision, but the lineup at Outside Lands is so stacked this year that it's going to take some planning.
Hundred Waters and Porches overlap early on Friday and both have large followings. If you prefer down-tempo folk with an electronic twist, Hundred Waters isn't a bad place to begin. Otherwise, go with lo-fi indie rockers Porches. Shortly after those bands, Kool Keith performs under his moniker Dr. Doom. Fans of Ultramagnetic MC or Deltron 3030 will need to hustle to the Land's End stage.
Belle and Sebastian perform on the Sutro stage from 5:40 to 6:40. Catch the first 25 minutes of their set before moving on to Sohn at the Panhandle stage or A Tribe Called Quest at Lands End. Fleet Foxes take over at Sutro at 7:10 p.m. but you may have to sacrifice seeing Future Islands at Twin Peaks. Headliners Gorillaz are on at 8:05 p.m. at Land's End, giving everyone a chance to catch at least a few minutes before running off to Alt-J at Twin Peaks.
If you really don't want to miss the last 15 minutes of the Fleet Foxes' set, choosing Alt-J over Gorillaz is your best bet.
Saturday
Cage the Elephant, The Avett Brothers, Foxygen, Bomba Estereo, Empire of the Sun and of course Metallica highlight this day.
Bad news for fans of both Cage the Elephant and Foxygen: the duration of the Foxygen set at the the Panhandle stage is during Cage the Elephant's longer performance at Land's End. Even the Avett Brothers' set at the Sutro stage begins before either the other bands finish. Choose one or the other and head straight to see the Avetts, unless you want to catch a DJ set by Josh Wink in the the House by Heineken tent.
The end of the night is decided for you based on whether you're a Metallica fan. The Bay Area rock band's set at Lands End overlaps Bomba Estereo at Panhandle and Empire of the Sun at Twin Peaks. But chances are you're either going to one place or the other.
Sunday
Finally, the headliners on Sunday are Action Bronson, Lorde, Schoolboy Q, Rebelution, The Who, Solange and Above & Beyond.
Action Bronson takes to the Sutro stage at 5:10, but Lorde cuts into his performance 30 minutes later at Lands End. Luckily, there isn't too much overlap on the closing end of Lorde's set, unless you want to leave 10 minutes early to catch Schoolboy Q at Twin Peaks. Rebelution performs at about the same time, so you will need to decide between rap and reggae.
All that's left is deciding between rockers The Who, electronic act Above & Beyond and soul singer Solange. Solange has the shortest set of the three,  only 50 minutes, but if two hours of The Who is just too much, then her quick set would be a refreshing change of sound and an excellent closer to Outside Lands.
Follow writer Michael Massaro at Twitter.com/michaelcmassaro.