Outside Lands: Gorillaz and 7 other acts we loved on Friday
A last-minute postponement by legendary hip-hop crew A Tribe Called Quest didn't spoil the mood for tens of thousands Gorillaz fans Friday, the first day of the Outside Lands Music Festival.
And Gorillaz, the electronic, animated project of Blur's Damon Albarn did not disappoint with a nearly two-hour set that included new material, classic cuts and guest stars galore. The band doesn't make many live appearances, which makes sense given its made up of a bunch of animated creatures, but Albarn and his large band did a masterful job blending live performance with visual concepts.
It was at first unclear how the performance was carried out; would the band perform behind a curtain? (Nope; the musicians and singers were easy to see, though sometimes bathed in shadow). How would the vocals be sung, given that many of their songs are sung by others? (On this night it was a mix of guest rappers and singers like Kali Uchis, and screen projections; the coolest being Mavis Staples).
Other guests included Pusha T, De La Soul and Yukimi Nagano of earlier performers Little Dragon.
Also intriguing was that the band did not always rely on its animated counterparts. The animated characters were not introduced until a few songs in. Sometimes they would appear to sing along to the songs. Other times animations told stories within the songs. But the focus was on the Humanz on the stage. More than half of the set consisted off new songs; from 2017's Humanz album. The crowd, packed shoulder-to-shoulder nearly halfway across the polo field, ate it up as much as "Feel Good Inc." and 'Clint Eastwood."
Other acts we loved Friday:
Future Islands
Yes, frontman Samuel Herring danced like he was on fire. And all those knee-jerk moves looked even more amusing on the big screens at the Twin Peaks stage. Herring would passionately growl the songs like "Ran" and "Seasons (Waiting on You)," but spoke to the audience in a much mellower tone. He was also one of few performers (at least from who we saw) to make an overt political statement.
"I know the Bay Area is very conscious, but we all have our problems," he said. "In Baltimore we have our problems." Later he would demand that people "let go of your prejudice."
And then he and his bandmates turned their performance into a dance party. When the singer is willing to go out on a limb with his unorthodox moves as much as Herring, it's motivation enough for everyone else.
SOHN
U.K. songwriter and producer Christopher Michael Taylor mostly performed sitting down behind synths, or some kind of processors, but he and his three-member band had more action in the music than many other acts on Friday.
The electronic musician, backed by a drummer, keyboardist and percussionist, was dressed in all black with a wide-brimmed hat. The set was moody and breezy, which is a good combo for an act given 35 minutes on stage. The highlights included a pulsating, industrial-influenced "Hard Liquor" and "Conrad," on which backing vocals from the female percussionist added a rich layer of sound.
Hamilton Leithauser
The Sutro stage was created for musicians like Leithauser. The former frontman of the Walkmen led his all-Texan band through a set of his bluesy, folksy solo material. He likely wasn't too happy with the sound issues he faced — a dud cord was creating static—but his assembled fans licked up every last bit of "1000 Times," "In a Black Out" and "The Bride's Dad."
Leithauser explained how he had attended a wedding and was moved by the speech by the bride's father, only to learn the man was not welcome at the ceremony.
The singer-songwriter was very Springsteen-esque in his delivery, even to the point of standing with his legs wide apart and playing his acoustic guitars like each strum might be his last.
Sleigh Bells
Ostensibly a noise pop duo, they brought a third member to the show and played a full-blown metal set, and we're all better for it. Alexis Krauss' vocals wouldn't be out of place in a pop or R&B band, but the music she was singing along with wouldn't be out of place on a Nine Inch Nails album. Seems strange, sounds great.
Sam Dew
For now he's known primarily as the songwriter behind hits by Wale, Skrillex, and Rihanna, but judging by the set we saw he should be known for his own performances as well. His vocal range is impressive and his use of live looping added depth and texture to a sparse backing band. While he doesn't seem to be much for stage banter, his lyrics ("Victor" especially) say all he needs to say.
Dr. Octagon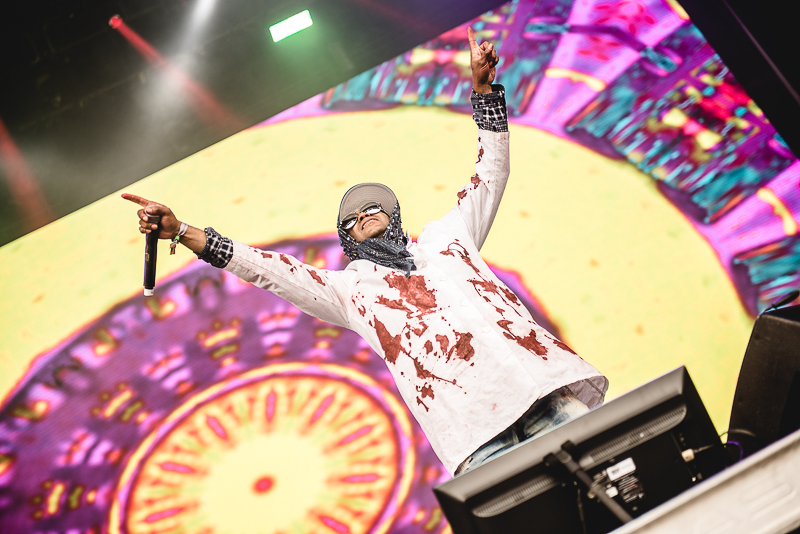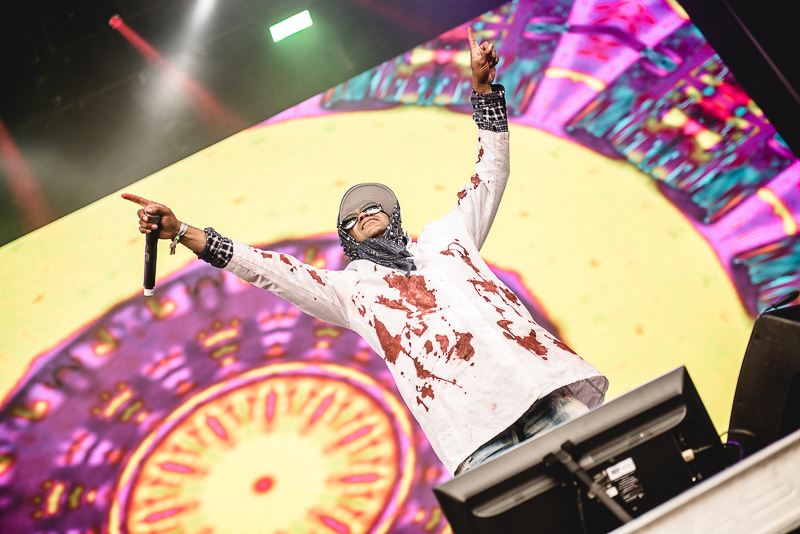 While Kool Keith's alter ego gets his name on the marquee, the stars of the show are the ultra-talented DJs DJ Qbert and Dan the Automator. Their performance of "Bear Witness" without the titular Doctor even on the stage is irrefutable proof that a turntable can be a musical instrument in itself and that DJ Qbert is one of the best at playing it. Of course that's not to say Dr. Octagon himself is a problem; on Earth People especially his vocals are perfect for the bizarre, psychedelic audio-visual experience.
Fleet Foxes
The Seattle folk band were on top of their game for the packed house at the Sutro stage. While lacking the musical or lyrical power of other Friday acts, they served a quality pallet cleanser in the middle of the day.
Managing editor Daniel J. Willis contributed to this report. Follow Roman Gokhman at Twitter.com/RomiTheWriter and RomiTheWriter.Tumblr.com. Follow editor Daniel J. Willis at Twitter.com/BayAreaData. Follow photo editor Alessio Neri at Instagram.com/windowofcolor and Windowofcolor.com.