Outside Lands: Janet Jackson and 16 other acts we loved on Sunday
SAN FRANCISCO — And then there was Janet. The final day of the 2018 edition of Outside Lands closed out with legendary pop icon Janet Jackson. Jackson proved to provide immediate heat to a crowd starting to feel one of the chillier nights in the fest's history. Jackson took the stage decked in all black with silver trim to the roar of the adoring Bay Area crowd, beginning her set with deep cut "The Skin Game (Part 1)" before segueing into the Rhythm Nation classic "The Knowledge."
Jackson, now in her early 50s, showed no signs of slowing down anytime soon, sticking the choreography with each passing number along with her impressive team of back-up dancers. The cold and fog didn't dampen the spirits of the crowd, who hung on Janet Jackson's every lyric and strut as she worked her way through her set.
In the midst of her comeback tour, Jackson was sharp, strong and in good spirits as she stalked the stage left and right. She has a commanding stage presence and is a natural charismatic performer. After finishing a medley culminating with "You Want This," Jackson stood at center stage and stared out at the large crowd assembled on the Golden Gate Park Polo Field. She stared silently for a good two minutes as the crowd energy began to swell, building to a fever pitch. The moment culminated in Jackson asking San Francisco if they "came to party." Spoiler alert: they did.
Jackson's songs were brought to life by her backing band that kept the tempo up throughout the night and provided festival-ready arrangements that translated perfectly to the big stage. The 90-minute set was full of hits, lesser-known songs, and the occasional cover. Janet Jackson's set was a celebration of the diversity that was the culmination of the entire weekend's line-up at Outside Lands. It's clear that her music has had an influence on many of the contemporary pop and R&B divas that have come after her.
Fans jumped, danced and sang along with crowd pleasers like "All For You," "That's The Way Love Goes" from her 14-million-copy selling smash janet., and "What Have You Done For Me Lately." Jackson has such an expansive catalog to draw from, and she mixed in medleys to pack even more material into the setlist. At one point, Jackson even ventured into the crowd, taking a lap to greet fans through the security barrier separating the audience in half.
She closed her set with a barrage of timeless hits including "Scream," a duet with her brother Michael, and the dance classic, "Rhythm Nation," before closing out the night with "State of the World." Jackson's material feels as relevant as ever, as she masterfully constructed a setlist that reflected the urgency of the times, while still celebrating individuality and empowerment.
Other acts we loved Sunday:
Janelle Monáe
Powerhouse performer Janelle Monáe put on one of the sets of the festival Sunday afternoon with a show so spectacular it wouldn't have been out of place headlining Saturday.
From the first song, "Crazy, Classic, Life" from her most recent album, she proved not just her showmanship but her astounding talent. Not many people are great singers, and not many people are good rappers, but she's both and showed it time after time.
For only an hour on stage, she constantly kept it fresh. There were multiple costume changes, including one into her notorious pants from the music video for "PYNK." Her white-suited roadies brought a throne on stage for "Django Jane." Her two keyboard players picked up a trumpet and a saxophone and became her horn section for "Electric Lady."
Speaking of the band, her guitar player had a solo so good that nobody noticed the star had left the stage for a costume change. And, especially in the midst of the show she was putting on, she's a difficult woman to forget.
The most amazing part of all, though, came at the end when she told the crowd she was "throwing up with food poisoning" backstage. Which means that amazing show was what she can do while sick.
Kailee Morgue
She was nervous, but Kailee Morgue didn't show it. Morgue, the "dark pop" singer-songwriter who has rocketed from a YouTube singer to a major label signee within a year of posting a demo online was at the festival—not only as a performer, but as an attendee. Not enough reason to suffer a panic attack? Her performance on the Twin Peaks stage was her third show ever. The other two were tiny clubs, where it was dark and she didn't see any faces.
For support, she brought her mom and her boyfriend to Outside Lands, and she performed just fine. Morgue opened with "Do You Feel This Way," a bass cut that in a live setting veered closer to R&B than to pop, and followed that up with mellow jam, "Discovery." On "Unfortunate Soul," she playfully sang the refrain, "And I want you to know that!"
Morgue also played a new song that has not yet been released but offers more swagger than her existing material. (We got a video, but she asked us to hold off until she announced it). Morgue also performed her kiss-off anthem, "Fuck You," and the single that kickstarted her career, "Medusa."
Rainbow Kitten Surprise
Rainbow Kitten Surprise was possibly the best rock band at Outside Lands this year. Blending Southern with psych rock, the band resembled what Kings of Leon might have become had they not decide to get all anthemic like U2. The members were also extremely funky, putting on a show as much as they were performing music. There was impassioned dancing on "Fever Pitch," particularly by frontman Sam Melo and guitarist-vocalist Darrick "Bozzy" Keller, but the others also got in the act.
On "Devil Like Me," Keller and Melo had a sort of duel, singing competing and complementary vocals while pretending to argue and fight.
At times, Melo would unleash a terrific, "Stella!"-esque growl. And on "It's Called: Freefall," Melo added to the great Southern tradition of singing about the devil. Melo might have even given the band intros, playing a ringleader for his bandmates. The man could probably hype a Campbell's soup can.
T Sisters
Oakland's T Sisters would win the award for best vocals of the festival if we gave one, which we don't.
All three sisters—they're actually sisters by the way; it's not just a clever band name—have incredible voices by themselves, and each is featured in different songs with the other two acting as back-up singers. Where they really shine, though, is their harmonies. It's not surprising that siblings have great chemistry, but it's a miracle of genetics that their voices complement each other so perfectly.
The songs themselves range from bluesy soul to country, with the sisters picking up guitars or a banjo and the guitarist switching to a mandolin depending on what the song requires. (Well, two of the sisters play guitar. One plays tambourine).
Sabrina Claudio
It's probably fair to say that Sabrina Claudio's soft R&B ballads, combined with her slow, sensual dancing, made many people flat-out melt, while others were ecstatic about how confident she felt in herself.
Claudio had the stage presence of a '50s pinup and sultry lounge singer (and we are using both as an extreme compliment). While her songs were modern R&B and pop, the way in which Sabrina Claudio performed them was from another time. She would slowly swivel her hips, run her hands down her sides, and slowly enunciate words, drawing out sexiness out of each syllable.
Following several cuts, including "Confidently Lost," "Stand Still," and "Vox Transition," she announced: "Now we are going to make it sexy," which drew many puzzled looks. "I mean sexier," she corrected.
There was also a tropical lounge tune, on which she slowly salsa-danced and several new tracks that will be released this week on her first album. The latter part of her set included a more sobering, emotional song called "Messages From Her," which she said is her favorite from the new collection that's coming this week.
Portugal. The Man
Portugal. The Man brought a festival-ready brand of rock, mixing bombastic arena rock with danceable indie sensibility. Opening the set with its new Beavis & Butthead intro, the band kicked into a fiery rendition of Metallica's "For Whom the Bell Tolls." While the cover is a staple of the band's live set, it felt like an extra special homage being performed in the band's (and last year's festival headliner's) backyard. Portugal. The Man also included snippets from Pink Floyd and T Rex, as well as a cover of the Rolling Stones "Gimme Shelter." The band put self-deprecating messages up on the video screen as it played through an extended instrumental. The band kept the pace up and proved to be one of the highlights of the day on the Land's End main stage.
We will give them a pass for not talking about our editor's favorite basketball team during their set because one of them wore a cool shirt earlier in the day at the GastroMagic stage.
Hobo Johnson & the Lovemakers
Hobo Johnson is not a conventional frontman. Hobo Johnson & the Lovemakers' music isn't exactly conventional either. And their show fits the theme.
The set began with Hobo Johnson and keyboardist/guitarist Derek Lynch running on stage while Lynch threw roses to the crowd. The two of them performed two songs, Lynch on keyboard and Johnson singing, before bringing out the rest of the band, one by one, to "Y'all Ready For This" like the starting line-up of a football team.
Johnson's vocals are somewhere between rap and slam poetry; sometimes sung, sometimes spoken, sometimes shouted. It takes some getting used to if you're not prepared for it, but it really does work.
LP
Laura Pergolizzi, better known by her stage of LP, went from writing some of the biggest pop hits (for other artists) to writing and releasing her own hit. LP brought an eclectic brand of rock, pop and blues to the Sutro stage for her early evening set. She is an enigma onstage, with an almost Bob Dylan-esque look. She seamlessly jumped from dark and brooding rock numbers to light and airy upbeat acoustic jams, to mid-tempo blues stompers. LP boasts an impressive vocal register, pushing her vocals up to the outer limits, while also strapping on a ukulele for occasional instrumental accompaniment.
Tash Sultana
There are solo artists, and there are solo artists, and onstage, Tash Sultana is as solo as they come. There is no backing band and no recorded tracks; Sultana comes out on stage and plays all the instruments.
Through live-looping, where an artist records and loops sounds to layer a song in real-time, combined with the ability to apparently play any instrument, the entire song is built right there on stage piece by piece. Guitar, keyboard, bass, some sort of wind instrument, synths, a drum machine, one on top of another.
There was one downside to the performance. "I wanted to see Portugal. The Man," Sultana said mid-set. "But we're playing at the same time."
Chef Naomi Pomeroy at GastroMagic
Portugal. The Man may have been the stars at its midday set on Outside Lands' GastroMagic culinary stage, but the true star of the show was Portland chef Naomi Pomeroy. Pomeroy took the Portland band, and the rest of the crowd for that matter, on a ride through making a successful sausage. They say you don't want to see how the sausage is made, but if it's Pomeroy doing the demonstration, then that saying can go out the window. Pomeroy's demonstration of sausages, or her self-described "sausage fest," was laced with hilarious sausage-based innuendo that toed the line and pushed the envelope into awkward hilarity. Oh, and the sausage sandwiches looked delicious.
Salt-n-Pepa
Unannounced until just days before the festival, performing a short 30-minute set on a small stage behind Heineken's EDM tent, legendary hip-hop group Salt-n-Pepa still managed to bring joy and energy to the large crowd packed in between the merch tent and the coffee shop.
"Is the '90s in the house?" called Pepa before testing the crowd for old school hi- hop knowledge with sing-alongs to Biz Markie's "Just a Friend" and RUN-DMC's "It's Tricky." They then launched into their hits like "Let's Talk About Sex," "Shoop," and "Push It," sounding just as they did 25 years ago in their heyday.
Hysteria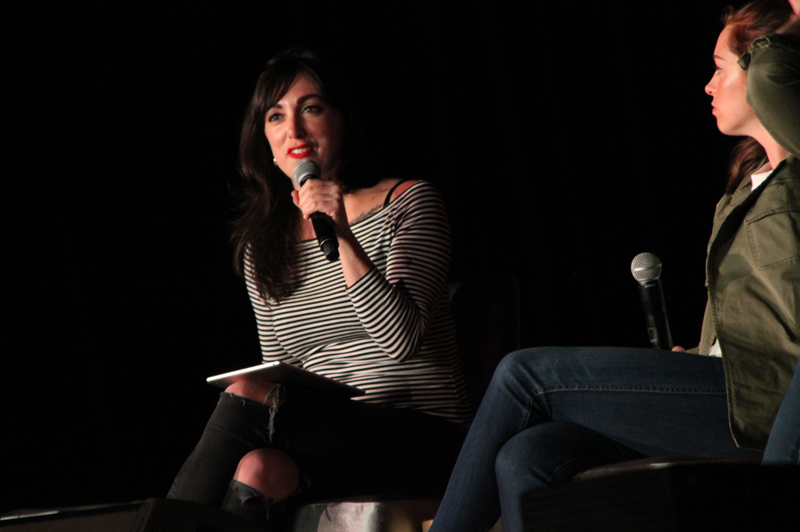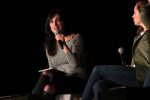 Crooked Media's newest podcast, "Hysteria" took to the Barbary stage for a live taping in front of the Outside Lands audience. The Barbary tent provides a lively setting for a podcast taping, and this was no exception, as the all-female cast led by The Daily Beast's Erin Gloria Ryan talked about the news and skewered the ridiculous stories of the day, from Hollywood to Washington, D.C., and from Omarosa to R. Kelly. The Barbary stage has become a much-improved venue for seeing comedy and spoken word since being moved off the main festival grounds.
Bahamas
Afie Jurvanen, better known by his stage name Bahamas, does not play tropical music. This came as a surprise to several older members of the crowd who left after only a couple songs.
It was their loss. His deep, bluesy vocals lent a compelling richness to the folk-inspired setlist, and the band's other singer's much higher range was a great counterpoint. What could have been a bit slow by music festival standards was instead compelling.
Kelela
R&B songstress Kelela took to the Twin Peaks stage for a dark and mysterious set of beat-heavy jams. Kelela is a compelling performer, taking the stage in a silver futuristic dress with a pair of long, thick gloves to match. The songs began as spacious and brooding slow jams before building and exploding into full-on bass-heavy bangers. Flanked by dancers, back-up singers and a DJ, Kelela danced and strutted and commanded the stage with a strong vocal performance.
James Blake
Electronic singer-songwriter James Blake is a good artist with a bad time slot.
His moody, atmospheric music is good and was well-performed, but may have been too relaxing for one of the last shows on the last day of a music festival. Several members of the audience had fallen asleep on their blankets by the halfway point, and those who were dancing got tired and sat down soon after.
There was a faster, more danceable song with about 20 minutes to go in the set that got everyone back to their feet. Seemingly excited about an excuse to get the blood pumping, even the staff at the pizza booth was dancing, pizzas in each hand. A group of about half a dozen even started doing the "Macarena" for some reason.
Unfortunately, Blake followed that burst of energy with "Modern Soul," which has the repeated line "I want it to be over."
Durand Jones & the Indications
It's hard to say a festival main stage set is a hidden gem, but in the case of Durand Jones, this is abundantly true. Opening the festival's final day can sometimes be a difficult task; festivalgoers are drained from the prior two days of constant live music and can sometimes fall victim to lethargy.
Durand Jones proved to be an instant antidote, bringing the crowd alive early on Sunday. He is an authentic throwback and could have been teleported straight from the 70s. Part James Brown with a dash of Andre 3000, Jones' performance was engaging, soulful and one of the best sets of the day. The Indications provided excitement as Jones' backing band, complete with a horn section. Jones even traded vocals with their surprisingly soulful drummer and resident falsetto singer Aaron Frazier.
Monophonics
Another highlight of the day came from Marin's Monophonics, who brought electricity to their midday set on the Panhandle stage. The high-energy blend of soul, funk and psychedelia lit up the stage as the band, including a fog horn section and a full complement of back-up singers, delivered a full-throttle set. Vocalist and keyboardist Kelly Finnigan was a wild man, delivering raspy, soulful blues while attacking his keyboard to make for one of the day's most exciting and unpredictable sets.
Follow writer Mike DeWald at Twitter.com/mike_dewald. Follow editor Roman Gokhman at Twitter.com/RomiTheWriter. Follow editor Daniel J. Willis at Twitter.com/BayAreaData. Follow photographer Joaquin Cabello at Instagram.com/joaquinxcabello. Follow photographer Shawn Robbins at Instagram.com/photo_robbins and Twitter.com/shawnTHErobbins.