Miguel, Jessie Reyez and more play emphatic sets at Sol Blume Fest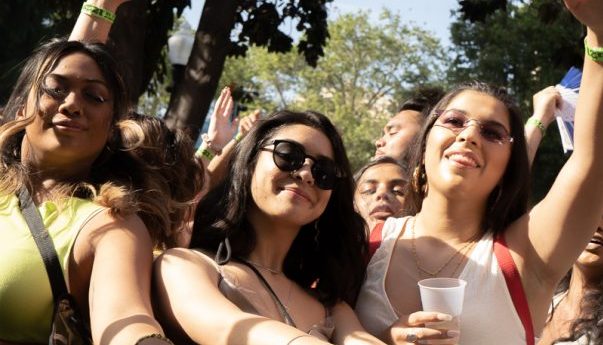 SACRAMENTO – Sol Blume's two stages and unique festival fashion culminated with Miguel's first Sacramento show in seven years Sunday. Entering the stage with no introduction, he began with the acoustic strums of "Criminal," off of 2017's War & Leisure.
"So many babes out here tonight," he said. "It's been a long time since I've been in Sacramento."
In a blue haze, Miguel sung while swirling high synth notes and a thumping bass mixed with funky electric guitar of "Banana Clip." Blue lights covered the stage alongside the distorted notes of "Simple Things" from 2015's Wildheart. 
"This is for the women here who want the simple things in life," he said as a dedication.
"Do You…" sounded like a trip to the gospel, in a way. "Do you guys like drugs, then?" Miguel asked before diving into the Kaleidoscope Dream cut. The chorus was a major highlight, with soaring backing vocals. Another Kaleidoscope number, "Adorn," also stood out as Miguel pronounced his stage presence and guitar soloing.
"Damn, I love Sacramento, and you know that's a sure thing," Miguel said before going into "Sure Thing," from 2010's All I Want Is You. Miguel broke out some dance moves during the quick-paced R&B rhythm and falsetto harmony track. It was a favorite among fans, who shouted along with the baritone backing vocal: "You could bet that/ Never gotta sweat that."
Miguel and the crowd sang together throughout the finger-snapping "Pineapple Skies," from 2017's War & Leisure. The passionate vocals and swirling synth notes broke down to what Miguel called "his favorite part," before jumping back into the energetic chorus.
The night ended with an extended version of "Skywalker." Miguel glided back and forth and occasionally bounced around the stage. The central "Don't sleep, we gotta stay up" lyric seemed fitting to close out an 11-hour festival. After an explosive vamp, Miguel crouched down for a stripped-back final chorus with just light guitar strums, and let the fans sing the refrain one last time.
Canada's Jessie Reyez came with brutal honesty and a mission to connect with the festival's unique vibe—which she accomplished. She opened with "Dear Yessie," from 2018's Being Human In Public, with the screen displaying current news coverage. Her squeaky delivery and infectious energy filled the air right off the bat.

"F*** Being Friends," from 2018's Being Human In Public, started with Reyez asking the crowd, "Have you ever loved somebody that didn't love you back? Then put your middle fingers up and yell, 'fuck being friends!'" She sung in a nasally inflection and let the crowd yell it back to her at the end.
Reyez enjoyed interacting with the crowd.
"I want you to know where I was five years ago," she said. "I was begging people to listen to me and handing out mixtapes. If you're working hard and praying to God, and you're a hustler, don't fuck your opportunity. You can make anything a win."
Reyez next played "One Kiss," her first song, a co-write for Calvin Harris and Dua Lipa. The music video played on screen with Lipa's lead vocals playing through the mix.
Power ballad "Great One," from 2017's Kiddo, showed off Reyez's vocal range. Starting with just a piano, Reyez sang with building thumping drums and harmonies behind her. Slowly growing faster and crescendoing, she belted out the last few lines and and ended by dedicating it to her parents.
When it came to "Gatekeeper," Reyez first told the story of a conversation she had with a producer—a man—who told her, "Even though you can sing, you'll need to suck dick for a deal." She told the story twice to get her point across.
"Look to your left and your right and if you don't see a reaction on their face right now, that's why shit doesn't change," she said. With an aggressive vocal delivery and sirens increasing the intensity, Reyez threw her arms around with each punching word.

Reyez closed her set on a song she described as the one she wrote in her darkest state of depression. "Figures" started with Reyez saying, "If you don't love yourself nobody's gonna love/  You gotta take care of yourself and take care of your friends too." The toned-downed guitar picking track incorporated subtle organ notes and tambourine as Reyez gave her all to her performance. Her powerful message and musicianship is undeniable.
Detroit's Queen Naija took the crowd to church with her passionate belting voice and big harmonies. Her vocal delivery stood out throughout her set. She opened with "Karma," a snap beat track adorned with soulful organ.
Another highlight was "Butterflies," an acoustic track with a click beat and passionate singing that actually ended with an impressive drum solo.
"I want people to listen to the words with this one," Queen Naija told the crowd before "War Cry."  She belted about her spiritual faith in God in spite of a broken, depraved world as heavy drums and cymbals grew alongside swelling harmonies. It was a powerful track and a great end her set.
Ivy Sole's first time in Sacramento left quite an impression. "Overgrown," from the 2018 album of the same name, showed off her vocal ability. She sang in her lower register for the chorus and rapped the verses. Ivy Sole brought out Seattle's Dave B on the final track, "Life," from 2017's East, as a first-time performance from the duo.
Ivy Sole sang the harmonies as Dave B supported with electrifying flow. Their first-time performance was relaxed and friendly. Before ending the track, they embraced and then led the crowd in joint claps to follow the beat out as he moved quickly to the other stage to begin his own set.
Dave B announced that he brought his mom and other family members to the performance. One of the high-energy performers of the night, Dave B danced non-stop next to his bandmates.

Seattle's Umi's looked surprised and humbled at the seize of her audience. Umi began her set with a ritual of meditation to release negativity.
"This song is about not knowing what you're going to do with your life," she said before starting with 2018's "Butterfly."
With a relatable message Umi carried a smile on her face as the peaceful beat played behind her.
Fans seemed to be pretty familiar with newer track "Remember Me," which surprised the artist. A slower track about changing as she's grown, backed up by plucked guitars, swirling synth notes and backing harmonies.

She sang "Happy Birthday" to her sister, who was turning 18, before dedicating "Midnight Blues" to her as her sister watched on. A saxophonist dominated this track, and the band exuded passion on par with Umi herself. After dancing and introducing her band she broke into a snippet of "High School" and yelled, "stay in school guys!"
Washington, D.C.'s Ari Lennox played an enthusiastic set. She started 2018's "Whipped Cream" with controlled vocals, trickling organ notes and thumping bass drum. Before "Grampa," Lennox explained the meaning behind the song: "You know when a guy be sleepin' on you? Like, why you sleepin' on me? I'm sexy as hell, right?"
Lennox showed off her chops going deep in her register to a power belt about longing for her partner to give her what she needs. Supported by saxophone and whistling synths, Lennox went on to compliment "all the beautiful women in the crowd." She then presented "Break Me Off," off her upcoming full-length, the most chops-heavy track of  click beat and organ.
Filipino artist Jess Connelly, backed by her DJ, said, "Everything I write about is pretty much love." "Process," from 2018's JCON, used a pleasant mix of synth with a beat evoking the clinking of glasses. Her relaxed voice and moody instrumentation gave for a head-bobbing type of set. "Call Me" upped the ante with deep harmonies and heavy bass.
Chicago's Tobi Lou sang and rapped his heart out during his first festival performance of the year.
"I always like to connect to my crowds. It's so beautiful today, and all the love is here in Sacramento," he said.
"Birthday Boy" showed off his harmony-laden rapping, as he did during the punchy synth stylings of "Your Kind Of Love."
When the set was coming to an end, a fan requested "Buff Baby"—to whom Lou said, "Oh, I almost forgot!" Dream-like synth progression, catchy lyrics and compelling harmonies won the day, while he made sure to incorporate Sacramento into the lyrics as well.

New York artist Raveena's sultry voice, regal harp and light piano chords took control with her 2017 song "Sweet Time." High-pitched harmonies gave a blissful introduction, as she pointed out fans to a communal effect.
Raveena described 2018's "Temptation" as a "song about how beautiful women are." Sung in breezy falsetto, harmonious chimes and flute, the song's tranquil aspect bloomed in full.

Swedish artist Kiana Ledé corralled the majority of the crowd at the time of her set.
"Have you ever been in a relationship where you felt like the only one giving your all?" she asked. "I wrote a whole album about it." Opening with "Nothing Burns Like The Cold," from 2017's Feels, she built momentum with a wailing electric guitar solo, heavy drums and blaring saxophone. Her soulful voice and a bluesy, shred-happy backing band brought a unique quality to her set.
New cut "I Want You Around" incorporated a string section along with delicate piano notes and harmonies, making it a standout track with it's delivery. Snoh Aalegra's vocals were controlled and beautiful while she walked on stage making eye contact with the crowd singing along.

Jamaican artist Masego opened with his hit "Tadow," off 2018's Lady Lady, with soulful saxophone, dreamy electric guitar notes, woozy synth chords and high-pitched vocal. Fans instantly knew and cheered the second the track began and swayed along.
"Queen Tings" highlighted Masego's soothing vocal tone, while "Girls That Dance," from 2016's The Pink Polo EP, featured a funky saxophone solo and synth beats. 
Atlanta's J.I.D was the best-known rapper of the night.
"This first song is an introduction to me," he said before launching into his set. "Hereditary" was delivered with trickling piano notes, backing saxophones, and lyrics relating back to childhood and family issues. The cut stood out for its instrumentation as well as J.I.D's vulnerable voice. Once the cut ended, he said, "I could rap all day, but I get nervous singing.
"Slick Talk" gave a creepier vibe with it's whistle-like beat and deep bass beat that would go in and out.

On "Workin' Out" he slowed down the pace, making for an enjoyable transition. The rolling piano notes were delicate against his soft delivery making a great fit and stand out amongst the others.

With high energy, and ample calls for "hands up!" and "bounce!," Tierra Whack had no problem with being noticeably louder than her own backing tracks. She and her DJ enjoyed riffing with the crowd, whether it was shouting out birthdays or generally riling people up. Cuts like "4 Wings" and "Silly Sam" constituted Whack's short and silly formula. Most of these songs hardly cracked a minute, with the DJ playing the full song—vocals included. Tierra Whack often made weird noises into the mic, as the DJ added some odd effects. Though juvenile in nature—cuts like "I Miss My Dog" ended with a cat's meow—the songs maintained an endearing, fun-loving vibe.
Follow writer Carly Van Den Broeke at Twitter.com/carlyrosevdb. Follow photographer Norm deVeyra at Twitter.com/enelledee and Instagram.com/enelledee.