Austin's Sound on Sound Fest: where Renaissance met roadies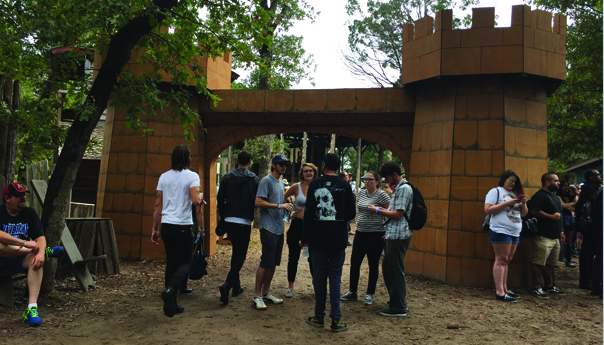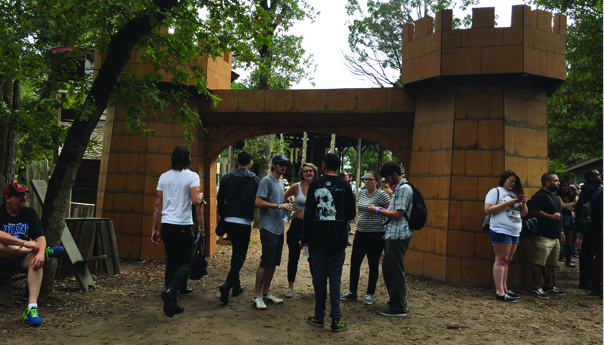 AUSTIN, TEXAS — Stepping foot on the grounds of McDade, Texas' Sherwood Forest is akin to walking back in time. As the name suggests, the venue on the far-eastern outskirts of Austin is home to a Renaissance festival and features a giant keep, a Round Table, various wood caravans and a jousting arena nestled into the forest. Last weekend, however, the site was anything but medieval.
The location was an interesting choice for organizers of the inaugural Sound on Sound Festival, who invited thousands of attendees to enjoy thoroughly modern offerings in the most archaic of venues. From dream pop to electronica to old-school screamo, the festival had five stages stacked with an eclectic mix of artists. That was mixed in with comedians and men and women walking around in chain mail, practicing their ax throwing skills and showing off their fancy facial hair.
RIFF attended the second an third day of the three-day festival. Unseasonable rain early in the day on Saturday didn't cause any delays, drying up just as the fest got started at 1:30 p.m. Sunday was a very different story; torrential downpours and flooding forced organizers to shut down and evacuate the festival, not unlike Treasure Island Music Fest two weeks earlier. The three-hour closure resulted in fans losing out on performances by nearly a dozen artists, including Illustrations, Night Drive, Bully and The Frights.
Of the remaining sets, we caught more than 20. Here are our top highlights:
Geekpunk perfection by US Weekly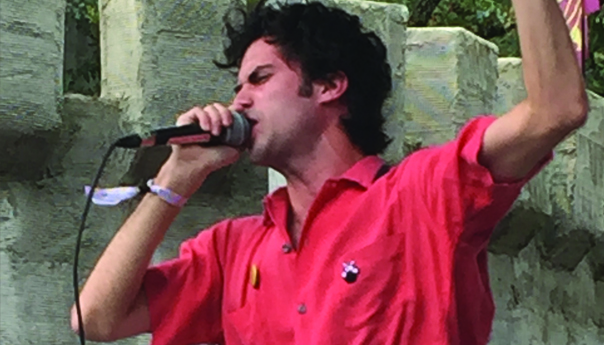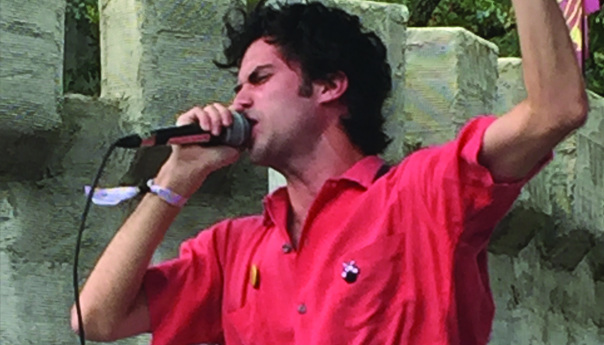 When Austin's US Weekly took The Keep Stage early Saturday afternoon, their geek chic appearance in no way suggested what was to come: a blistering punk performance. Singer-keyboardist Christopher Nordahl threw himself across the stage, alternatively jerking violently and shaking his body, while screaming often-indecipherable lyrics. The performance was hot. Too hot—a melting bass amp forced the band to take a breather midway through their frantic set.
The Relationship digs into heartbreak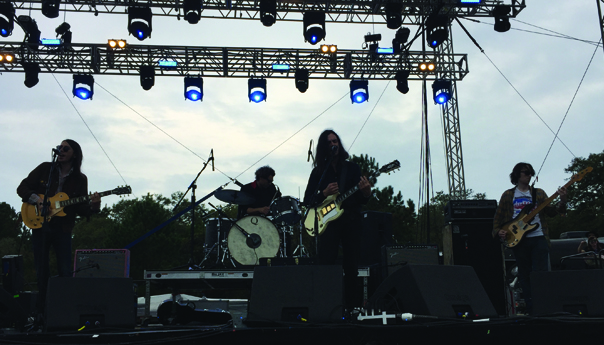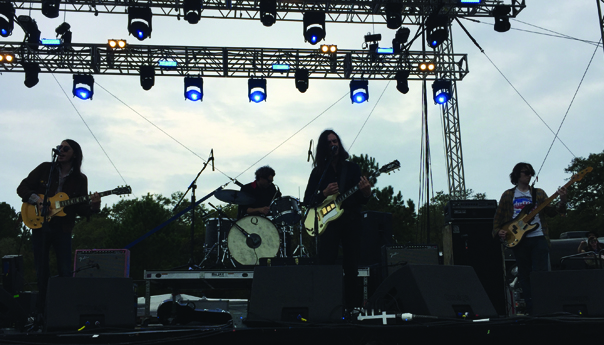 The only flaw in The Relationship's Saturday performance on the Dragon's Lair Stage was that it was scheduled far too early in the day, and many missed it. Weezer's Brian Bell and his new band churned out a charming set of post-breakup musings for the too-small crowd. The songs, off a still unnamed and yet-to-be-released debut album, have touches of Weezer's distinct sound and have a sense of effortless cool. "Without Me," which might just be the band's first single, is a disorientingly catchy take on moving on.
L.A.'s Bleached infuses Forest with energy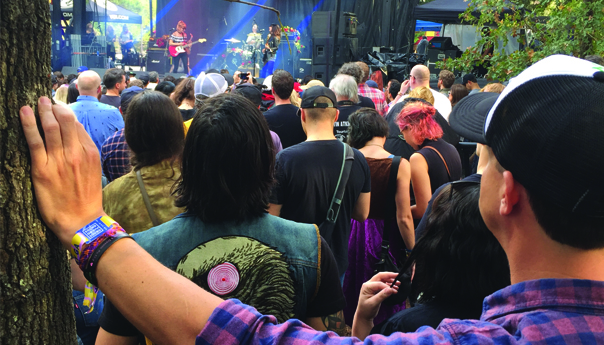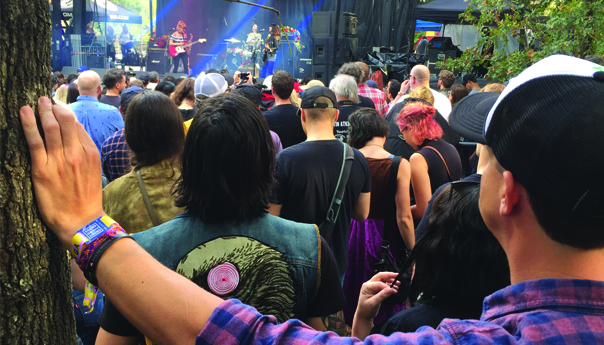 Bleached drew a significant crowd to the Forest Stage Saturday afternoon. Singer Jennifer Clavin's voice is reminiscent of Courtney Love's at the Hole frontwoman's best, and she brought great energy to the stage. The band mixed its catchy hooks on songs, such as "Wednesday Night," with harder numbers like a cover of The Misfits' "Skulls."
Beach House delayed, but worth the wait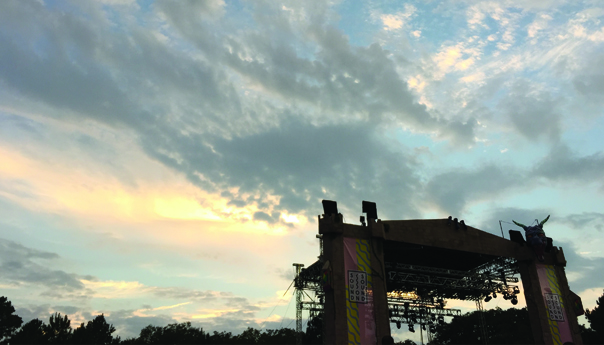 By the time Baltimore's Beach House took the stage around 10 p.m. Saturday, a good number of festgoers had already abandoned the Dragon's Lair Stage due to competing artists or the chilly weather. Temperatures dipped into the low 60s, too cold for native Texans who weren't equipped with a jacket. Guitarist Alex Scally thanked those who stuck it out in the midst of a beautifully ethereal set that stretched nearly an hour. The staging was ideal, allowing the band's dream pop to seemingly float through the open air, extending, morphing and fading.
Emily Wolfe adds Texas drawl, touch of blues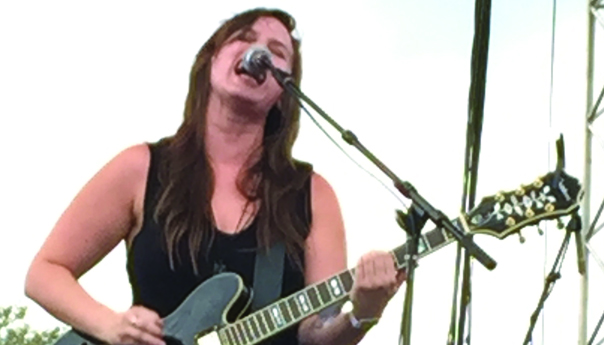 Austin's hometown rocker, Emily Wolfe, took the stage first on Sunday afternoon and it soon became abundantly clear why so many people turned out so early. Her rock and roll, with a slight Texas drawl and some blues, vacillated between folk and atmospheric. But her fretwork impressed most of all. She could teach many of the other guitarists on the grounds a thing or two.
Rain tries, but can't stop energetic Leopold and His Fiction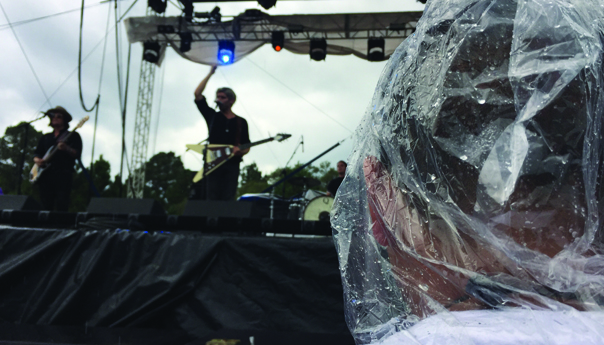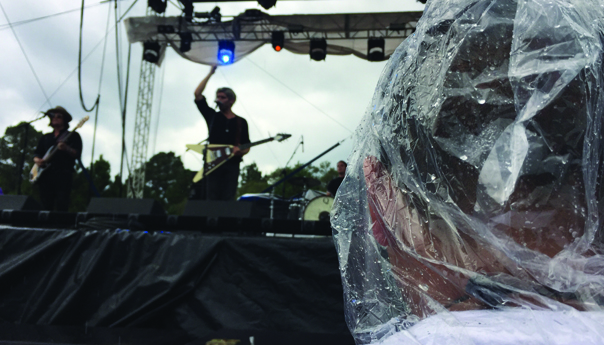 Daniel Leopold proved himself the ultimate frontman Sunday afternoon, even as the first showers arrived. Prancing and posing throughout the set, Leopold (of Austin's Leopold and His Fiction) made standing in the rain almost enjoyable. The high-energy performance did have one casualty; however: His well-manicured hair was a mess by the third song. From doo-wop to anthem, the set ran the gamut. "That from the dry cleaner? That where you get those?" he asked fans who busted out clear, plastic ponchos to battle the strengthening storm. Even as the crew rushed to cover lights and gear, Leopold seemed unfazed, focused instead on successfully giving the crowd a reason to stick around despite the weather.
Post-shutdown, Kero Kero Bonito delivers taste of pop sugar
Heavy rains prompted a three-hour shutdown of the festival and when the performances started back up, London's Kero Kero Bonito was the first on the Forest Stage. Those fans who, outfitted in everything from raincoats to plastic ponchos to blankets, patiently waited through the band's lengthy setup and soundcheck were in for a treat. An infusion of sugary electronic goodness was exactly what the festival needed at that moment. "We're from London. We're used to the rain," KBB's Sarah Midori Perry told the crowd a couple songs in. She danced and bounced across the stage as though it weren't covered in water with a huge smile plastered across her face. Meantime, Gus Lobban and Jamie Bulled got in on the action as well, busting their own moves at times.
Courtney Barnett treats the waterlogged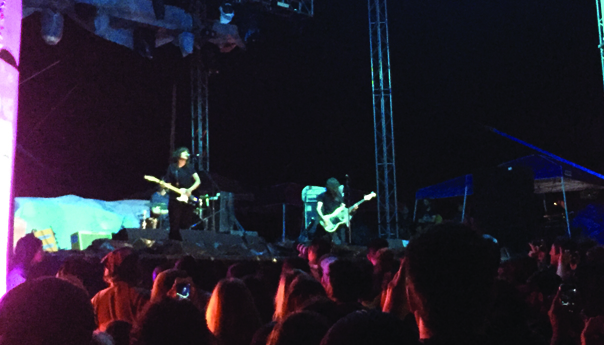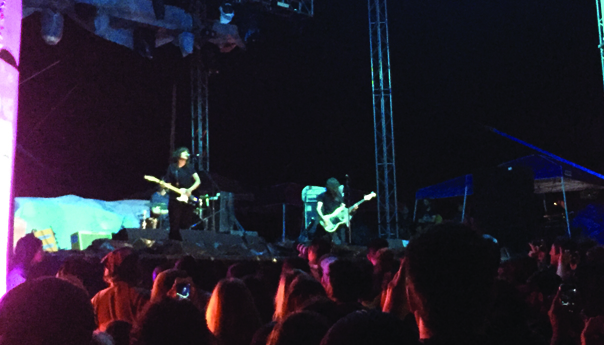 Despite delays suffered by other bands on other stages after the festival suspension, Courtney Barnett appeared on the Dragon's Lair Stage promptly at 9:15 p.m. By that point, many were soaked to the bone. Others returned to the grounds specifically to catch this show because a previous festival performance by Barnett (at this spring's Levitation) was cancelled due to rain. Walking out to Cyndi Lauper's "Girls Just Want to Have Fun," Barnett launched into a raw, powerful set. Careening across the stage, the Australian rocker rubbed even more metaphorical dirt over her already-grungy songs, extending intros and solos to showcase her guitar prowess. The slower, more muted "Depreston" featured a chorus singalong that seemed to take Barnett by surprise. As the crowd's vocals started to overtake her own, she paused, turning and smiling at the band. It was a genuine moment that encapsulates what fans seem to love about Barnett: the sometimes-hard exterior of her sound, occasionally cracked by moments of vulnerability.
Follow journalist Brandi Smith at Twitter.com/BrandNewSmith, Facebook.com/BrandiSmithTV and BrandiSmith.me.