Treasure Island Music Festival: Last year on the island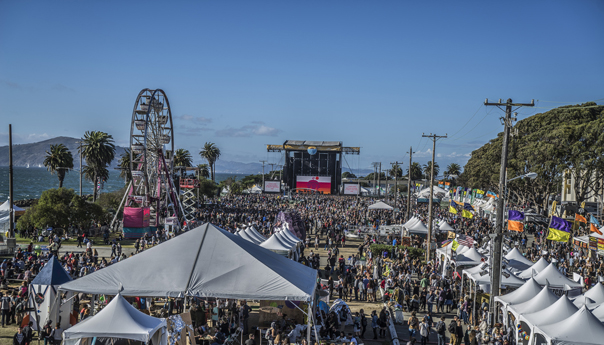 Ten years ago, a couple small, local music production companies decided the Bay Area needed more live music. They envisioned a festival that didn't force ticket holders to decide which acts to skip. They decided that if a festival was planned well enough, it should be possible to see every performance. The leadership teams at Noise Pop and Another Planet Entertainment dreamed of booking emerging groups who would go on to later headline other festivals. And they decided Treasure Island would be the perfect place for such an adventure.
Ten years later, as the Treasure Island Music Festival gears up for its final event on the island, the original organizers are still at the helm and believe they've succeeded.
"The first year, MIA was climbing scaffolding and we were wondering how everything was going to work and hold up," said Kevin Arnold, founder of Noise Pop Industries, which co-produces the annual festival.
Treasure Island Music Festival, with: Sigur Ros, Ice Cube, James Blake, Glass Animals, Christine and the Queens, more
Oct. 15 and 16
Treasure Island
Tickets: $105+.
Info: treasureislandfestival.com
But everything did hold up. The two-day festival started with about 10,000 attendees each day. That number has since doubled, all without a hitch, said Allen Scott, executive vice president of Another Planet Entertainment, the co-producer.
"It's become a piece of the musical fabric of the Bay Area. In the rise of all these mega festivals like Outside Lands, this boutique festival experience of Treasure Island is really unique," Scott said. "It's the 'anti-festival' festival."
This month's 10-year anniversary of that "anti-festival" festival marks its farewell to the island between San Francisco and Oakland. A massive construction project ruled the longtime Great Lawn out. Even this year, the festival site will shift to the island's east side, facing the East Bay.
Some previous attendees took to Facebook to voice displeasure over the move, noting that the festival would be held in what is now essentially a parking lot and won't be set against a backdrop of San Francisco's iconic sunset. Organizers were quick to reassure disgruntled fans that the area will have fresh sod, and Scott is looking forward to the move.
"This new location will freshen it up and give people a whole new perspective," he said, adding that the esteemed ferris wheel and silent disco will be out on a pier, surrounded by waves on three sides. Additionally, the festival is extending its free shuttle service to Oakland and the East Bay for the first time.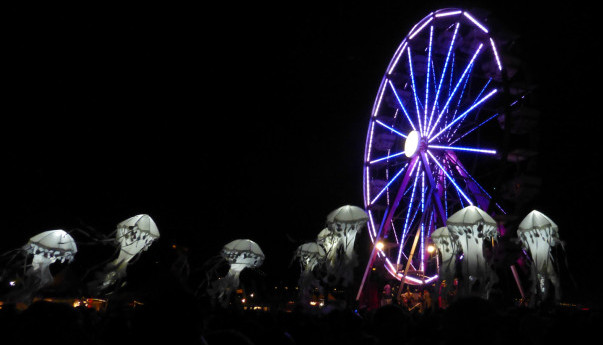 One thing that hasn't changed is the festival's solid record of attracting a multitude of artists, with a focus on electronic acts on Saturday and indie rock on Sunday. Previous years have showcased groups ranging from The Decemberists to Die Antwoord to Beck. Scott pointed to Deadmau5, who played at Treasure Island in 2008 and is now headlining much larger festivals.
Scott is particularly excited about Sunday's headliner, Sigur Ros, a band he said organizers have sought for a while. He expects Glass Animals to become a new success story.
"It's become one of those destination festivals and a must-play for artists early in their album cycles," Scott said.
As for next year, organizers are quick to say the festival will continue—it's "just the end of a chapter," Scott says, but they are tight-lipped about a location. While they don't envision the festival becoming another Lollapalooza, Scott does think a new location might allow as many as 35,000 attendees.
Even with the move, the plan remains to avoid having musical acts performing at the same time, and the name will remain, Scott said. Arnold has fond memories of the island, and he looks forward to watching the island transform, perhaps in small part because the festival gave it 10 years of positive experiences.
"I hope it's had a positive impact, certainly on the local music scene and artists, and helping enrich the music scene," Arnold said.
Follow Layla Bohm at Twitter.com/LaylaBohm and TheSmudge.com.