WIN TICKETS: Get Real, A-Trak and Little Dragon at The Midway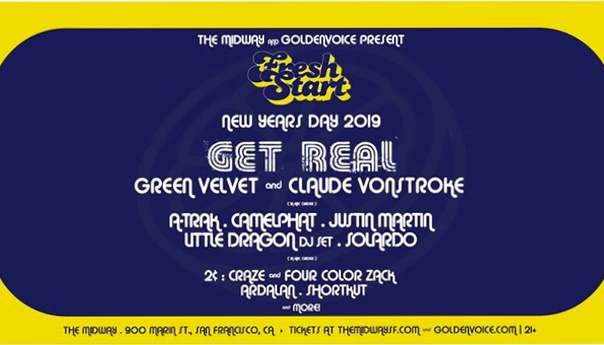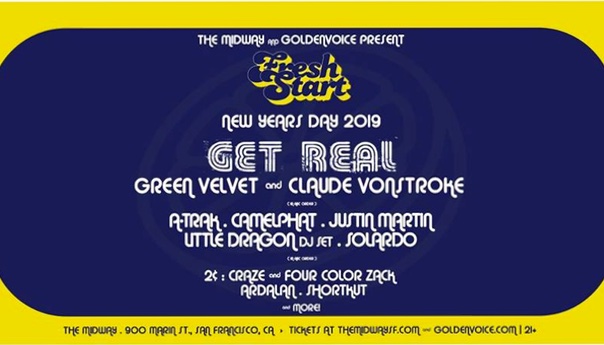 Green Velvet and Claude VonStroke's collaboration Get Real will be taking hypnotic beats and left-field samples to the The Midway club in the Dogpatch neighborhood early on New Year's Day. How early? It basically starts as an afterparty for New Year's Eve revelers. Together with A-Track's mind-bending remixes and a DJ set from dance-poppers Little Dragon, they've set out to give ravers the perfect "Fresh Start."
The best part? RIFF has free tickets for several New Year's after-partiers to experience this 16-hour ride of EDM bangers. Yes; you read that right.
Get Real, A-Track, Little Dragon 
4 a.m., Tuesday, Jan. 1
The Midway in SF
Tickets: $10-$120, 21+
As mainstays of their respective scenes, Curtis Jones (Green Velvet) and Barclay Macbride Crenshaw (Claude VonStroke) have collectively traversed a wide swath of electronic music. The former's dabbling in minimalism crosses with the latter's influence from Detroit tech and deep house for an eclectic sound topped off by memorable punchlines.
Montreal's A-Track and Sweden's Little Dragon are just two of a small army of producers and DJs lining up this all-day rave, which includes British duo Camelphat, Manchester analogue beat merchants Solardo and San Francisco's Justin Martin.
Sounds like a good time? Well, all you have to do to enter to win tickets is follow RIFF on Twitter and retweet our giveaway post. You can also like RIFF on Facebook, share our giveaway post, and send us a message with a screenshot. We'll pick the winners by Dec. 27, and they will each get two tickets.
The event starts at 4 a.m. and goes until the evening hours.