Win a limited-edition vinyl featuring live Rock & Roll Hall of Fame performances
Jerry Lee Lewis, The Who, Bruce Springsteen, Stevie Nicks and Lindsey Buckingham, and Paul McCartney all on the same stage? It has happened, though perhaps not in a normal festival timeframe. They are just a few artists who've performed live at the Rock & Roll Hall of Fame induction ceremonies over the past 25 years, and those performance are featured on a new limited-edition LP. Read on to win a copy for yourself.
Rock & Roll Hall of Fame Live – Volume 2 promises "a 180 gram 'ticket' to the very best performances and all-star jams" from the exclusive celebrations, ranging from as far back as The Who's 1990 rendition of "Pinball Wizard" to 2006's Wilson Pickett tribute performed by Solomon Burke, Marc Broussard and Leela James. Other tracks include The Doors with Eddie Vedder on "Roadhouse Blues," "Groovin'" by The Young Rascals, John Fogerty performing "Green River" Johnny Cash singing "Big River."
The album is pressed in a unique red-and-orange swirl, making it even more memorable. Money raised goes back to the Rock & Roll Hall of Fame Foundation, supporting the museum's exhibits and educational programs.
RIFF is giving away a copy of this vinyl LP. To enter, follow on Twitter and retweet any of our contest Tweets, tagging at least one friend who'l get to listen to album after you win. The contest runs through Friday, Oct. 28.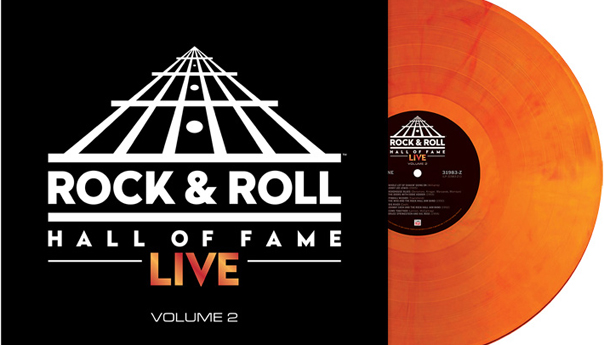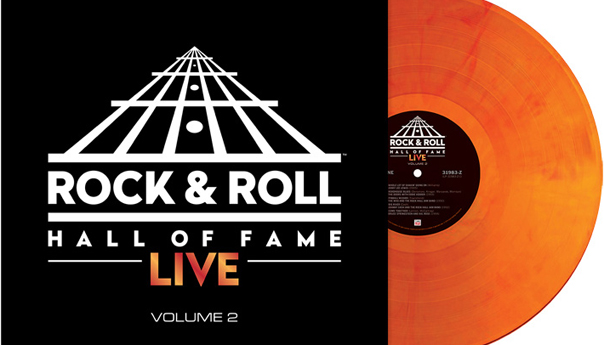 Side A:
1. Whole Lot Of Shakin' Going On – Jerry Lee Lewis (2005)
2. Roadhouse Blues – The Doors with Eddie Vedder (1993)
3. Pinball Wizard – The Who and The Rock Hall Jam Band (1990)
4. Big River – Johnny Cash and The Rock Hall Jam Band (1992)
5. Come Together: A Tribute to John Lennon – Bruce Springsteen and Axl Rose (1994)
Side B:
1. Landslide – Stevie Nicks and Lindsey Buckingham (1998)
2. Groovin' – The Young Rascals (1997)
3. 634-5789 (Soulsville, U.S.A.) /Mustang Sally/Land Of 1000 Dances Medley: A Tribute To Wilson Pickett – Solomon Burke, Marc Broussard and Leela James (2006)
4. Green River – John Fogerty & Friends (1993)
5. Let It Be – Paul McCartney and The Rock Hall Jam Band (1999)