Tuesday Tracks: Your weekly music discovery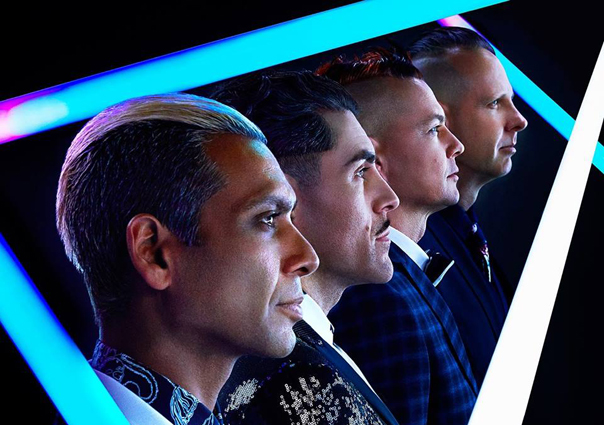 Every week, there's a plethora of new music at our fingertips.
Oftentimes, new singles are lost among the sea of radio hits and artists that are tough to sort out on Spotify go unnoticed—these are the hidden gems we've decided to share. This month, we're starting a weekly feature for new singles of all genres and backgrounds to help you discover something new. Find a song that suits your fancy.
***
DREAMCAR, "Kill For Candy"— This new "supergroup" has been getting some attention since No Doubt's bassist Tony Kanal, drummer Adrian Young and guitarist Tom Dumont have teamed up with AFI frontman Davey Havok. Their first futuristic single, "Kill For Candy," has dropped, and sounds somewhat like The Cure infused with early Panic! at the Disco. Dreamcar's album, out May 12, is a 12-song debut on Columbia Records. The single is the perfect precursor to the new record, and sets the bar for some '80s-influenced tracks, according to Kanal. And what for the future of ska punk band No Doubt? Well, they've unfortunately been dead for a decade or so, right?
***
ALEX LUSTIG featuring Ayelle, "Do Wrong"— This Belgian electronic artist has debuted this single featuring British singer Ayelle. As a person who doesn't generally listen to electronic dance music, I think it's actually really good. Soundcloud listeners have littered the track's page with support and positive comments, with one writing, "Whatever you are doing, you are doing it right." The lyrics that stand out are "I can make them lose control/ I can make good men do wrong," as Ayelle elevates the song into a sensual realm. Lustig mixes her voice into the kind of electronic beat rave fans fall for. But "Do Wrong" also offers a unique aspect to this hyped-up scene: good listening quality for which you don't have to get high.
***
SIAMESE, "Hounds at Sunset"— Delightfully simple, kaleidoscopic indie chic; that's how I would describe Siamese' new single, off of the band's (rightfully named) debut EP "The Mesmerist." Lead singer and guitarist Teddy Georgia Waggy says, "The song is part self-ridicule, part genuine grief for my ancestors' transgressions. For the predatory violence in true American history, and the intimidating might of every oppressive force of culture that barrels forward with centuries of momentum on its side." I don't even understand what he's saying here, but it makes for some sweet jams.

***
MINKE, "Gold Angel"— Slow, sultry at times, and earnest would best explain "Gold Angel." The song is not unlike London Grammar at its best. The theme of the song was inspired by the courage today's young women must develop due to the societal pressures to achieve the impossible perfection most everyone craves these days. Minke sings, "All dressed up, nowhere to go/ TV's on, no one's home/ Look me up, if I'm not there/ Leave a message, show you care." 
***
SURF CASSETTE, "Summer's End"— This band is a gem. Their entire self-titled album was recorded, mixed, and mastered in their rehearsal room in Milan, and the fuzzy quality only adds to the "garage grunge surf rock" sound they're aiming for, and it totally works. "Summer's End" is the perfect anthem for the end of a warm, teenage beach day you want to live in forever and these young artists mix in some Italian in the bonus track "Portami Via," which makes the conclusion to Surf Cassette endlessly cool. This is the new-wave original '60s-esque content I didn't know I was pining for.
***
AMANDA'S PICK: Surf Casette, hands down! These kids are awesome and I am partial to beginning bands trying to make it big. Do yourself a favor and check them out. They're music makes me feel like I'm in an surfing film that's about to become the coolest indie hit of the summer. It also makes me want to put on my old sneakers and dance in a dirty garage. Who wouldn't want to listen to something like that?
Follow writer Amanda Limond at Twitter.com/mandylimond and Instagram.com/photolimond.