Tuesday Tracks: Your weekly new music discovery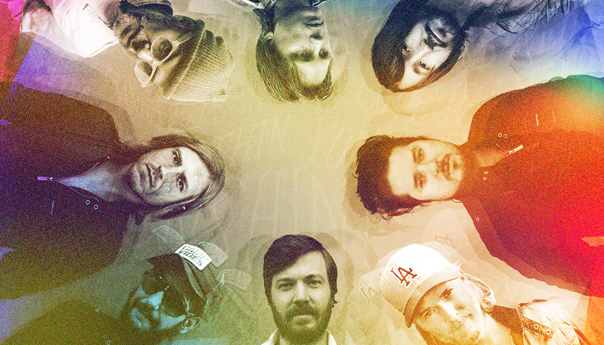 Every week there's a plethora of new music at our fingertips.
Artists on platforms like Spotify and Bandcamp are plentiful, and the radio offers a steady deluge of new singles, but who has time to sort through all that? RIFF does!
We've pooled our resources to find some of the best new singles coming out of all genres and backgrounds, so that you can find your newest earworm without all the drama. Enjoy this week's hidden gems:
***
WATERS, "Molly is a Babe" – This alt-rock track is a weekend anthem. San Francisco emigrant/Angeleno Van Pierszalowski and his bandmates belts their frustration at having to work working a day job and paying bills and rent (so perhaps the track is directly influenced by his former home!). But once the chorus breaks out, all responsibilities are freed and the band parties all weekend long. "Who cares I'm out of my nine-to-five/Fucked up and feeling alive/And my ears are ringing" Pierszalowski sings. The song incorporates a '90s grunge aesthetic, resembling the work of Weezer. Pierszalowski wrote the song after being inspired by the band's trip to Reno. The "knock-off Vegas" is a place to let loose and neglect all duties. WATERS' third full-length studio album, Something More!, is out May 15.
***
Exhibition featuring Julian Casablancas, "No One There" – Hammarsing Kharhmar, known as Exhibition, is making a name for himself. Up until now having worked mostly in the shadows, Kharhmar is stepping into the limelight with the help of The Strokes' frontman Julian Casablancas. Exhibitions debut EP, Last Dance, will be released through Casablancas' new label, Cult Records. Casablancas not only helps with the production of the album, but also makes an appearance on the track. The song is ethereal and haunting. Casablancas' vocals, alongside background whispers, are dainty and smooth while Kharhmar's guitar work is dark and defined.
***
BNQT, "Unlikely Force," – As the song title suggests, this supergroup is an unexpected phenomenon. Members of Band of Horses, Midlake, Grandaddy, Franz Ferdinand and Travis have all come together for this funky, '70s-inspired track. The unique characteristic from each band is distinctly incorporated into the new group. Edgy synths play alongside the piano as guitar melodies create a feel-good tune. BNQT's debut album, Volume I, is out April 28 and we should expect it to be experimental and funky.
***
Jen Gloeckner, "Prayers" – Unlike the other tracks that incorporate various instruments, tunes and an array of group members, Jen Gloenckner uses only her powerful voice and electronica to create a captivating new track. The singer-songwriter has a deep, sultry voice that meshes effortlessly with the refreshing, airy beats. The track is dreamy and meditative. Gloeckner's new record, Vine, comes of April 14.
***
RUBY'S PICK: Exhibition "No One There," featuring Julian Casablancas is my pick this week. Exhibition highlights his impressive guitar skills without depending on a variety of synths and electronic sounds on his debut single. Having Julian Casablancas sing on your first song helps get his name out there and people listening. This song is edgy, haunting and vibrant. I can't wait to hear the rest of Exhibition's album to see the work he creates alone.