Tuesday Tracks: Your weekly new music discovery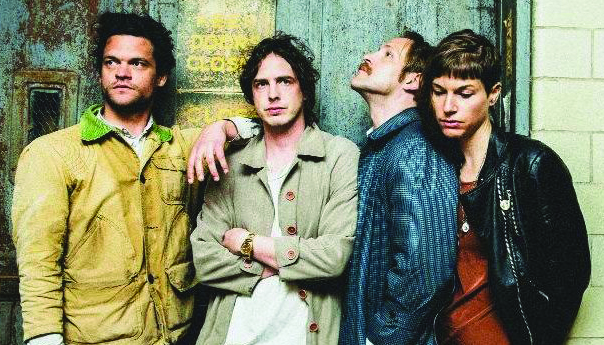 Every week, there's a plethora of new music at our fingertips.
Artists on platforms such as Spotify and Bandcamp are plentiful and the radio offers a steady deluge of new singles, but who has time to sort through all that? RIFF does!
We pooled our resources to find some of the best new singles from all genres and backgrounds, so you can find your newest earworm without all the drama. Enjoy this week's hidden gems:
***
Warbly Jets, "The Lowdown" — Still no word on when L.A. rockers Warbly Jets plan to release a full album, but they just released their second single, "The Lowdown." (Read about first single "Alive" here.) Part garage rock, part psychedelic rock, the song skewers the music industry, celebrating the band's ability to succeed on its own.
***
Proxima Parada, "Time in a Circle" — Channeling early '70s easy listening, the first single off San Luis Obispo-based Proxima Parada's second full-length album is slow and soulful. The melody on "Time in a Circle" is subtle, allowing singer Nick Larson's vocals to shine.
***
BRONCHO, "Get in My Car" — The lyrics on BRONCHO's "Get in My Car" are hardly decipherable as singer Ryan Lindsey mumble-whispers on the track, but that doesn't prevent the song from being intensely catchy. A muted throwback to '70s New York glam rock, it mixes breathy vocals (a la The New York Dolls) with guitar-pop reminiscent of Phoenix.
***
Humble Fire, "Builder" — The title track off Humble Fire's forthcoming third album is a melancholy and beautiful exploration of an unraveling relationship. Singer Nefra Faltas's breathy voice is mildly haunting as she struggles with separating from someone in whom she's invested much of herself. "I don't know how to play this game," she whines as works toward a resolution. The D.C.-based band plans to release Builder on July 28.
***
Suzanne Santo, "Blood on Your Knees" — The slow build of singer-songwriter Suzanne Santo's "Blood on Your Knees" gives way to a raging and rocking single, the first off her debut album, Ruby Red. "Are you feeling sorry for yourself/ Are you mad that you got dirty?/ Are you blaming someone else?" she croons before launching into a screeching guitar solo. Formerly half of duo HONEYHONEY, Santo mixes blues, rock and Americana on her solo effort.
***
Yellow Shoots, "Make It to the Summer" — "I just want your summer love," sings Brooklyn's Yellow Shoots on electro-soul charmer "Make It to the Summer," a fitting lyric for a song that is as easily enjoyed as it may be forgotten after its season. The singer-songwriter, whose real name is Greg Matthews, adds touches of Prince and Yes to the single, making it a perfect tune to listen to on a lighthearted summer day.
***
Moonrise Nation, "Eye to Eye" — Indie folk-pop trio Moonrise Nation beg to "slow down" on its new single, "Eye to Eye." The song explores a relationship, fading but not yet dead, reflecting on a moment when the two could look at each other and actually see the other. The trio's beautiful harmonies are a wonderful contrast to the track's booming drums as vocals plead, "Departure time is set/ No time to miss you yet."
***
BRANDI'S PICK: I'm a big fan of Methyl Ethel, so it's no surprise that my favorite track of the week is BRONCHO's "Get in My Car." There's little I like better than a bit of garage-tinged glam rock and these Oklahomans deliver.
Follow journalist Brandi Smith on Twitter, Facebook and BrandiSmith.me.