Tuesday Tracks: Your Weekly New Music Discovery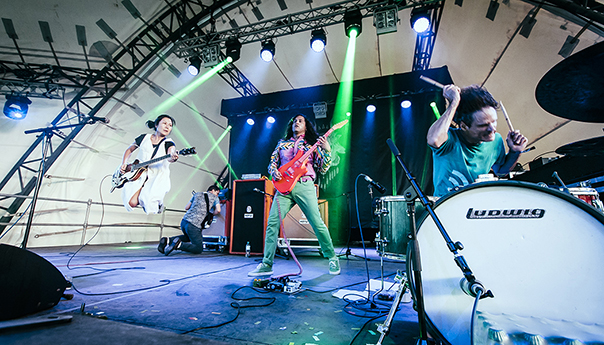 Every week, there's a plethora of new music at our fingertips.
Artists on platforms such as Spotify and Bandcamp are plentiful, and the radio offers a steady deluge of new singles, but who has time to sort through all that? RIFF does!
We pooled our resources to find some of the best new singles from all genres and backgrounds, so you can find your newest earworm without all the drama. Enjoy this week's hidden gems:
***
Deerhoof, "I Will Spite Survive" — Deerhoof fans know that the San Francisco art rock band has a sound so out of this world that it feels like a universe of its own. While "I Will Spite Survive" is a little more straightforward in melody, it's still catchy, fun and clever Deerhoof. The single is driven by an '80s new wave hook, with vocalist-bassist Satomi Matsuzaki's vivid vocals sending warnings like, "Sleep at night, if you can stay alive." The video—animated, quirky and dark—sums the song up just right. "I Will Spite Survive" is off Deerhoof's Mountain Moves, out now.
***
Dream Wife, "Let's Make Out" — London-based rockers Dream Wife know how to make a statement. The band name offers social commentary on the objectification of women. And their electrifying and outspoken single, "Let's Make Out," is a declaration of its own. The track's fast-paced, pop punk energy makes the pitch perfect soundtrack for any movie party scene, or times you just need to get pumped. "Let's Make Out" is off the trio's debut, self-titled album, which comes out on Jan. 26, 2018.
***
Sego, "Whatever Forever" — Feeling jaded? Sego gets it. The group's latest single, "Whatever Forever," perfectly captures feeling unattached from the world's hustle and bustle through fuzzy guitar riffs and distortions. Frontman Spencer Petersen's sings through the motions with lines like, "I fell in love, I fell in money/ I walked around, I bought a car/ I stole some gum, I gave it away/ Don't ask if I'm ok." The track is off Sego's upcoming album, which is still in the works. In the meantime, you can catch Sego opening for OK Go at The Fillmore on Nov. 2.
***
Jade Bird, "I've Been Everywhere" (Johnny Cash cover) — London singer-songwriter Jade Bird gives this Johnny Cash tune the indie rock treatment we never knew we needed to hear. Bird and her band have an infectious energy that transcends through the video, which shows the group nailing the song's twists and turns all the way through. As if that's not impressive enough, Bird recites the tongue-twister list of locations with complete grace. If the video makes you want to join in on the fun, you can do so at Bird's upcoming show on Nov. 8 at The Chapel.
***
Tunde Olaniran, "Hungry" — The latest single from Michigan-based singer and producer Tunde Olaniran wavers through different sonic phases and makes it all seamless. Starting with a smooth, R&B mood, "Hungry" builds into a wall of synths, and then breaks into a rap backed by hypnotic beats. The line, "Guess what? I'm wild," perfectly defines the track's successions of sound. "Hungry" is the second single to recently come from Olaniran (the first being "Symbol"). Here's to hoping we'll hear some more from him!
***
Chloe's Pick — Deerhoof's "I Will Spite Survive" takes the cake for me this week. I've been singing, "You can outlive your executioners," to myself since putting on the video. The guitars, bass and drums each have distinct and multi-faceted parts, and they make it all sound so wonderfully cohesive! It's seriously magic.
Follow Chloe Catajan at Instagram.com/riannachloe and Twitter.com/riannachloe.