REWIND: Celebrating Scotland with The Proclaimers and CHVRCHES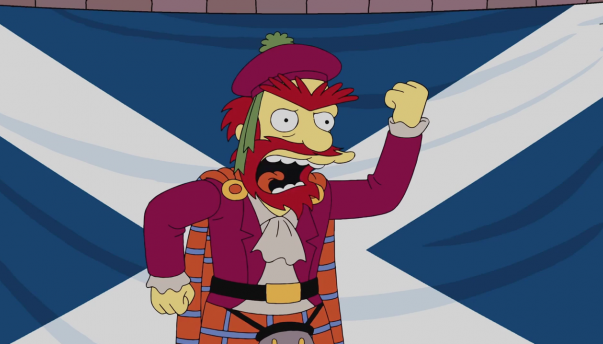 Happy Tartan Day!
On April 6, 1320 the Declaration of Arbroath, demanding Scottish independence from Pope John XXII, was signed. It didn't work. But it did potentially influence the Declaration of Independence, which was enough for future Congress-to-Lobbyist-pipeline poster boy Trent Lott to endorse it as a holiday celebrating Scotland and the Scottish people.
In actuality, it's a wholly invented holiday to compete with St. Patrick's Day that's likely never going to catch on.
But I like Scotland and the Scottish people, and I'm not just saying that on the record in case Karen Gillan ever Googles me. I'm also always on the lookout for an easy column theme.
It was actually difficult to pick five songs from Scotland because I've already used some of my favorites in previous columns: "Hair of the Dog" by Nazareth, "Baker Street" by Gerry Rafferty, "Black Horse and the Cherry Tree" by KT Tunstall, and "Take Me Out" by Franz Ferdinand. So here are five of the best Scottish songs other than those.
---
Donovan — "Sunshine Superman"
Let's start with the earliest song on our list from 1966. This psychedelic folk classic from Glasgow native Donovan wins out over "Mellow Yellow" because of the studio musicians on the recording.
Donovan himself handles the vocals, obviously, and the acoustic guitar. The electric guitar parts are performed by Jimmy Page. Yes, that Jimmy Page, from Led Zeppelin. And on bass is John Paul Jones, who also goes on to cofound Led Zeppelin.
This is basically a proto-Zeppelin song, is what I'm saying. And how do you argue with that?
---
Stealers Wheel — "Stuck in the Middle"
The song from the torture scene in Reservoir Dogs is not by Bob Dylan. It's actually Gerry Rafferty doing a parody of Bob Dylan, and the fact that people think it's really him either speaks to Rafferty's talent or Dylan's occasional forays into self-satire.
Stealers Wheel was founded by Rafferty and Joe Egan in Paisley, though Rafferty quit the band shortly after this song came out. In fact, Egan lip syncs the vocals in the accompanying video because the singer wasn't actually in the band anymore.
But it's okay, Rafferty went on to record the song with the second-best sax solo in music history.
---
The Proclaimers — "I'm Gonna Be (500 Miles)"
I could have sworn I included this last year, but it's in neither 1988 when it was released in the U.K. nor 1993 when it was released in the U.S. The fact that it's not in either year's Honorable Mentions suggests that I just didn't know which year it should go in.
Which is a shame because I love this song.
It's annoying in that way that lends itself to Family Guy jokes, but I don't care; I love it very much and could listen to it on repeat. I don't know why. But I also don't care; I like what I like, and there's nothing you can do about it.
---
Edwyn Collins — "A Girl Like You"
This song by Edinburgh native Collins always struck me as sounding more modern than it is. It's from 1995 but sounds mid-2000s, which is possibly a side effect of its retro vibe. Timeless, I guess.
Also shocking is that "A Girl Like You" has never appeared in a Quentin Tarantino movie. It feels like it should have been but no, not once. It has been in cinematic classic Charlie's Angels: Full Throttle as well as a TV show called "Cleopatra 2525" about an exotic dancer cryogenically frozen in 2001 and thawed to fight evil robots in the distant-at-the-time future. IMDb insists this show is real.
---
CHVRCHES — "Leave a Trace"
I'm grudgingly including a modern song in here rather than including something else from the '90s even though I find replacing a U with a V insufferable. I do dig the whole electronic vibe, though, and the band is from Glasgow, so it makes the cut.
Also to this song's credit? 4chan hates it. They harassed singer Lauren Mayberry over it for all sorts of nonsensical reasons that boil down to her being a woman, and angry 4chan nerds being terrified of and therefore angry at women. And anything that the dark, bigoted parts of the Internet hates has to be pretty good.
Follow editor Daniel J. Willis and tweet column ideas to him at Twitter.com/BayAreaData.