RIFF's 2019 in Review… in review!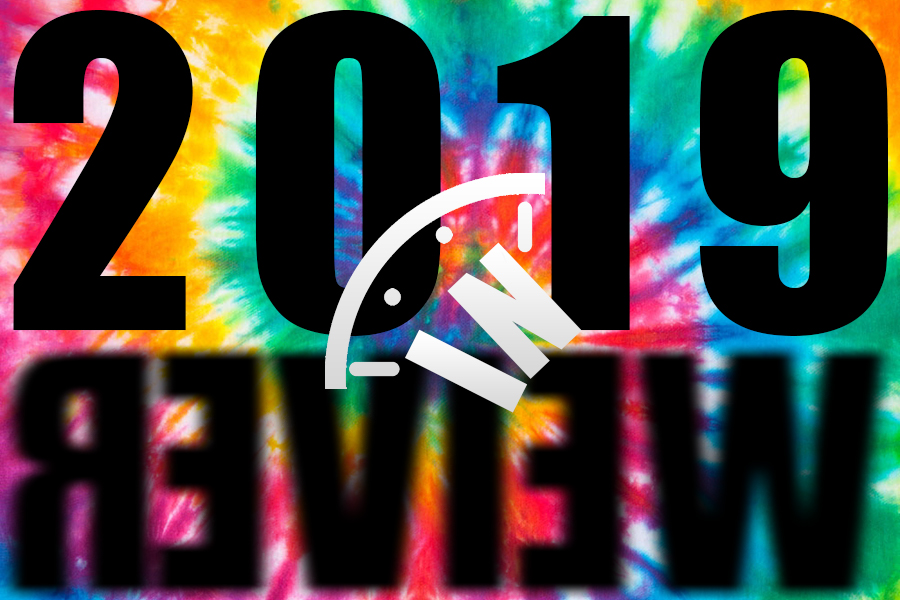 Are you already nostalgic for 2019? Did holiday events make you miss any of RIFF's 2019 in Review coverage? Is it your first day back at work and you just don't feel like working yet?
Well good news! Just because it's 2020 doesn't mean you can't still relive the good parts of 2019. Here's our year-end coverage all in one convenient place, so you can make sure you didn't miss anything and put off clearing out your inbox just a little bit longer.
---
RIFF's 50 Best Albums
50-41 | 40-31 | 30-21 | 20-11 | 10-1
It's tough to condense a whole year of music into one list, so instead we condensed it into five of them. Our esteemed panel of Max Heilman, Alex Baechle, Mike DeWald, David Gill, Mary Hughes, Josiah Skallerup and Danny Willis and others selected the top 50 albums of the year through discussion, which degenerated to arguments, which degenerated into insults. Like choosing pizza toppings, listing albums will always cause a fight. But in the end we came up with a list we're all mostly happy with, or at least equally unhappy with.
---
RIFF Staff Members' Best-Of
Disagree with any of our Top 50 Album selections? So did we! In fact several of our staff did their own Best of 2019 lists.
Writer Kyle Kohner did his own top 50 albums (50-36 | 35-21 | 20-1) with surprisingly little overlap with our collaborative list.
Kohner also counted down our 20 best hip-hop albums of 2019, possibly in an effort to make the rest of us look lazy. His favorite is by Clipping. but you'll have to click the link to see the rest.
Editor Max Heilman apparently decided there wasn't enough metal on our Top 50, so he led the charge on our 50 best metal albums of 2019 (50-41 | 40-31 | 30-21 | 20-11 | 10-1). He dug fairly deep for these, as evidenced by the number of Bandcamp embeds in the top 10, so if you're a metal fan looking for new music, check it out.
Rachel Goodman focused her list of best songs on alt-pop and alt-rock, including The Dandy Warhols, Sharon Van Etten and Jenny Lewis.
Amelia Parreira went beyond a mere 2019 list with her 20 favorite pop songs of the decade. Two of them are from 2019, however, so there is a best-of-the-year angle as well.
Finally, continuing the theme of his 2018 column, yours truly (Daniel J. Willis) listed his five favorite songs of the year. You're going to disagree with most of them, and that's fine even though you're wrong.
---
Best Photos, Concerts and Interviews
RIFF's photographers are the unsung heroes of the organization. Without them every show review would just be an endless block of boring, boring words. This year three of them agreed to show us their favorite work of 2019.
First up, Sean Liming gave us some great shots of Magic Giant, Cher and Marc Anthony, among others. As an added bonus the photos of Alice in Chains and Korn will take you back to the '90s.
The prolific Joaquin Cabello listed his top 15 shows of the year. Come for the great photos of Billie Eilish and Carly Rae Jepsen, stay for the best description of a Babymetal concert I've ever read: "Babymetal eats the stage like a rabid unicorn."
Last but certainly not least, Gary Chancer went black and white for his favorite concert photos. Easily the most eclectic list of shows of all the lists it ranges from Anti-Flag to Sum 41, Meek Mill, Phil Collins and Slash.
As for the writers, Rachel Goodman listed her 12—yes, 12—favorite concerts of 2019. It includes the third Babymetal shoutout among all the lists. That concert made quite the impression on a lot of people.
Finally, our fearless leader Roman Gokhman wrote about his favorite interviews of the year. Some of us (by which I mean me) assume it's just an excuse to humble-brag about getting to talk to Brian Wilson, interviewing K.Flay while she was still a Stanford student and that time he enraged CeeLo Green.
---
Odds and Ends
Tired of all this talk of best of this and favorite that? Then join me as I recap the Worst of 2019. It's guaranteed to both depress and enrage! And maybe get a chuckle here and there.
And on the topic of bad things, our annual In Memoriam honored Daniel Johnston, Dick Dale, Keith Flint and others we lost in 2019.
If you're a fan of our weekly Tuesday Tracks roundup of the best new music you may be interested in our take on the best of the best we found this year. If you're not already a fan of Tuesday Tracks, catch up on what you missed in 2019 and get on board for 2020.
Finally, it's not all looking behind. We also look ahead with Professor Music David Gill's column about his favorite futuristic albums and Kyle Kohner's rundown of albums we're looking forward to in 2020.