Going to Chase Center? A primer on what to expect
Even from a purely logistical standpoint, Chase Center could not have asked for a better opening night when Metallica headlined alongside the San Francisco Symphony. Concerns about traffic and congestion seemed minimal. Whether non-attendees anticipated event traffic and stayed home or concertgoers listened to the local officials and used public transit—such issues remained surprisingly manageable. The same was true for the Dave Matthews Band performance several nights later. While some people cautiously arrived earlier than they would to a concert elsewhere, traffic seemed to move typically, while there were no backups of Muni trains before or afterward.
Nevertheless, here's a handy guide to having the optimal Chase Center experience. Looking for an event? Check out the Chase Center calendar.
Public Transit
Public transit remains the most convenient access point for Chase Center and that proved to be true. Muni stops next to Chase Center's West Plaza, on Third Street. Trains have been full but didn't seem inaccessible. Rideshares can get you close enough for a minimal walk to the venue, but plans for a ferry service will provide even more options for transportation in the future. You could also rent scooters with Scoot or Skip.
We spoke to concertgoers at the Dave Matthews Band concert about their impressions of Chase Center and what they're most looking forward to experiencing inside.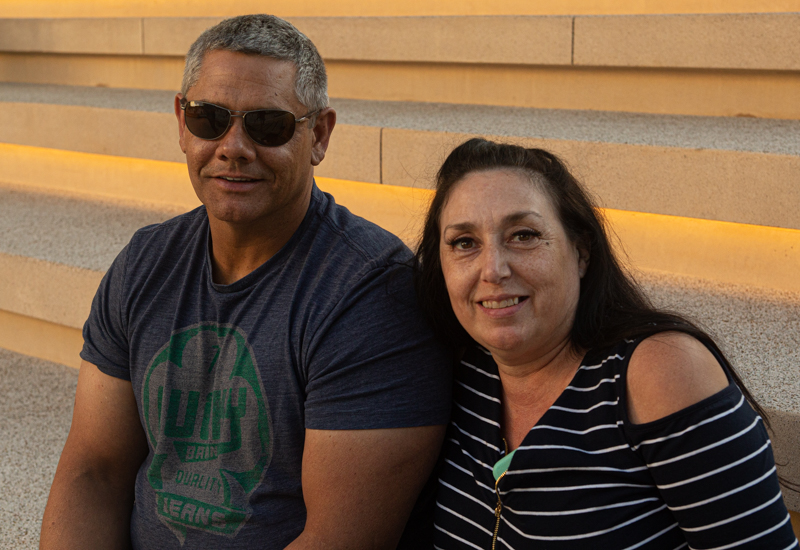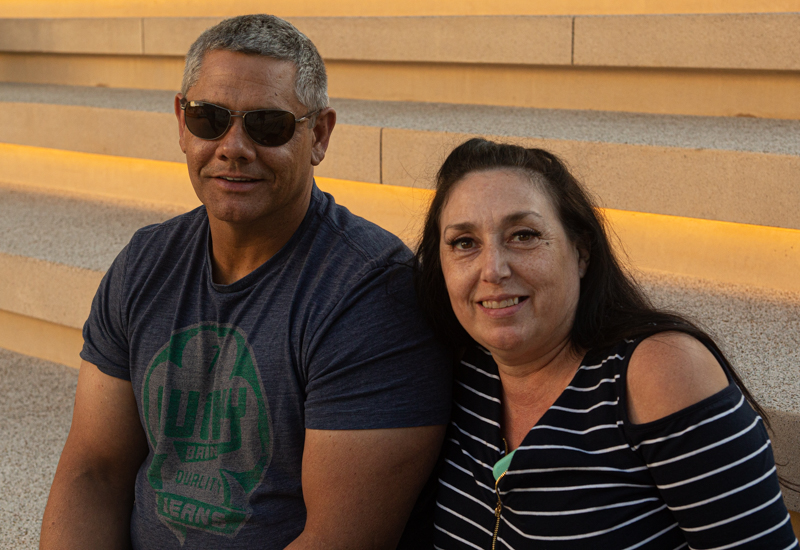 Jim and Michele Maz, Vallejo
Jim: Getting here took a while. We took BART, we walked down when we didn't have to, I found out—from Montgomery Station. It was a long walk. It's nice to have a new venue; nice and clean. I don't want a five-gallon water trough filed with urine [referring to the urinals at Oakland Arena].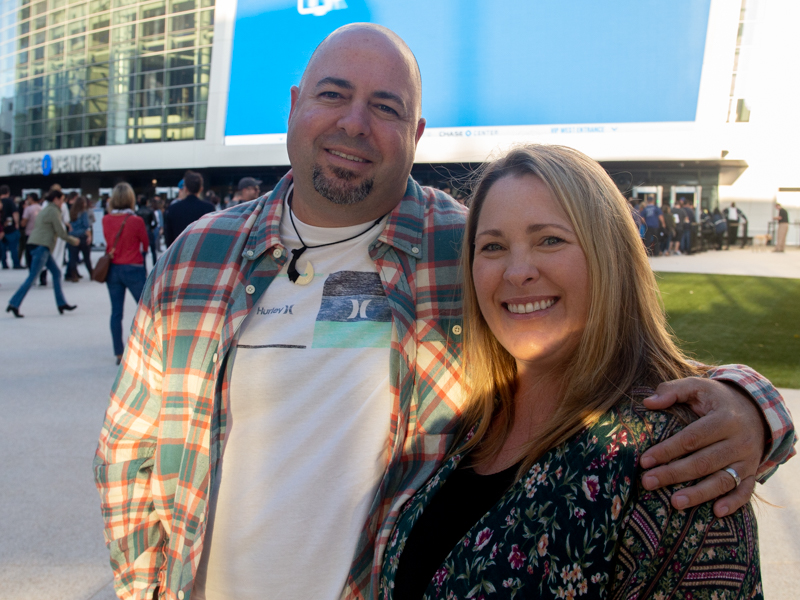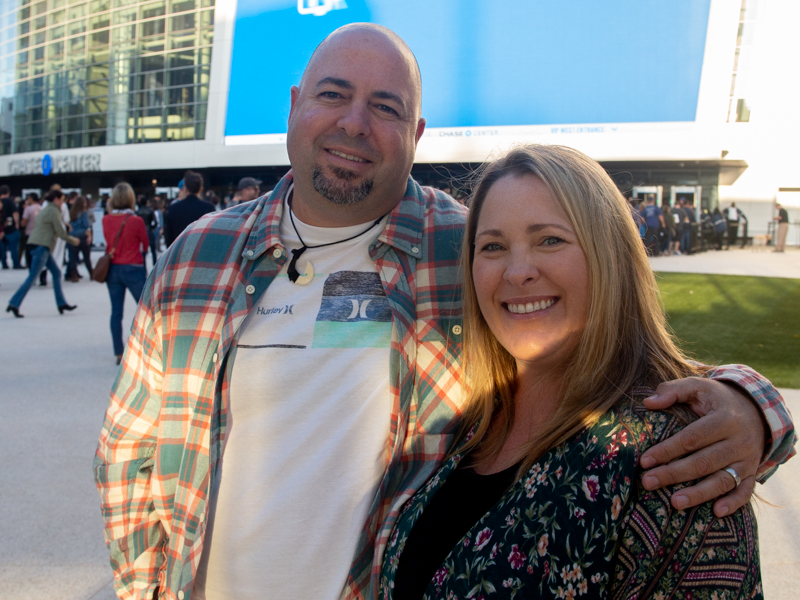 Brad and Jenny Bowen, Humboldt County
Jenny: There's no difference in the drive. It's about the same.
Brad: We wanna get inside, look around and get something to eat before the show.
Jenny: I'm only [concerned about] getting out of here, maybe.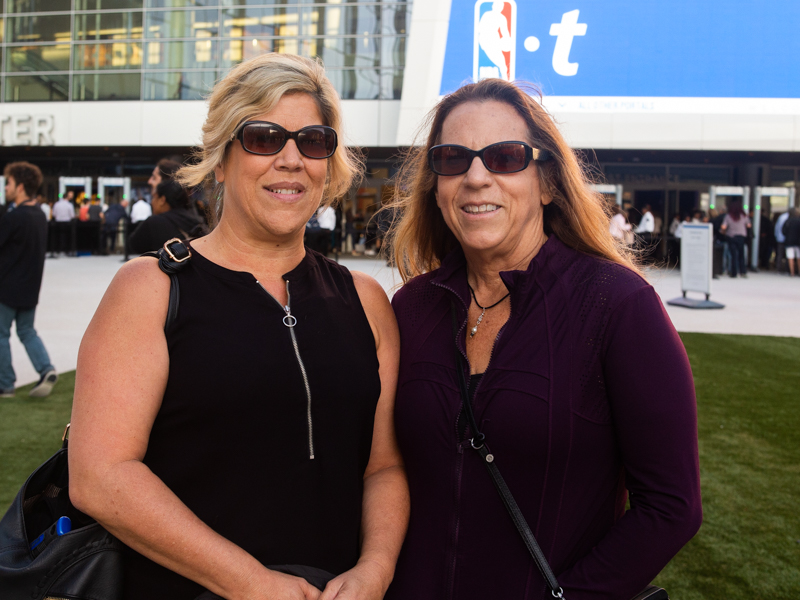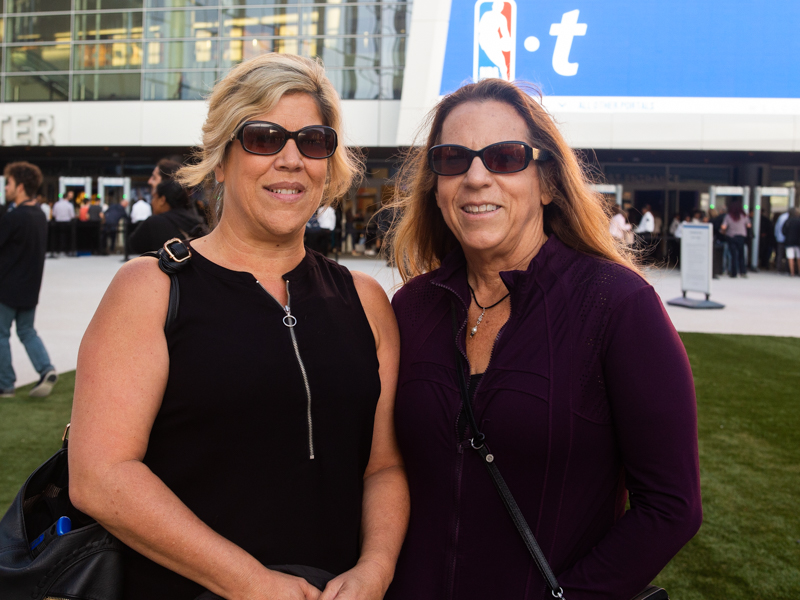 Ramona Dejnozka and Teri Gallagher, Walnut Creek
Dejnozka: It was a long walk from the Ferry Terminal Building.
RIFF: Did you know you could take Muni here for free with your ticket?
Dejnozka: Yeah, but we wanted to walk.
Gallagher: I wanna check out the building.
RIFF: Any Concerns?
Gallagher: Getting out after. It's gonna be dark; is BART going to have extra cars for all of us?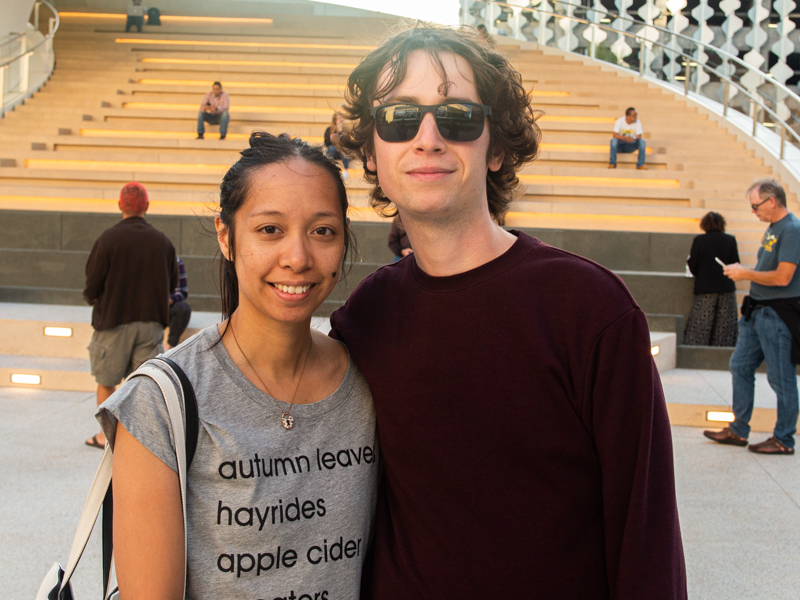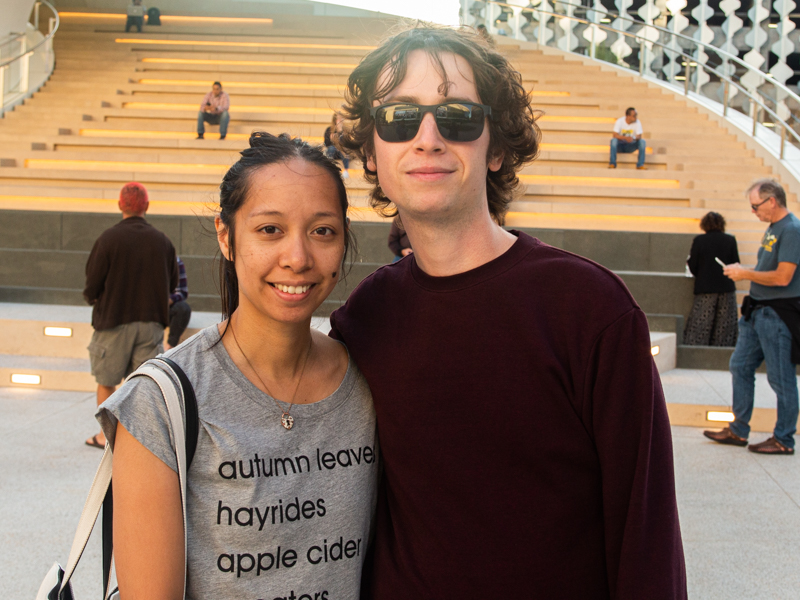 Sophia Bomalda and Zach Dawson, Fremont
Dawson: We've been to Oracle a lot so it's nice just to do something sort of different, and to also experience the Embarcadero before the show.
I'm a huge [Dave Matthews Band] fan … this was also my 15th show.
Bomalda: We got here on time, so BART is much better than having to pay for parking.
Driving and Parking
At least for one night, concerns about mass traffic gridlock seemed largely absent. The traffic patterns were no different from any other day in Mission Bay, up until a block or two before the arena. Traffic signal patterns and some of the entry traffic flow caused minor hiccups, but nothing that set drivers back more than a few minutes.
If you're driving, your best bet is parking in one of the cheaper satellite lots, which cost between $15 to $30, and making the brisk walk over to the Chase Center. Should you decide to park in the arena's underground lot, note that the access point is via Terry A. Francois Blvd. Each car going into that lot requires a check by a bomb-sniffing security dog, inevitably slowing down the process. Leaving the venue may be the easiest of all, as traffic flows freely and easily from the arena.
When we attended the DMB concert, there were concerns that the combination of the show and a Giants game next-door at Oracle Park would create a problem. The game ended prior to the show and there were no additional problems. There seemed to be more traffic before John Mayer's show several days later, but in all, it added less than 10 minutes to our commute.
Arena Access
Access to Chase Center is simple and straightforward. Thanks to several entry points available around the arena, beyond the one in the Thrive City Plaza, getting in remains quick and painless.
Getting Around
Chalk it up in part to the relative newness of the building, but getting around Chase Center can actually become relatively complex. The arena's concourses are split by escalators and hallways, clubs and bars. It's not hard to get lost in the in the maze. So you should get familiar with the layout.
The "portal" number on your ticket arguably becomes more important that the section where your seat is located. The arena signage is almost entirely listed by portal number, so looking for a seat number instead of the portal number may only result in confusion.
Merch
One of the few sticking points of Metallica's opening night show was the merchandise booths. Because they were a unique addition to a "one-of-a-kind" event, the lines they created stuck out as problematic. Some fans waited more than 90 minutes to get to the front of those booths. Even after the performance, lines stretched around the concourse levels. An outdoor merch booth in the Thrive City plaza provided an extra option, but your only option for buying merch without missing the show, is to take care of it when you arrive. At Dave Matthews' show, the Warriors team stores were also selling merch.
Concessions/Beer
The plentiful food options at Chase Center remained generally accessible. Lines for popular items stretched a bit longer, but never seemed insurmountable. Chase makes alcohol uniquely available and accessible—a blessing and a curse. Fans have libations just a few steps away from most portals. Though certainly convenient, it creates an unending stream of people walking to and from their seats during the performance. The extra foot traffic shouldn't become more than minor nuisance. Unlike the building in Oakland formerly known as Oracle Arena, where concessions are located in concourses, Chase Center has them hidden besides some nooks and crannies on the inside of portal entrances. This made it easier to avoid lines altogether at the Dave Matthews Band concert.
Editor Roman Gokhman contributed to this report. Follow writer Mike DeWald at Twitter.com/mike_dewald.