Max Harris acquitted of all charges in Ghost Ship Fire trial; jury hung on Derick Almena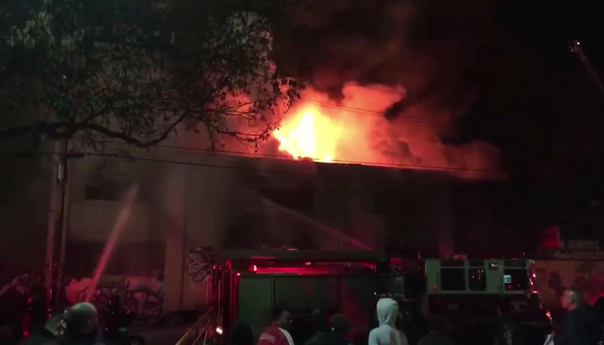 In a stunning turn of events, a jury found Max Harris innocent of all charges in connection to the deaths of 36 people in the December 2016 Ghost Ship fire, and came up hung on charges against the other defendant, Derick Almena.
Almena was the master tenant of the artists' warehouse and Harris the creative director on the night the building burned to the ground, killing 36 people who were there for a party.
Both faced 36 counts of involuntary manslaughter for their alleged roles in the fire. The jury reached a verdict Thursday morning. The verdict was read shortly before 3 p.m. in Alameda County Superior Court in Oakland.
Both man had previously agreed to a plea deal that would have sent them to prison for between six to nine years, but the plea deal was thrown out by a judge who felt like the sentence was too lenient. Now, Harris will not see any time.
Almena's attorneys said an Oct. 4 court date has been set to determine if another trial will be scheduled.
Prosecutors had argued that Harris and Almena were responsible for the fire because the warehouse lacked the required safety fire precautions and was not zoned as a residential building. It was instead leased as a storage facility. The lawyers representing Alameda had said City of Oakland officials blamed their client to cover up their own mistakes.
Following a moment of silence for the victims of the fire, Harris' attorneys, asked city fire officials to acknowledge the "mistakes that were made."
"We call on the city of Oakland and Alameda County to clean house … to realize their duty to the community," Harris attorneys said in a press conference at the courthouse shortly after the verdicts were read. The community cannot be safe until we get accountable leadership in the city and the county."
They also said the city needs more affordable housing and that the tragedy would never have taken place had the artists who lived there had proper homes.
Had they been found guilty, Harris and Almena faced more than 30 years in prison. Alemany ran the ill-fated Ghost Ship warehouse as an artist collective and residence. Ghost Ship was hosting an electronic music concert when it went up in flames. It's the most horrific fire in Oakland's modern history.