Noise Pop adds The Joy Formidable, Rogue Wave, Hazel English and others to lineup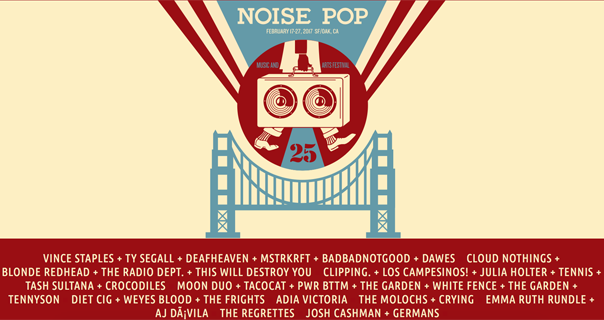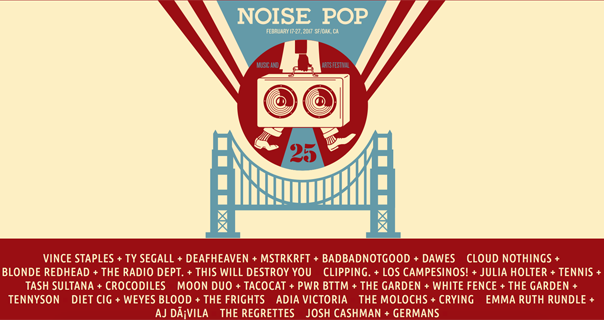 The producers of Noise Pop announced additional artists added to the 25th iteration of the popular music festival, which takes place in a dozen venues throughout San Francisco and Oakland. The additions are highlighted by Rogue Wave, who will perform a set of 1980s covers to coincide with their recent album Cover Me, as well as The Joy Formidable, Hanni El Khatibi, Oakland's Hazel English, San Francisco's Creeper Lagoon (playing their first show since 2001), as well as Grandaddy and others.
They will join previously announced artists, such as Vince Staples, Ty Segall, MSTRKRFT and Dawes. More lineup additions are forthcoming. The festival takes place Feb. 17-27.
Tickets to the just-announced individual shows go on sale at 
10 a.m.
Friday 
at
www.noisepop.com/2017
. Noise Pop Festival 2017 Music and Super Fan badges are available now. The General badge, which includes access to all non-seated concerts, exclusive happy hours and special events is available for $175. Super Fan badges cost $375 include VIP treatment and guaranteed entry to all film, music and culture selections, merchandise, drink tickets and ride-share coupons.
NOISE POP FESTIVAL 2017 – LINEUP ADDITIONS:
Grandaddy*
Radical Face*
Creeper Lagoon*
Rogue Wave (presents Cover Me: A Night of 80s Classics)*
Electric Guest*
The Joy Formidable*
Hanni El Khatib*
The Rural Alberta Advantage*
Matt Pond PA*
The Mother Hips*
Kilo Kish*
Mothers*
Hazel English*
The Buttertones*
Middle Kids*
The Molochs*
Baseck*