Review and video: Grimes goes wild in Oakland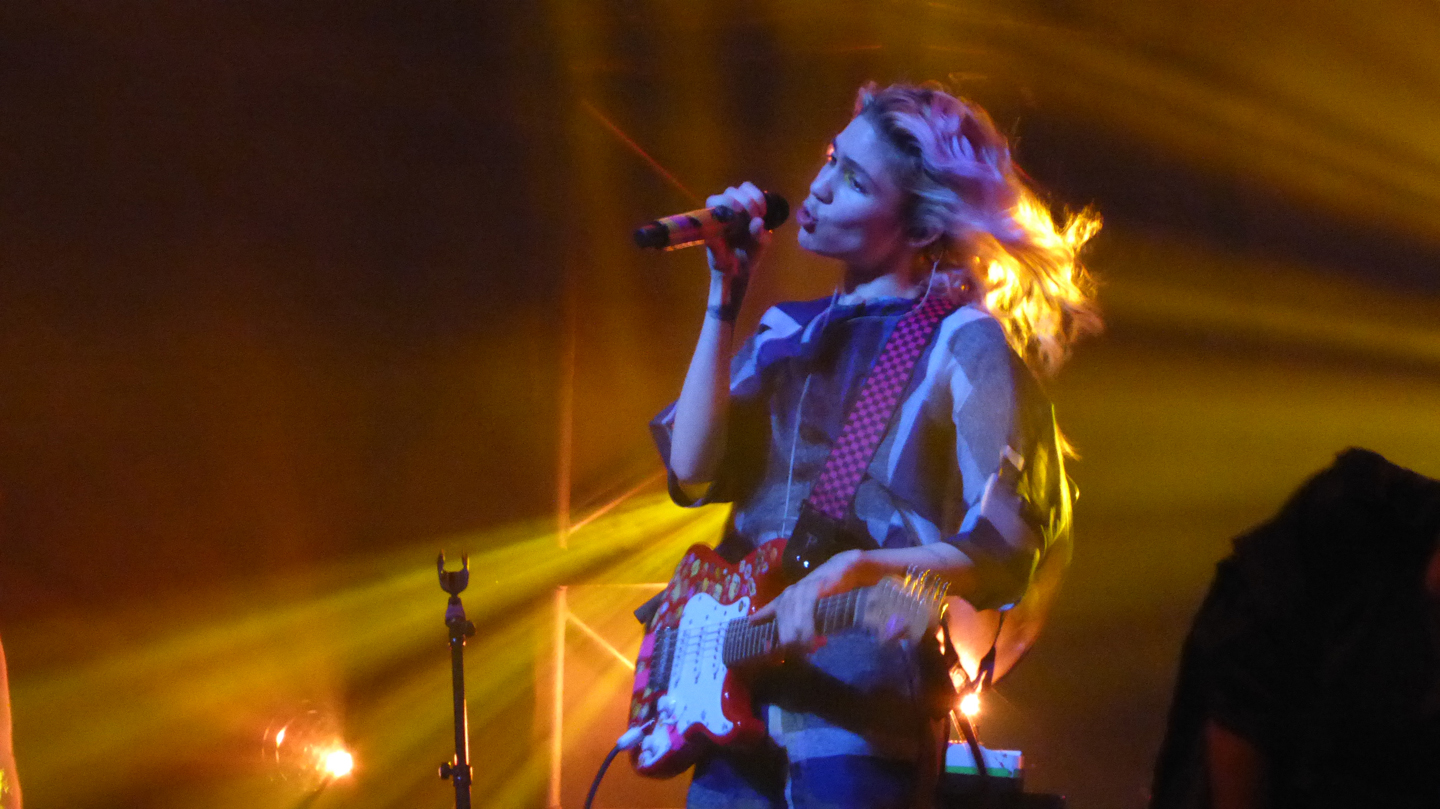 Watching Grimes perform at the Fox Theater in Oakland last night was akin to watching a wild lion, caged and trying to break free of her bonds. The Canadian singer-songwriter (though the classification should be reversed to songwriter-singer, as that is where her skills lie), jumped and growled and shook the cage, with enough energy to rattle fans. But ultimately, that energy was often misplaced in the wrong places.
While the artist, whose name is Claire Boucher, concentrated on visual performance and aesthetic, her vocal delivery and overall sound quality suffered. Not that the majority of her fans cared as they danced and mimicked her guttural screams from the moment she took the stage.
Following a short routine from one of her three front-up dancers—Grimes spent most of the night behind them on stage—she bounced onto the stage and made an announcement wishing the attendees a happy 4-20 and apologizing in advance because she had been hiccuping all day.
She then jumped into a thoroughly entertaining performance of "Genesis," off her 2012 album Visions, which was one of the three or four songs performed from start to finish without figurative hiccups. The next batch of songs, new ones like "REALiTi" and "Flesh without Blood," each included mid-song comments about how Grimes missed a vocal cue or forgot a lyric, which wasn't even noticeable because of the aforementioned sound quality; all bass and drums and compromised midrange.
The setlist consisted solely of songs from the new album, 2015's rightly praised Art Angels, as well as Visions. The older songs, especially "Oblivion," came off much more cohesively than the newer songs. You would not be able to pick out the hits from within the new material without the benefit of first listening to the album versions.
Let's not hold that against Grimes, though. She made her mark with terrific and original songwriting and production. She is truly unique with the type of electronic synth music she makes. The live performances need work, and maybe she'll get there. She's got a few obstacles to overcome, including stage fright, which she mentioned twice at the Oakland performance. Perhaps that's why the dancers had much of the spotlight while she danced behind a control unit, twisting knobs for much of the night.
Follow Roman Gokhman at Twitter.com/RomiTheWriter and RomiTheWriter.Tumblr.com.