Brandi Smith: RIFF's resident hero journalist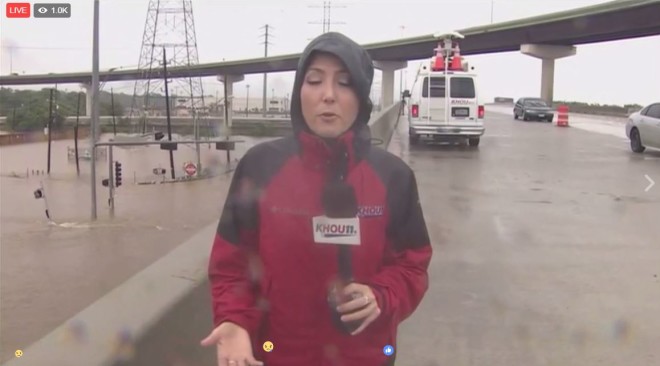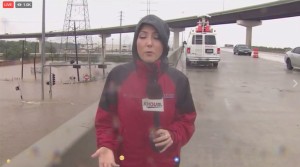 Note from Managing Editor Daniel J. Willis:
If you're wondering why you haven't seen anything from our Senior Reporter Brandi Smith lately, it's because you've seen her everywhere else, because she's a hero to journalists and to Houston.
Brandi's day job is reporter for KHOU 11 in Houston. In case you missed this story on her exploits from the Washington Post, on Aug. 27, while their station was shutting down due to the Hurricane Harvey flooding, she and a cameraman, Mario Sandoval, stayed on the air. For a while she was the TV news in Houston, getting information to people about the storm and the rising water despite the risk to herself.
Speaking as a reporter myself, most of us like to think we would keep doing the job in the face of danger and chaos and mounting tragedy but the fact is not all would. Actually facing danger is a lot harder in practice than in theory and Brandi put her community first and set an example her entire profession hopes to follow.
But that's not even the most amazing thing she did that day.
She also saved a man's life.
She and Sandoval spotted a truck driver stuck in his semi cab in rising flood water and, while on the air, she flagged down a passing sheriff's deputies—with a boat—who likely would have never seen him otherwise. The deputies pulled the man from the truck, to her audible relief.
Brandi is OK, and hopes to share her story with you herself in the next few weeks. But right now her station is literally rebuilding from the ground and she's been working 11-hour days. She's also trying to salvage the data on her phone, which went for a swim. The phone holds her interview with Madeline Kenney, which is also coming soon, promise!
Of course, we aren't just telling you this to brag about our friend and colleague's exploits. Not entirely at least. We also want to recognize her heroism in a more tangible way.
She, like many, many other Houstonians, lost her car to the floods. We'd like to get her the money for a new one.
We know we aren't the only people raising money for someone in Houston. Florida and the Caribbean need your money as well, and the flooded regions of Bangladesh, India, and Nepal, and the areas affected by the earthquake in southern Mexico, and the areas on fire in Oregon, Washington, and Montana. The world is just a mess.  But if you've ever enjoyed one of Brandi's stories, we humbly ask you to kick in a few bucks to get her some new wheels.
Any money she doesn't use will go to Music Rising, a charity which helps musicians and music educators affected by storms like Harvey.
Thank you to any of you who can help, and especially thank you to Brandi for all you've done.  It's an honor to be your colleague and I can only hope I'd do half the job you did and continue to do.
Follow editor Daniel J. Willis at Twitter.com/BayAreaData.