Guest column: Longtime Fountains of Wayne publicist Ken Weinstein remembers Adam Schlesinger
Editor's note: Publicist Ken Weinstein shared this message with his friends last week, and has granted permission for RIFF to share it publicly. Adam Schlesinger passed away last week of complications from COVID-19, the illness caused by coronavirus. He was 52.  
I can't believe I'm sitting here again thinking about what to write and express about someone I cared for so deeply.
I was Adam Schlesinger and Fountains of Wayne's publicist since 1996. Thanks to Michael Krumper and Steve Yegelwel, this incredible band came into our universe, never to leave. From the first chords of "Radiation Vibe," publicist Bobbie Gale (who also did the second one herself before I took over alone at Big Hassle in 2003 for Welcome Interstate Managers) and I knew we were in the presence of greatness.
Twelve songs of pure power pop bliss that led to five more albums of pure joy start to finish that still entertain today. Add the criminally under-appreciated Tinted Windows album (Adam would approve of me using this space for a little promo, ha) and the great David Mead, Jr. album he produced and the Stephen Colbert Christmas songs, the Tony Awards intro songs, the "Crazy Ex-Girlfriend" songs," That Thing You Do," the great "Better Things" Kinks cover on Jim Pitt's Kinks Tribute album, "SNL's" Saturday TV Funhouse, the "Crank Yankers" theme song, Ivy's excellent albums and so much more.
I mean, the man was actually a genius. He was a machine. He could do and play anything. His piano playing was insane. Adam had (fuck, I still can't believe I'm using the past tense here) a huge heart and a keen eye and the rare ability to express the subtleties of human drama from relationships to work-a-day jobs to, heck, making a short film in a song about standing in line at the DMV.
His songs were deeply heartfelt and often really twisted and funny. He spent a lot of time carving out characters and their lives so it actually would upset him that the funny overshadowed the compassion. He wanted people to dig more deeply into the stories he wrote. But there is no question that the mofo was hilarious. He made me laugh so much. Deep crazy belly laughs. When we called each other, we always opened with the greeting made famous by The Great Gazoo in "The Flintstones:" "Hello Dum Dum."
Anytime he called me up to help him with something, I always said, "Absolutely, let's go." There's nothing I wouldn't do for the guy. And, plus, he wrote his own bios and press releases! Side note: his mom is a publicist and, no surprise, one of the most awesome people you'd ever meet and talk to.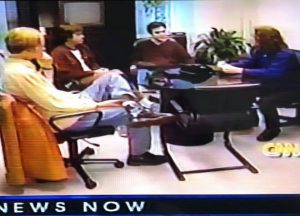 I am going to miss this friend something fierce. I had a great photo of the two of us watching The Police at Bonnaroo but, dang, I can't find it. So here's a photo from a CNN story from 1996 about music execs who make music too. The interview timing for the piece coincided with the press days for the first FOW record, so I figured I'd double dip and use my thing to help give their thing some profile. CNN picked a day to shadow me at the office so I invited the guys up to 75 Rock and here we are. Tears of rage….tears of grief…..