Editorial: RIFF stands with journalists against Trump's attacks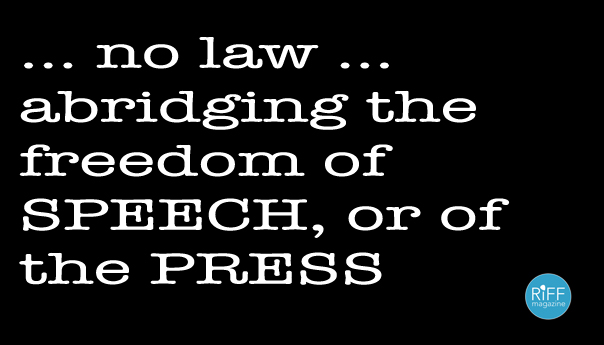 We're writing this editorial in solidarity with more than 250 news organizations around the world.
As of this writing President Donald Trump and his administration have not attacked music journalists, but we don't expect that to last.
Trump has attacked national and regional newspapers, online news outlets, cable news networks, entertainment journalists, sports reporters, business writers, and probably other branches of our profession that got overlooked. Musicians have been at the forefront of nearly every protest movement in modern American history. It's only a matter of time before they come for us as well.
RIFF Magazine stands by our fellow journalists against these attacks, both against them and against the media. It's not a mistake that journalism is the only profession specifically mentioned in the Constitution; a free press that is able to collect and disseminate information without fear of legal repercussions or harm is essential to a functioning democracy.
That does not just include coverage of news and politics. Free and accurate coverage of things like sports and the arts are just as essential. When athletes protest before games, for example, sportswriters need the freedom to safely report what exactly the protests are about.
Likewise, music journalists should be free to report on messages and protests by musicians without fear of being the next target of, arguably, the most powerful person in the world. When the American equivalent of Pussy Riot emerges we need to be free to report on them.
We, the editors of RIFF Magazine, condemn Trump's attacks on the press in the strongest possible terms. We encourage our readers to support all journalists by calling your Senators and Representatives to express your support for the media. We encourage you to support both local and national newspapers politically and financially.
Most of all, we encourage you to not let these attacks stand unchallenged.
Roman Gokhman
Daniel J. Willis
Chloe Catajan
Max Heilman
Punitma Malhotra