Roman Gokhman's favorite concerts of 2016: 13-8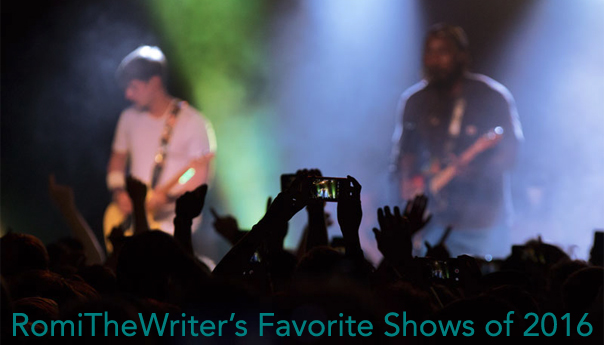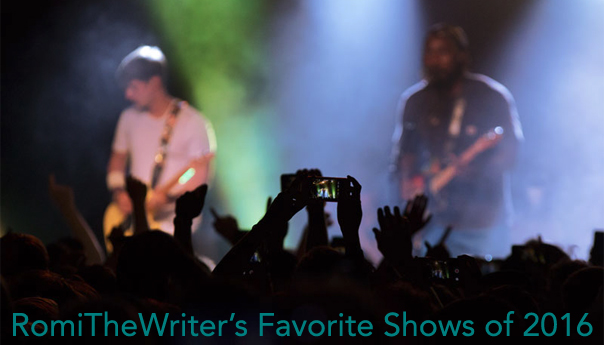 This is the second in a three-part series. Read the introduction to learn how I'm scoring my list and find out about my "special consideration" in PART 1.
Favorite Shows 2015 | Favorite Shows 2014
Favorite Shows 2013 | Favorite Shows 2012
13 – CHANCE THE RAPPER at Bill Graham Civic Auditorium – Oct. 21
At the first of two concerts, Chancellor Johnathan Bennett brought spiritual uplifting and summoned his childlike creativity. He probably made the crowd feel like they were on the set of Sesame Street, too. Performing to uplift and entertain can be a tricky proposition, but Chance nailed it with the gospel-tinged songs on his third mixtape, 2016's Coloring Book. A few songs into his set, he introduced Carlos the Lion, a life-sized puppet that propelled the narrative of the show and played foil to Chance. Other puppets soon began popping up here and there, and before long, everyone was in a state of altered reality completely unrelated to the large plume of smoke above everyone's heads.
12 – KACEY MUSGRAVES AND HER BAND at the Fillmore – Sept. 17
Musgrave's put on a good show any way you slice it, but what made it special was the strength of Musgraves' band, taking starring roles during most of the performance. At one point, Musgraves even called upon each member to demonstrate their "stupid human tricks," which included juggling and very accurately barking like a dog. The Mineola, Texas, singer also appeared to be having much more fun than on her previous Bay Area stop, and was in a very talkative mood, brining up life in her small town, and later about her college roommates, one of whom just happened to come to the show. She also covered a number of pop tunes, including a bluegrass take on Gnarls Barkeley's "Crazy," TLC's " No Scrubs" and bits of Bob Marley's "Three Little Birds" in with "Step Off."
11 – PRINCE at the Paramount – Feb. 28
This show is single-handedly the reason my list contains more than a top 10. It was one of my favorite musical experiences before Prince passed away. The list would be incomplete without it. This typical Prince concert — in that nothing was typical about any Prince concerts — featured the Artist sitting at a piano for two hours, picking songs from his songbook at random, interspersing them with personal stories, and covers like the theme to the '60s Batman TV show. Prince gave life lessons, as well as musical ones: "Funk is about space," he intoned. "Clap your hands; watch me." No one knew he would be gone so soon after this show, but you aren't likely to find anyone who attended and didn't come away with some profound knowledge. In my review, I mentioned he could play "Chopsticks" and people would listen. I like to think he read that, as reports indicate he did play that song at his last private show at Paisley Park.
10 – M83 at the Fox Theater – Dec. 15
How would Anthony Gonzalez's new material, which largely eschewed the aesthetic of his recent, critically lauded, work? Much better than on record. That was my take-away from this show. I respected his decision to make the more risk decision, but am not a fan of his newest album, Junk, which veers from dreamy shoegaze to campy pop. And yet, cheesy songs like "Do It, Try It," "Moon Crystal" and "For The Kids" came across really well in a live setting, even more so when blended in with his classic material. The show had a more prominent role for the saxophonist, and new keyboard player Kaela Sinclair filled in admirably, when called upon. As did Mai Lan, who sang on a couple of songs, including a moving "Go!" That song, performed live, may sway some of the naysayers of the new album. Gonzalez, a talented live performer, took care of the rest.
9 – THE KILLS at the Fox Theater – June 4
Alison Mosshart was a whirling dervish; running, spinning writhing on stage as the Kills performed songs of their new album, Ash & Ice. Guitarist Jamie Hince was cool and collected, and slightly menacing. In other words, this was the Kills at their best. Combine that with a collection of aggressive songs new and old, and a willingness by Mosshart and Hince to play the role of rock stars, and you get a memorable concert.
8 – U2 at the Cow Palace – Oct. 5
The occasion worked as a detriment against the Biggest Band in the World, but U2 made it work anyways. Thousands turned up at the for the annual Dreamforce benefit concert, but the majority of the crowd either didn't know U2's music, or didn't care. They were there for the free food and drinks and to have a a good time. Bono and co. dealt with that by sticking to the hits. Fan favorites like "Vertigo," "Elevation," "Beautiful Day" and "Where the Streets Have No Name" ruled the night. But the band still took a big risk in a fiery, elongated  anti-Donald Trump during "Bullet The Blue Sky." A rare performance of "40" closed the show.
Follow Roman Gokhman at Twitter.com/RomiTheWriter and RomiTheWriter.Tumblr.com.