Roman Gokhman's favorite concerts of 2016: 7-1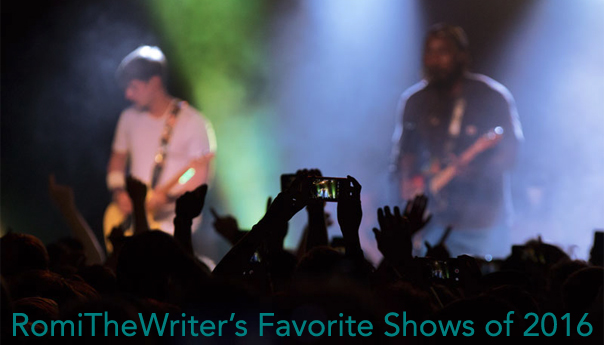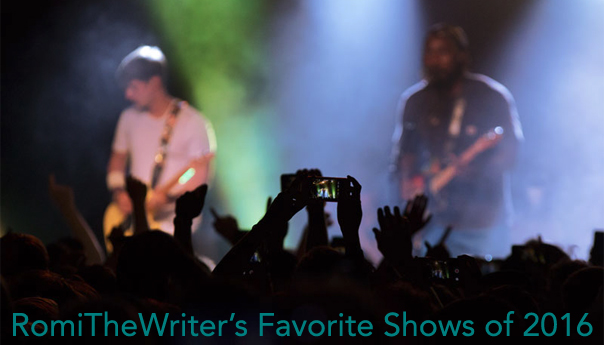 This is the final in a three-part series. Read how I'm scoring my list and find out about my "special consideration" acts in PART 1 and 13 through 8 in PART 2.
Favorite Shows 2015 | Favorite Shows 2014
Favorite Shows 2013 | Favorite Shows 2012
7 – STURGILL SIMPSON at the Fox Theater – Nov. 19
Two weeks ago, A Sailor's Guide To Earth was nominated for the Grammy for Album of the Year, and countless millions probably responded with a lethargic "who?" And those people couldn't be more in the dark about one of the best singer-songwriters—in any genre—working today. At the Oakland show, the penultimate show of his months-long tour, he deftly swerved from country to Motown, rock and R&B with his powerful, talented band. Simpson's show consisted of older material in the beginning, followed by the Grammy-nominated album, from start to finish. And the first act was determined on the stop, with Simpson making it up as he went along. You couldn't tell just from watching, though. The way the band communicated, you'd think they were different parts of the same body.
6 – FLORENCE AND THE MACHINE at BottleRock Napa – May 28
If every music festival needs a defining moment to be remembered, Florence Welch provided that moment in Napa. During a weekend that included many great sets but few lasting memories, Welch's frantic energy, her joy, her willingness to connect with the massive crowd climaxed, with her twirling and dancing at the conclusion of "How Big, How Blue, How Beautiful." Editor Nick DeCicco compared her as "moving like an elegant prizefighter." Like a prizefighter closing in for a knockout was more like it.  Welch espousing love and hope between each song is what I'll remember from the entire fest.
5 – MARGO PRICE at Great American Music Hall – Oct. 14
Price, a working-class country singer-songwriter has been making waves like Sturgill Simpson this year, and if her forthcoming music heads in the same direction, it won't be long before she's revered like her heroes, including Emmy Lou Harris. This show marked Price's San Francisco debut, though she lived here for a bit when she was younger, in a van. At this show, she combined gut-wrenching storytelling with heart-burning siren calls that induced, at least in me, a call rev an engine and slam on the gas. I chatted with Price and her band afterward, asking them if every show was this energetic. They confirmed confirmed to me that this show was special, for them too.
4 – BRUCE SPRINGSTEEN AND THE E STREET BAND at Oracle Arena – March 13
Springsteen and the E Street Band played much more than their 1980 album The River at this show, but that LP was the starting attraction. It's not one of my top three Springsteen albums, but in a live setting, with The Boss telling the backstories of most of the songs, I appreciated it that much more. To Springsteen, the album is a coming of age record, about love, faith, sex. Those emotions each had their turns as the band played the songs. The second half of the show was all about love and life, and with the switchover, this show entered a second, and then third gear. The hits and lesser-mown tracks alike kept raising the stakes.  While inviting two kids on stage added a bit of cheese, there's nothing corny about seeing a 66-year-old rock legend unafraid to dive into throngs of adoring fans. The length of the encore alone was longer than many bands' entire performances. Without even heading backstage for the customary break, the E Street Band tore into 14 more songs: hits like "Born To Run," "Badlands," and "Dancing in the Dark"; lesser-known gems like "Lonesome Day"; and a fan request, 1973's "Growing Up." With a show topper, a 10-minute rendition of the Isley Brothers' "Shout."
3 – JULIEN BAKER at Bottom of the Hill – Feb. 25
The Memphis singer-songwriter appeared shy, small and delicate, but her performance demanded awed reverence. I saw her perform twice in 2016 and either show would have belonged in my top five, but this first time in a small venue of unsuspecting attendees was slightly better. You can tell why in the video, below. It's one of my most-commented-on from 2016.  And the commenters all agree that Baker is a musician of unique talents, capable of fixing broken hearts with her songs, or breaking them with second and third listens. She's multidimensional not only on record, but on stage.
2 – CARLY RAE JEPSEN at the Warfield – Feb. 27
What showmanship—Jensen has the stage presence of someone who has been at it for more than a decade and a bunch of fun songs (Not just "Call Me Maybe") to keep a theater full of fans engaged for an hour-and-a-half. Though she cut this performance short by two or three songs because of reported vocal chord trouble, her set was still stellar. For anyone who wants to love pop music but is sickened by its hype and sometimes fake attributes, Jepsen is the answer.
1 – ST. LUCIA at the Independent – March 6
Picking a favorite show is usually easier for me. One performance stands out above the rest. This year was different, likely due to the high quality of artists who have passed through the Bay Area. St. Lucia's two night stand was both outstanding and unique. The first night the band, led by Jean-Philip Grobler, played the larger Fillmore. But the next night, it had to work hard to squeeze its production elements, staging and band onto the much smaller stage at the Independent. The show felt like a special opportunity, as St. Lucia has outgrown the venue. The intimacy was a real driving factor during the 90-minute set that consisted of material off the band's  two albums. And sonically, the newer songs were different enough from the older material to increase momentum and with every step the band made. If quality is measured by how fast music makes time move, this show is clearly at the top of my list.
Follow Roman Gokhman at Twitter.com/RomiTheWriter and RomiTheWriter.Tumblr.com.