Roman Gokhman's favorite concerts of 2016: Introduction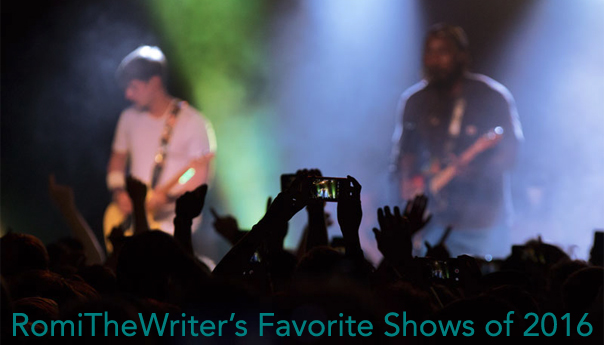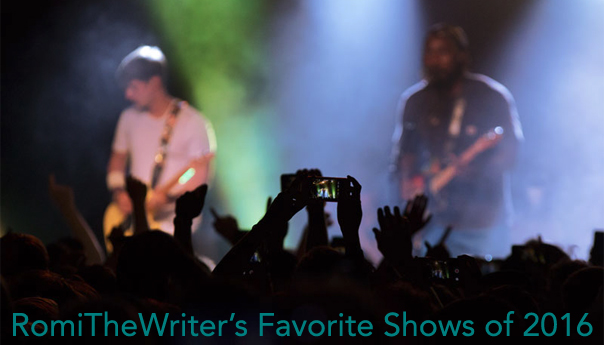 Welcome to my annual countdown of the most entertaining music experiences of the year. I attended 51 concerts this year, up from 41 the year before. Like always, this list is an account of how much I enjoyed the concerts I attended. I'm not attempting to list the "best" or the most technically proficient.  This guidelines are too subjective, and everyone has their own opinions.
Like in years past, I set a few rules for myself. Opening acts weren't eligible to make the main list. Instead, both openers and non-headlining performances at festivals could make a  "special considerations" tally. And there were more than a few times an opening act overshadowed a headliner in 2016. Additionally, the performer needs to be on stage for at least one hour in order for the concert to count. If I see multiple great performances by the same artist, only one can make the list.
I had high hopes for many terrific shows this year. But as always, some sure bets didn't make the final cut, including Metallica at AT&T Park the night before the Super Bowl; a hyped Chvrches and Wolf Alice bill in April during Fauxchella; Tom Petty's Mudcrutch reunion show in June; and Guns N' Roses two months later. Brian Wilson performing Pet Sounds in October would have been a lot more enjoyable if he handled a little more of the heavy lifting rather than letting his band and singers take over.
Favorite Shows 2015 | Favorite Shows 2014
Favorite Shows 2013 | Favorite Shows 2012
And while it's rare for me to pick a least favorite show, this year the decision was an easy one: Grimes did too much apologizing and not enough performing at her Fox Theater stopover in April. If I counted the Green Day appreciation gig as a concert—instead of 35 minutes of performances and 60-plus minutes of standing around during stage changeovers, and a speaking appearance by the band itself but no performances from the honorees—that night would have been a close second.
I'll share my favorites over the next few days, including a video from the performance, if possible. If the artist's name is linked, either I or someone at RIFF wrote about or interviewed him/her/them this year and you can read the story. Here's a quick breakdown:
I saw the most shows in February (eight) and October (seven). I only attended one concert in March, June and December. Both months had four shows that made the final list or the special considerations, below. January and December were the quiet months; one each.
2016′s special considerations (IN CHRONOLOGICAL ORDER):
THE THERMALS at Brick and Mortar – Feb. 25
In their way-too-short Noise Pop appearance, the Portland garage rockers were all havoc. On a chilly night in San Francisco, and competing with city's live debut by Julien Baker and jazz phenom Kamasi Washington, The Thermals lit Brick and Mortar on fire. First it came through frontman Hutch Harris' shredding guitars, Kathy Foster's squelching bass and Westin Glass' thunderous percussion. Later it, was a sea of moshing fans, who made room where there was none. Even if the band would have coasted from that point on, this show may have made my top 10 list. Instead, they called it quits after 45 minutes.
HEARTWATCH at BottleRock Napa – May 27
The San Francisco favorites have stayed largely quiet during the second half of 2016 as the band members pursue side projects, but between 2015 and the first half of this year, the quintet ruled the local music scene. Their BottleRock set was their biggest to date. Vocalist Claire George and company captured the attention of a large crowd with one breezy summer track after another. Like all of the following festival entries on this list, the only downside was the band's lack of time on stage.
RODRIGO Y GABRIELLA at BottleRock Napa – May 29
The duo don't need a member of Metallica to prove that they can shred a metal song with their acoustic guitars, but they were offered one at the Napa festival, when Robert Trujillo joined them for a rendition of "Orion." Rodrigo y Gabriella's intensity was unmatched at BottleRock, nor at many of my other shows this year. Even when I forget how impressively strong an "acoustic guitar duo" can sound and perform, I need only to return to the video below and my notes, full of descriptors like "non-stop" and "onslaught. "
MISTERWIVES at BottleRock Napa – May 29
The New York pop sextet busted out one of five new songs expected on their forthcoming sophomore album, but while their debut is joyful, the newer material has been taking more of a contentious outlook. Vocalist Mandy Lee reminded the youngish crowd to get out and vote, and she was perhaps preaching to the choir. But on this day, her exuberance played perfectly as MisterWives unabashedly danced, jumped and thoroughly entertained.
MACHINEHEART at BottleRock Napa – May 29
Demonstrating a mountain of potential, the Los Angeles-based band made its biggest introduction to the Bay Area. Vocalist Steve Scott played the part of her idol, Stevie Nicks, working the stage while barefoot and engaging the crowd to move and sing along. Machineheart sounds like different bands, from electropop to '90s alt-rock to Fleetwood Mac to golden-era AM radio groups. I'd like to see what the band does next, and whether the members can carry over their drive and tenacity to do be successful in their own way.
THE NATIONAL at The Greek Theatre in Berkeley – July 29
This concert lived in my top 10 list for a good chunk of the year, but its inconsistencies eventually pulled The National off of it. While new material for an in-progress seventh album, often hit somber notes, Matt Berninger's honeyed baritone wasn't hitting all of its usual notes, sometimes sounding more like a pained yelp. That didn't diminish his theatrics. He still darted through the crowd on "Mr. November" and croaked out the dramatic finish to "Squalor Victoria." However, it left the audience feeling that the indie rock quintet wasn't quite at full power. "It's Just the Light/The Lights" was the best fresh material of the night. The song built to a showy finish, with soaring guitar work from Bryce Dessner that wasn't flashy but pushed the song higher. The older material still connected as strong as in prior Bay Area stops, but perhaps the strongest detriment was that this show was not as good as The National's 2014 shows at the Greek.
WET at Outside Lands – Aug. 5
Kelly Zutrau, Joe Valle and Marty Sulkow so quickly put its audience in a trance that it didn't know what hit them. With her slightly gravelly, scratchy voice, Zutrau mesmerized as the fog tolled in (and the fog machines helped). At times, one could hear a pin drop between vocals. At other times, the screams were overwhelming. Zutrau reciprocated, saying San Francisco was her favorite place to play. "It's so amazing to hear so many people singing along to that song I wrote a really long time ago and think anyone would ever hear," she said after performing "These Days."
CAVEMAN at Outside Lands – Aug. 5
Ever wonder what the Bruce Springsteen-era Killers could have done if they perfected that sound? They would have sounded like Caveman. The New York band, playing without their keyboardist, didn't miss a step. Frontman Matthew Iwfanusa and guitarist James Carbonetti stole the show one sharp guitar tone at a time.
THE WOMBATS at Outside Lands – Aug. 6
Sometimes it's impossible to catch all of the best moments at a festival, no matter how well you plan. Such was the case Saturday, when The Wombats were pitted against The Knocks. Liverpudlians Matthew Murphy, Tord Øverland Knudsen and Dan Haggis introduced a raucous main stage crowd to their third album, 2015's Glitterbug, along with older standards such as "Let's Dance to Joy Division." And to top it all off, Murphy brought out their dog, Daisy, who took one look at the thousands in the Polo Field and needed a moment of solitude.
THE LAST SHADOW PUPPETS at Outside Lands – Aug. 6
Outside Lands lacked old school sex, drugs, and rock 'n' roll  in 2016. Alex Turner and Miles Kane filled the quota of sexy rock, clad in black leather and hip-thrusting themselves during a unique scenario. While Turner, of the Arctic Monkeys, could have easily filled up Hellman Hollow, Saturday instead saw thousands storm to the Polo Field in advance of Radiohead. This left one of the festival's most entertaining ensembles reachable, danceable and extremely enjoyment. The Last Shadow Puppets are way more entertaining than the Arctic Monkeys.
RYAN ADAMS at Outside Lands – Aug. 7
Seemingly out of thin air, the indie singer-songwriter, folksy bluesman, and Taylor Swift song rearranger created a ditty about missing balloons that worked as a Major Lazer diss track, heartfelt eulogy and reference to an improv song he made up two years ago during Hardly Strictly Bluegrass in the same park. It wasn't completely off the cuff, but the ever-agile Adams successfully mixed on-the-spot song creation with full band performance, his songbook, really funny stoner jokes and some great covers. The highlight was a faithful re-creation of his "When the Stars Go Blue" popularized by The Corrs. He may have some apologizing to do to Major Lazer — "Somebody's got their laptop turned up so high right now!" — but those in attendance deemed the stand-up routine a successful venture.
JOSEPH at Slim's – Sept. 16
The three sisters of the harmonizing Oregon trio got their start playing small shows with no backing arrangements apart from Natalie Closner's sparse guitar, a keyboard and a kick drum. At Slim's, they performed in front of hundreds of screaming fans with a full band that turned their rich folk into pop and rock not unlike Edward Sharpe and the Magnetic Zeros. If this show was any indication, Joseph won't get many more chances to perform those small shows again.
MUNA at The Fox – Oct. 6
The R&B trio out-shined headliners Grouplove on this night. As coherent, musically competent and intelligent as singer Katie Gavin and guitarists Naomi McPherson and Josette Maskin appear on record, they're even stronger on stage. The three were complemented with a drummer and bassist, and ran through a handful of already released songs and a new track from their forthcoming full-length debut. Their set was funky, danceable and thoughtful. Frontwoman Gavin, whose lyrics sometimes deal with battling insecurity, never hid behind a microphone. Instead, she funneled attention to herself and her band mates with dancing and gesticulations that made even those across the room believe the performance was a one-on-one communication.
THE REGRETTES at Mezzanine – Nov. 16
The Los Angeles garage-punk quartet The Regrettes, who opened for Sleigh Bells, range from their mid-teens to just 19, but the only evidence of their ages was the obvious fun they were having on stage. The garage rockers have an edge of grunge and punk that leans not toward Green Day or the Offspring, but toward '60s garage rockers The Sonics. The Regrettes played several released songs, highlighted by the sophisticated, mature "A Living Human Girl," and several new tracks that are likely to be featured on their January 2017 debut album. Midway through the set, the band celebrated drummer Maxx Morando's 18th birthday with Krispy Kreme doughnuts. Singer-guitarist Lydia Night led the crowd in a Happy Birthday sing-along, mentioning that the drummer is now "legal."
Follow Roman Gokhman at Twitter.com/RomiTheWriter.