Avoid the week of love with our jilted editor and these songs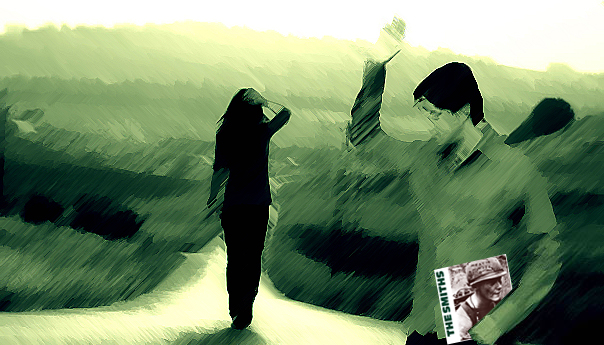 If you're like me—and odds are either you are or you aspire to be—you don't really want to be associated with Valentine's Day. Some people spend weeks festooning everything in cutesy red hearts and some spend those weeks raging against the mere concept with songs about getting dumped. But not people like us. We just want to just abstain from anything romantic for reasons entirely relating to fighting commercialization of emotions.
To help you to get there, here are 10 completely non-romantic songs those fat cats at Hallmark and See's Candy don't want you to hear. Because that's why we don't want to hear love songs solely for rampant commercialization.
[Managing editor's note: I hope this list of songs helps those of you who want to avoid Valentine's Day entirely do so. Daniel's location is currently unknown, but if you see him you might want to give him a little space].
10 — Gordon Lightfoot, "Canadian Railroad Trilogy." Hailed by some as the greatest song of all time, the song is truly about the construction of Canada's railway system. There are no metaphors here. And while the "'some" who hail it as the best song of all time might mostly be "me," that doesn't make me wrong. If you disagree, I will fight you. TRIGGER WARNING: "Loved ones" are mentioned at the 3:18 mark, but the lyrics doesn't go into detail, nor are they mentioned again.
9 — Don McLean, "American Pie." There's nothing less romantic than the tragic deaths of three music icons, the tragic death of Meredith Hunter at Altamont, and the other various tragic deaths referenced in this classic. Plus, clocking in at nearly 9 minutes—longer than my relationship with Cheryl [named changed to protect the guilty] lasted before she cheated on me with some guy named Thad [name changed to protect the jerk]—it lets us forget about rampant commercialism for much longer than the average song.
8 — Afrika Bambaataa, "Planet Rock." It's never the wrong time to learn more about the history of rap music and a great relationship-free place to get started is this Kraftwerk-inspired 1982 song by Soulsonic Force. While the Hershey Corporation wants you to be listening to nonsense about love, companionship and Thad, you'll be getting funky with the Zulu Nation.
7 — Motorhead, "Ace of Spades." I'm going to go out on a limb early and assume "Ace of Spades" isn't about romance, but the truth is nobody is completely sure what it's about.  Teams of linguists have been dissecting the lyrics for decades and their only conclusion is that poker may or may not be a metaphor. It's a mystery that may linger forever, sadly, as Lemmy was vague when asked for details and he has tragically passed, as if we needed more evidence that the world is cruel and all joy is fleeting.
6 — The Prodigy, "Firestarter." When a song talks about starting a fire it usually means kindling a romance or causing emotional anguish, the latter of which known as "pulling a Cheryl." "Firestarter" is actually about a guy who likes to start fires.  He's a "firestarter, a twisted firestarter," and he has a weird reverse-mohawk that hasn't been seen before or since. And the only soulless corporation to benefit is whoever makes the matches you'll want to use!
5 — Rage Against the Machine, "Take the Power Back." Protest music is making a resurgence, a spin-off of Rage is back with Chuck D and B-Real on vocals, and songs like "Take the Power Back" feel more relevant than ever. I think all of us want to scream "I won't do what you tell me" at one-percenter hedge fund analysts like Thad, who aren't happy just destroying the nation's financial system and driving us working folk into poverty. Oh no, they want to wreck our personal lives, too.  You couldn't find your own girlfriend, Thad? Is that it? There are plenty out there!
4 — The Chemical Brothers, "Block Rockin' Beats." Rocking the block is a great way to— You know what, I'm not done!  You think I don't provide financial security? I'm writing for a music site, Cheryl! Everyone likes music and they'll keep liking music! You think Wall Street won't crash again? And how stable will you be then with your precious Thad in a tent city!? And if you think I'll take you back, you're wrong! I'll be in my home—THAT I OWN—laughing away!
3 — Whitesnake, "Here I Go Again." It's a common misconception that this song is about a breakup. No relationships are ever mentioned. Personally, I consider it an ode to flying solo. Being a lone wolf. Walking along that lonely street of dreams because you don't need anyone to be happy. Because you and me, reader, we're people of principle. We don't need anyone but ourselves to fight the corporations—the REAL ENEMIES HERE—wherever they may be. They think they're going to sell schlocky cards and heart-shaped boxes of sub-par candy on our watch? Well they're not!
2 — The Smiths, "Barbarism Begins at Home." You wanted songs that aren't about romance, right? Well, you never said you also didn't want songs about domestic violence. How about that? Because there are no upbeat songs! Nothing is cheerful! Even "Semi-Charmed Life" is about meth! You think you want cheerful songs but what you're gonna get is life, people. Deal with it.
1 — The Monkees, "Pleasant Valley Sunday." I'm so sorry, Cheryl!  I'll do anything if you take me back! I'm sorry about your tires and your garage door! I'll replace Thad's mailbox! Why did you ever have to leave me!? I'm so sorry! I'm still in my car outside your house, just come talk to me!
Follow editor Daniel J. Willis at Twitter.com/BayAreaData.