Professor Music's 20 futuristic albums for the 2020s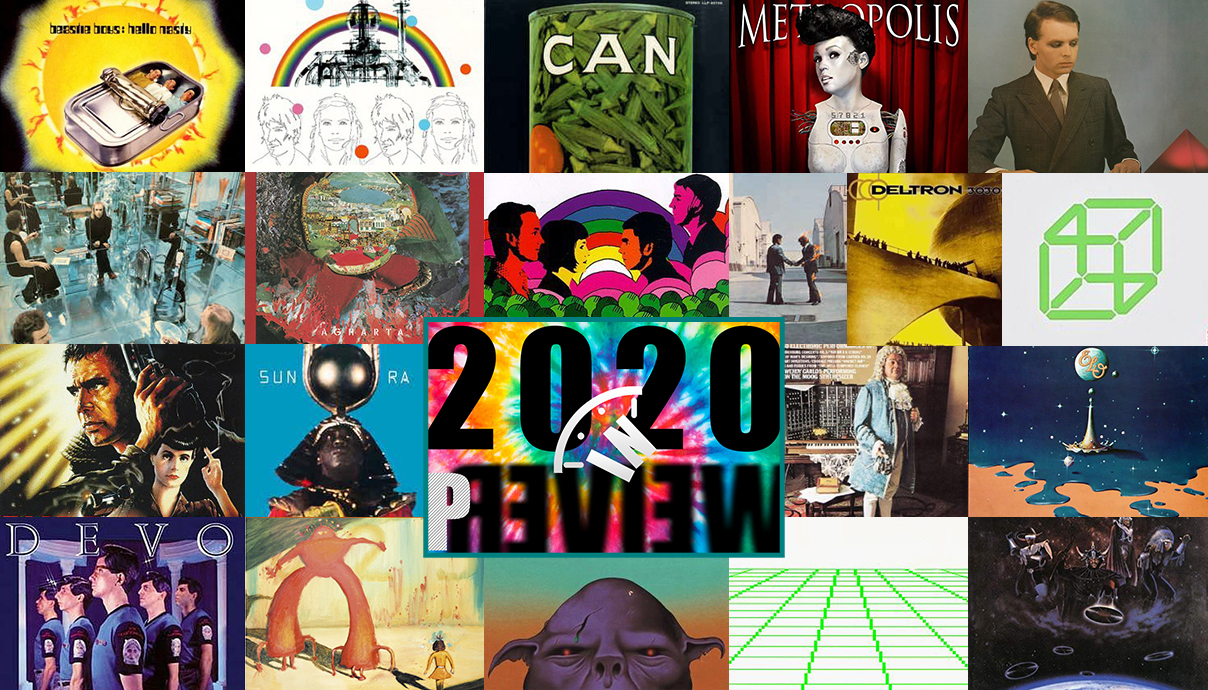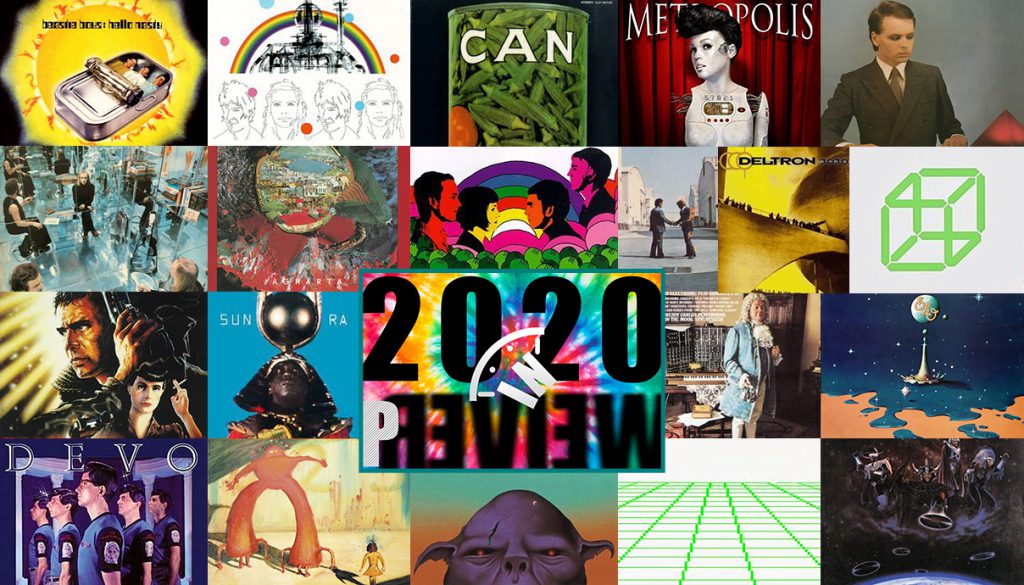 It's almost 2020. We're living in an era when many of science fiction's classics are supposed to take place. As a science fiction writer and a scholar who studies the genre, I'm acutely aware that we are not yet living in the stainless steel techno-utopia we were promised. Where's my jetpack?
Luckily, musicians have been imagining our future for quite a while now, creating some interesting visions of what's to come. If you're feeling antiquated, here are some albums to blast in your pointy new Tesla truck as you scavenge the burned out wasteland of our brave new world.
20. Vangelis – Blade Runner Original Soundtrack (1982)
As of last month, Ridley Scott's cyberpunk masterpiece is no longer set in the future. But Scott's film is perhaps the best distillation of what humanity will face in the coming years: overpopulation, environmental collapse and android replicants who give humans a run for their money. The synthesizer-heavy soundtrack composed by Evángelos Odysséas Papathanassíou, better known as Vangelis, punctuates Scott's vision with some of the most sentimental and emotional music produced by machines but performed by people. The musical tension makes literal the struggle to retain our humanity in the face of encroaching technology.
19. Fripp & Eno – No Pussyfooting (1973)
This collaboration between super-producer Brian Eno and King Crimson guitarist Robert Fripp takes a minimalist musical approach while evoking cosmic soundscapes. Sustaining and echoing guitar leads soar over a bed of bleeping and blooping synthesizer noise. Forget about traditional song structures made up of verses and choruses, as these guys leave that in the past. Machines are doing most of the work: signal processing equipment, recording gear, reel-to-reel tape players and magnetic sustainers for Fripp's guitar. Put this on in your flying car as you travel high over the futuristic cityscape and enjoy the view.
18. CAN – Ege Bamyasi (1972)
CAN was perhaps the greatest purveyor of Krautrock, a subgenre of German music that rose up during the late '60s and early '70s. The style's pioneers searched for a new way forward after the unpleasantness of the country's past. Hypnotic percussion, psychedelic guitar, endlessly grooving bass lines and electronic noise fill this legendary album. It sounds like nothing you've ever heard before. Vocalist Damo Suzuki's lyrics, including the gem, "Hey you! You're losing, you're losing, you're losing, you're losing your vitamin C!" are still light years ahead of his fellow psychonauts.
17. Sun Ra – Space is the Place (1973)
Piano and synthesizer player Le Sony'r Ra, born Herman Poole Blount but better known as Sun Ra, traveled the musical galaxy with his "Arkestra" in search of world peace. Sun Ra's music involved an elaborate Afro-futurist narrative that posits Ra as a visitor from Saturn. His unique brand of cosmic be-bop is best preserved on this 1973 album that features some conventional jazz instrumentation: horns, upright bass, drums and vocals—but deployed in uncanny alien ways.
16. Wendy Carlos – Switched on Bach (1968)
One of the first albums to feature the electronic synthesizer as a musical instrument, Switched on Bach updated 12 compositions by Baroque composer Johann Sebastian Bach. Synthesizer pioneer Wendy Carlos performs the pieces on the newly invented Moog modular synthesizer, retooling Bach's familiar harpsichord riffage for the space age. Carlos was a trailblazer on multiple fronts. Besides developing synthesizer sounds and composing the soundtracks for Stanley Kubrick's The Shining and A Clockwork Orange, she was one of the first publicly recognized trans people, undergoing gender reassignment surgery in 1979. If you come across a readily available version of this music in its original form, you're one of the lucky ones. Carlos has taken measures to keep her work as obscure as it is groundbreaking.
15. Miles Davis – Agharta (1975)
Recorded live two years before "Star Wars," Agharta gets way funkier than the boys in Mos Eisley's cantina. Pete Cosey's guitar tone was light years beyond his contemporaries. Miles stands astride the universe when he's got a horn and a microphone—and this time he's got a wah-wah pedal, too. The album's sonic density is almost tactile, hinting at the  immersive sensory experiences that may await us in the beautiful off-world colonies.
14. Beastie Boys – Hello Nasty (1998)
As the year Y2K approached, musicians in every genre cast their eyes to the future in prognostication, offering views beyond our temporal horizon. The trio of white rappers from Brooklyn delivered their extrapolations on this 1998 album, chock-full of vocoders and Star Trek references. Like many of the albums listed here, the genius of Hello Nasty resides in the album's ability to simultaneously evoke both hip-hop nostalgia and science fiction imagination.
13. Oh Sees – Orc (2017)
John Dwyer's evolving quartet hit its double-drummered stride with this double album. Full of references to "Dungeons & Dragons" and post-apocalyptic slag heaps, the album manages to skip across genres from sludge to psychedelia to synth-heavy krautrock. This album sounds futuristic while retaining a recognizable and relatable stoner vibe, perhaps ultimately suggesting that the drugs in the future will be even better, but we'll be taking them as we fight over dwindling resources, "Mad-Max"-style.
12. Komeda – What Makes It Go? (1998)
This Swedish trio began as pit musicians for a Buster Keaton festival, and legend has it the three employ the same synthesizer repairman as Beck. They sound like ABBA having returned from the edge of the solar system aboard Voyager 1. The band's 1998 album depicts a glossy, blonde future full of playful sounds and happy folks. Maybe that's why the album is so hard to find currently in the US.
11. Pink Floyd – Wish You Were Here (1975)
These British lads have been ahead of their time from their very earliest Syd-Barrett-helmed albums, but with the advent of synthesizers, other new musical instruments and recording gear, the band began to shape truly futuristic sounds. "Welcome To The Machine" takes on a special significance on this list because the album's concept centers on the very real danger of technology subsuming humanity. It's also concerned with the depersonalizing and homogenizing of the music industry, as record companies mine individuality for profit—an idea often couched in science fiction imagery. "The Machine," an embodiment of technology itself, threatens to turn art into a commodity and human beings into mindless consumers.
10. Gary Numan – The Pleasure Principle (1979)
Newman's new wave future is antiseptic and cold, which can be heard in this album's pristine production. It reveals a humanity constrained by a plastic fantastic world—constantly at risk of losing our supple dynamism. You know, like Darth Vader. Luckily there's sex, love and acceptance to be had in your Tesla. The cold steel of an automobile becomes a carapace, armor protecting our fragile and fleshy selves.
9. Afrika Bambaataa & Soulsonic Force – Planet Rock: The Album (1986)
This collection of early singles contains the hit "Planet Rock"—a genre-defining song for both hip-hop and dance music. One of the most influential musicians of the 20th century, Bambaataa, born Lance Taylor, pioneered the use of sampling and vocoders to combine his voice's sound with that of other instruments, resulting in robot-like vocals. The future imagined here is diverse and inclusive as Bambaataa samples everything from Kraftwerk to the Italian soundtrack composer Ennio Morricone.
8. ELO – Time (1981)
Already winning in the science fiction band name department, Electric Light Orchestra provided a sweeping space opera with its 1981 concept album, Time. It tells the story of a man ripped from his love in the '80s and whisked to the year 2095. The Beatles-esque album features piano ballads, overdriven guitar rockers and synthesized soundscapes. As is the case with most good science fiction, the album populates its futuristic imaginings with relatable human characters.  The tinges of nostalgia and songwriter Jeff Lynne's depiction of the enduring human desire to love and be loved evoke hope for our future with an appreciation for our present.
7. Devo – New Traditionalists (1981)
This album captures Akron, Ohio's own mutant spuds at their most keyboard-centric. The recording sounds much more polished than the band's earlier, more guitar-driven punk-inspired material. The future depicted is so bright with capitalist media glare, you might have to wear shades. Devo goes toe-to-toe with the forces of consumerism, offering its own media-savvy and cynical take on pop culture. "Beautiful World" is perhaps the greatest act of sonic sarcasm ever recorded.
6. Deltron 3030 – Deltron 3030 (2000)
This concept album comes from the hip-hop supergroup featuring rapper Del the Funky Homosapien as Deltron Zero/Deltron Osiris, producer Dan the Automator as The Cantankerous Captain Aptos and DJ Kid Koala as Skiznod the Boy Wonder. It explores a future populated by time-traveling cyborg wizards to help you check yourself. Heavy hip-hop beats are augmented by space-age synthesizers. Del raps: "I used to be a mech soldier but I didn't respect orders/ I had to step forward, tell them this ain't for us/ Living in a post-apocalyptic world morbid and horrid/ The secrets of the past they hoarded/Now we just boarded on a futuristic spacecraft/No mistakes black it's our music we must take back."
5. Janelle Monae – Metropolis: The Chase Suite (2007)
Inspired by Fritz Lang's classic 1927 science fiction film, Monae's 2007 EP serves as the first installment in the R&B singer's seven-part series. Set in 2719, the album follows Cindi Mayweather, a newly constructed robot who falls in love with a human being. The album blends fairly standard R&B, jazz and rock to tell the tale. The dystopian future serves as a critique of capitalism where, with technological assistance, human-like consciousness can be constructed but then enslaved in service of corporate interests. Robots serve a dual symbol. They help us to recognize what's good about ourselves in their robotic ambitions, usually the way they fall in love or discover a desire to help others. But they also remind us that we are little more than machines if we can't transcend the programming we are given by our families, our schools and our culture at large.
4. Roger Joseph Manning, Jr. and Brian Reitzell – Logan's Sanctuary (2000)
A soundtrack for an imagined sequel to the 1976 sci-fi classic "Logan's Run," the album is comprised mostly of bleepy-bloopy instrumentals well suited for taking your space drugs. But the album's first track, "The Search for Tomorrow," is pure future cheese from cows whose grandparents have yet to be born. Perhaps in the future this one will be more readily available, but for now it looks like it's YouTube only.
3. The Flaming Lips – Yoshimi Battles the Pink Robots (2002)
For the first 15 years of their career, Oklahoma City's freakiest freaks The Flaming Lips pursued a raw psychedelic sound that melded punk with Pink Floyd. Following the turn of the century, the band fully embraced sci-fi with this album. It features evil robots, sad robots, hypnotists and space balloons. The song "Robot/Sympathy 3000-21" is an homage to Philip K. Dick's 1968 novel, Do Androids Dream of Electric Sheep? The source material for the film "Blade Runner." Vocalist Wayne Coyne sings, "Unit 3000-21 is warming/ Makes a humming sound/ When its circuits duplicate emotions/ And a sense of coldness detaches/ As it tries to comfort your sadness."
2. Six Finger Satellite – Law of Ruins (1998)
Providence, Rhode Island's native sons would've been the perfect house band for the Death Star. The quartet manages to fuse the sounds of Devo and The Jesus Lizard in a crucible of overdriven cynicism and Moog synths. The future imagined here is dystopian, sinister, angular and grim. Vocalist J Ryan's voice is buried in distortion, subsumed by the act and technology of transmission. These last two records were both produced by LCD Soundsystem frontman James Murphy. He's like the Isaac Asimov of late '90s post-rock!
1. Trans Am – Futureworld (1999)
On this Maryland trio's fourth full-length album, Futureworld, the future is mechanistic. The album's robotic vocals, created using a vocoder, constrain the music's human element, as if these players are trapped within a machine. The music is all straight lines and right angles, constructing a rigid enclosure from which the mechanized voices convey human desires. The powerful grooves feel purposeful, succinct and no-nonsense—like a machine. But again, real emotions and desires are expressed within this rigidity. This dichotomy is similar to how steel and glass cityscapes contain countless human stories of joy and pain—pliant anxieties and desires pressed against glass.
In the first act of Shakespeare's "Julius Caesar," Cassius tells Brutus, "It is not in the stars to hold our destiny but in ourselves." The future remains unknowable. Honestly, it's looking a little bleak, but history is not a narrative written for us by the universe. It's a story we write ourselves everyday, with our attitudes, ideologies and behaviors. Music can help us remember our humanity, even if finding music to listen to on streaming services makes us more like robots.
Follow writer David Gill at Twitter.com/songotaku and Instagram/songotaku.