Photos: Mad Decent Block Party – 9/10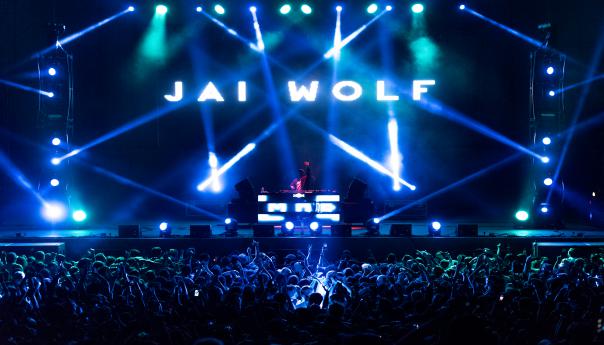 Tiesto and Dillon Francis were the biggest names at Mad Decent Block Party Saturday evening at the Greek Theatre in Berkeley, but it was Slushii, the last of eight DJs to perform, who came away undoubtedly the crowd favorite.
His dubstep set, similar in style to Rusko or Pretty Lights, combined with anime visuals, gave thousands in attendance the impression of being stuck in a Simpsonian Kwik-E-Mart. Slushii's set was filled with the fastest beats and even faster transitions.
Tiesto, the house DJ and mega-star, led up to Slushii's set and was more familiar with the concept of entertaining large crowds. On this night, however, his retro visual accompaniment (can late '90s Winamp visuals be considered retro?) did not strike a chord with the young demographic that grew up with iTunes. Tiesto's best moments came during remixes of "Panda" and "Purple Lamborghini."
Francis played not one but two sets, the second of which came as his house-spoofing Nordic alter ego, DJ Hanzel. His main set was one constant build-up, with 30 seconds of progression leading to explosive bass lines. Behind him scrolled comical and disturbing images and pop culture reference, which turned the concert into "The Dillon Francis Show."
The concert started early, with sets from New Fresco, Paul Devro, Grandtheft and Jai Wolf. New Fresco's performance had a vibe that resonated well with gamers as well as the hip hop crowd. He finished with remixes of Drake, Rihanna and Cali Swag. Devro spun Reggaetón and mixed Fat Joe & Remy Ma's 'All the Way Up" with a reggae base. Grand theft spun Travis Scott's "Antidote," Future's "New Level," and Mac Dre's "Feeling Myself," which he transitioned to the Lil Wayne/Drake collaboration "The Motto" and Dr Dre's "Next Episode." Jai Wolf had the most melodic and mellow set of the bunch, with complex and fluid transitions.
Follow photographer Brandon Jernigan on Instagram and visit b3one.com.