Interview (Win Tickets): 'Garage Country' sensation Aubrie Sellers charts her own course
If some people might not understand why someone with the pedigree of Aubrie Sellers and multiple offers from major record labels would instead choose to instead go down the indie route, it's only because they don't understand Sellers' mindset and perspective.
The country music artist has seen firsthand how major labels swayed the artistic paths of other musicians in Nashville, altering their music and shaking their confidence. So Sellers, the daughter of one of the most successful country singer-songwriters of the last 20 years, Lee Ann Womack, decided to do something different.
In doing so, she joined a handful of other Nashville artists, such as Margo Price, Kacey Musgraves, Sturgill Simpson and her friend Chris Stapleton, to make a living her way. Sellers' debut album, January's New City Blues, is not traditional country. Stacked with driving electric guitar that often overpowers everything else in the mix, it's country by way of rock and blues; a sound that she has started calling "garage country."
Her mother contributed vocals to New City Blues, and so did her father, singer-songwriter Jason Sellers (Rascal Flatts, Reba McEntire, Jason Aldean). The album was produced by her step-father, acclaimed Nashville producer Frank Liddell, who has worked with Miranda Lambert. But while she embraces her family wholeheartedly, New City Blues is her personal statement, she told RIFF. Liddell is an expert in letting musicians sound like themselves, which is also the major reason she chose indie label Thirty Tigers to release the record.
Sellers performs at Slim's on June 25. Her album took four years to write and release. Now out in the world for half a year, she took some time to reflect on the process.
Win tickets to see Aubrie Sellers in San Francisco for you and a friend. To enter follow RIFF on Twitter, like us on Facebook, and email to let us know you did. We'll choose 1 name randomly on June 23 and that person will win two tickets to the show at Slim's.
RIFF: Let's pick one of the lesser-known songs n New City Blues and talk about what inspired it and how you wrote it.
Sellers: I think I talked with you about "Light of Day" last time, because that was the first song I wrote for the album. But I'd say, a little bit of a different process, would be when I go in and write with a couple different people. Because I don't do that as often, especially now. With "Liar Liar" I wrote with Jesse Jo Dillon and Brandy Clark. I've known Jesse Jo forever. Her dad is songwriter Dean Dillon. I've known her since I was young, and we have this great understanding. That was one of those situations where it's a little different from me sitting down and writing. We all got together and threw around ideas, and it was more of a natural writing session, but I think you can hear all the different influences from all three of us as writers, instead of … where it's just me by myself.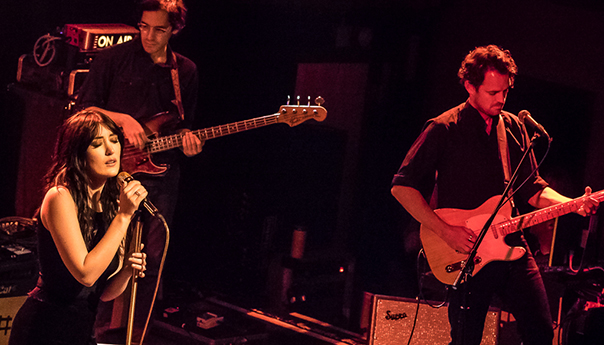 RIFF: Did the song go through various drafts, or did it have different feels to it before you finally picked one?
Sellers: Every song for me is not finished until I go to studio. Because that's my favorite part of it, and I sort of get what I consider to be the bones … of the song. The lyrics are usually done, and then that pretty much stays the same. I don't really go back and edit. I almost never do that. I do change a lot when I get in the studio; build what I envisioned. I love production, and that's one of my favorite parts of the process. I'm a huge melody person. When I get in the studio, that's when the song really comes to life for me. Also, if Brandy took it in the studio or I took it in the studio, it's going to sound more like us as artists.
RIFF: Who was the primary driver in terms of the melody? Did you have your own ideas coming in, or did you listen to what Brandy and Jesse Jo had to say first, and then start from there?
Sellers: For that specific song, I believe Brandy was playing guitar, and that's kind of how we started the melody for that one. What she (was) saying is different than what's on the record that I produced. I think I probably have the original, if I go back and find it. It definitely changed a little bit, especially when there's more people involved with the writing process.
RIFF: Prior to making music full-time, you used to act. Why did you stop? Did you want to have control over the type of art you create?
Sellers: Yes. As an actor, I would love to be a part of something that looks great and that I would love to work on. Just as a whole, especially when you're starting out as an actor, you don't really have much control over what's going on, and it's not as creatively fulfilling as creating an entire music project. Especially when you're doing something different, like I am, that doesn't really sound like anything else.
RIFF: New City Blues has now been out for six months. What has gone well with the indie label release, and what thing or things would you like to improve upon in the future?
Sellers: I didn't really know what was going to happen when it was (released). I technically released it independently, through Thirty Tigers and Carnival Records. I'm very glad I did that. The reason I did it that way was because I wanted 100-percent creative freedom when I was making the record, and to be able to present it in the way I wanted, which you don't always get if you start out for that major label. I think that everything's gone really, really well for how we released it. In some ways, you're not really able to compete, especially as a new artist, with some other country artists that come out on a major label. You just don't have that same marketing power and all that. It's not a regret at all. I've done it this way and I did it this way on purpose. It's working out and I think the future hopefully holds some other things for me as well.
RIFF: You have been opening for Chris Stapleton recently. How did that touring arrangement happen?
Sellers: I've known Chris for a really long time, and I used go out and watch him when he was playing with (his previous band) The Steeldrivers. They asked me to open up for him a few years ago when they played (Nashville club) 3rd & Lindsley on Halloween. That was the first time I had opened for him. That was before I had any music out, or anything. They just keep asking me back, which is cool. Now he's playing to 10,000 people a night. I can't even believe it. What's awesome is that he's doing pretty much the same thing I've watched him do it for, probably, 10 years or more. People are just now recognizing him. It's amazing to watch that. I think it's really inspiring, as an artist, to watch someone who knows who they are, (has) worked really hard and is extremely talented, and it's really starting to pay off. That's really cool that he's getting the recognition that he deserves.
Follow Roman Gokhman at Twitter.com/RomiTheWriter and RomiTheWriter.Tumblr.com.
Aubrie Sellers, with David Luning
9 p.m., June 25
Slim's