Transcontinental rock trio Augustines return to SF with third album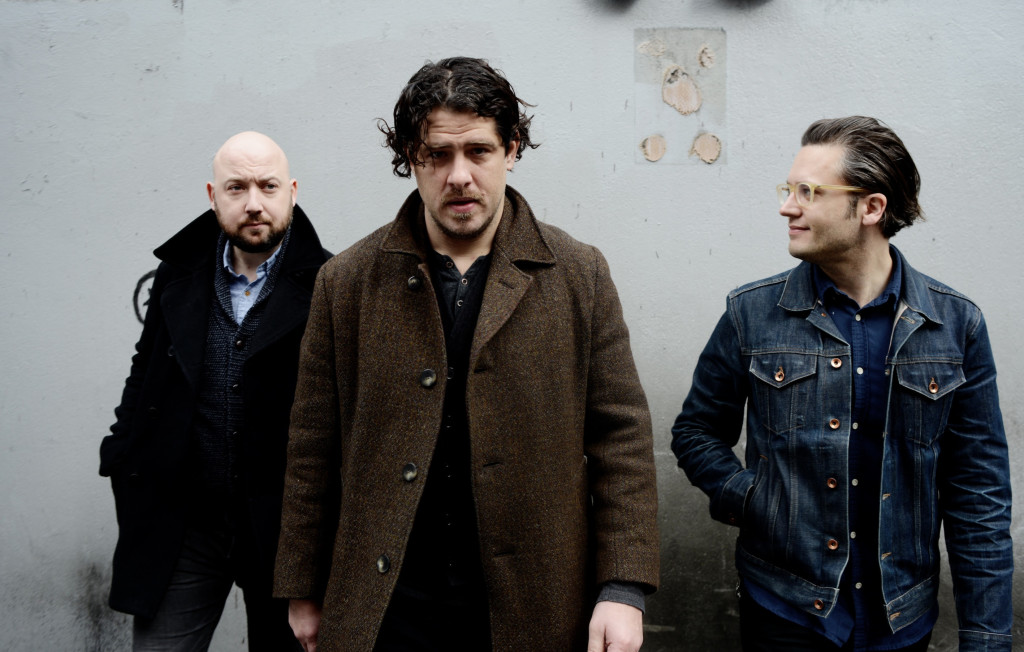 On their first album, 2011's Rise Ye Sunken Ships, rock trio Augustines tackled the suicide of singer-guitarist's William McCarthy's brother.
In 2014, McCarthy, guitarist Eric Sanderson and drummer Rob Allen focused on rebuilding broken lives and thoughts on their self-titled sophomore album. On their third album, June's This Is Your Life, they're still fighting through isolation to find happiness.
At a time when earnestness in song lyrics is hibernating in some far-away cave, Santa Cruz native McCarthy and Augustines continue to stand out with emotionally honest stories of heartbreak and hardships, and the perseverance of hope.
Many of the tracks were inspired by McCarthy's solo motorcycle treks following the band's 2015 tour. It was recorded producers Joe Chiccarelli and Peter Katis (The National, Interpol, Frightened Rabbit) in Connecticut and New York, which McCarthy called home for several years before relocating to Holland recently. Sanderson is a New York native, while Allen is from London but has been calling Seattle home for several years.
The 10-track album retains the transcontinental band's signature sound, which aspired to drunken bar sing-alongs and fill arenas. It also includes a noticeable dance influence, with synths and drum machine flourishes throughout, and a more global flare on several songs, including guest appearances by Senegalese singing duo Pape & Cheikh on two tracks.
Augustines return to San Francisco on July 28 with a show at Bottom of the Hill. RIFF caught up with McCarthy earlier this month to learn about his tastes in the "world" genre, finding inspiration on two wheels and overcoming loneliness.
RIFF: What were some of the most interesting places you traveled to by motorcycle?
McCarthy: I spent time in California on my motorbike. I did my usual driving around, listening to demos. I spent time in … Thai town Los Angeles; it is filled with immigrants and people that weren't born there. I rode down to Mexico, listening to (demos) in my headphones. Then I travelled to Dublin and listened to a bunch of rad music in pubs, and onward to Devon, England, in the empty fields to sit with myself and write lyrics.
How did these road trips influence This Is Your Life?
I was trying to wrap my head around isolation, feeling of being disconnected and isolated. It's not as if I went to Ireland and picked up a great beat from an Irish song to put in the music. It doesn't work like that. It's more like accessing a feeling that's kind of deep down inside you, and going to a place physically where you can access it.
What brought on this loneliness and isolation you battled?
Many different ways, my country is isolating itself from the rest of the world. At least with the latest political clown on the television set declaring his political values on everybody. We (the country) are starting to become the weirdo at the party. … The drunk driver, belligerent eyesore. I feel like that's the way my country has represented itself politically. It makes the inhabitants of the land feel totally powerless. I also haven't had a steady apartment in well over a half a decade, so I've been feeling a little disconnected from that, too, and romantically as well. … I think my road has long ended (in) New York City, but I haven't wanted to admit it to myself. So I began living in Holland, which is beautiful for the Dutch, but I'm, again, an outsider.
How did you come to work with Senegalese singers Pape & Cheikh?
We were introduced through our producer Joe Chicarelli, who has connections with producers in Paris and Marseilles. It (has) always been a dream of mine to work with (a) choir and it's no secret that Eric, Rob and I have a deep love for African music.
Besides Pape & Cheikh, what other music that might fit into the "world" genre are you listening to?
I've been into music from around the world for many years. Lately, I've been listening to an old favorite singer's albums that I'd put down for many years, called Cesaria Evora, from the Cape Verde Islands. Also, (folk band) Planxty, from Ireland; (Cuban singer) Benny Moré; Amalia Rodrigues, the great Fado singer; (reggae singer) Lucky Dube, (Irish singer) Seamus Ennis… The list is really never-ending. A lot of these people really give me great insight into singing with a different approach and … styling it differently.
Were there any other differences about how this album was written and recorded from your first two?
Rise (Ye Sunken Ships) was an anomaly in-of-itself. I'd say there were similarities to album No. 2 in that we got off the road, wrote, made demos, refined (them), and then went into the studio (to) try to work as quickly as possible and did a lot of work (in) postproduction.
If your listeners and fans were to take the message of the album and act on it, what would they be doing, in your mind?
Make the changes that they need to make to be happy in life. It's just yet another message of telling people the same thing the great Muhammad Ali always told us: "Impossible is nothing."
Can you walk me through how you wrote electronically influenced "The Forgotten Way?" What inspired it, who did you write with and how long did the process take?
The words "the forgotten" were actually written on the wall of a café (where) I used to drink coffee (in New York), by a writer by the name of Renée Ricard. He was involved with (New York artist Jean-Michel) Basquiat, (famed art gallery owner) Mary Boone, (social activist Keith) Haring and all those people (of) the downtown scene in the '80s. It's just always stuck with me. So simple, so pretty. I believe Eric came up with the initial music on piano. I sat with him and we worked through it and I sort of decorated the arrangements with these words I wanted to keep simple. This album is not really not supposed to be a lyrical effort. It's supposed to be music-driven.
You played some solo shows between the two album cycles. Why is that something you wanted. What songs did you play? Originals? Your band's? Covers?
I played everything under the sun, told stories. (There was) laughter, tears, everything. It was wonderful. I started out quite nervous in the beginning of the tour. In the last show I think I played two hours and 45 minutes. I played covers, I played songs that I used to sing while busking. The show was sort of a chronological recollection of my life as an artist (and) was a great joy. I can't wait to do it again.
This spring Augustines opened a few shows for Noel Gallagher in the U.K. How was the experience?
He's a legend. He's exactly how you would imagine a legend being backstage: Personable, a little bit distant, hard-working, and lots of people sort of going out of their way to make him comfortable. That was the environment. My band enjoyed the journey. (It) was fun to watch his crew work more than anything.
Follow Roman Gokhman at Twitter.com/RomiTheWriter and RomiTheWriter.Tumblr.com, where you can read more about Augustines.