The Avett Brothers on the decline of Americana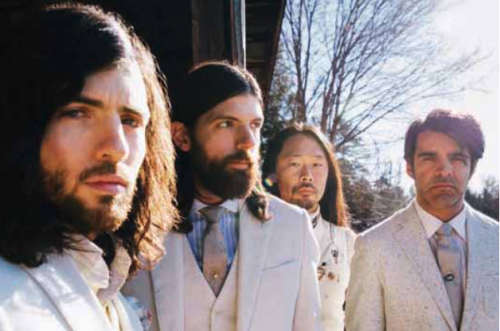 The Avett Brothers may get bumped up to headline the opening night of BottleRock Napa Valley on Thursday, following Furthur's cancellation. Yesterday I chatted with Seth Avett about his band, the Americana movement (Is it on the decline? He thinks it might be) and how the Avetts try to connect with large crowds when their music is so personal. Read the short story in SF Examiner. Here's the parts that didn't fit. Hint: This is longer than the story itself.
RIFF: What have you been up to as a band lately?
Seth Avett: We're at home at the moment. We just played MerleFest, in Wilkesboro, North Carolina. It was started, I think, in the late '80s. Doc Watson started it as an homage or tribute to his son, Merl Watson. It's a great American roots festival. Brings about 80,000 people over four days. We closed the festival out Sunday evening. We were just in Europe for over a month. (We're) just getting cranked up in the year, gradually, toward the big summer season.
You were one of the first bands in this Americana revival movement. You get grouped in with those other bands, so many people don't really know you've been around for more than a decade. Do you take that in stride, or do you try to educate them with the early songs?
There's no other way to take it than in stride. There's not really that much value, I think, in trying to convince people that we were a pioneer of it – if that's true. We play songs from our entire catalog just because we want to represent our journey. That's not to prove anything about how big our catalog is.
At first when other bands emerged, it was viewed as an interesting trend. Has it gotten to the point when you hear newer music and think, "Come on; these guys are just copying us or Mumford or Old Crow – enough already!?"
(laughs) I don't know if I've thought about it in those terms. I've definitely seen – and I hope this doesn't come off as pretentious – I've definitely seen our influence on a lot of younger bands. I just take it as a compliment. … I don't spend any time thinking that people might not think that we're original. We need to concentrate on our work and presenting the best artistry that we can.
Why do you think this type of music is popular right now?
People loved doo-wop and then they got sick of it and needed somebody like Dylan; that simple, stripped down, guy and a guitar singing. That played out for a number of years and then (people) needed a grittier kind of rock 'n' roll; something with psychedelia in it. After they got sick of it, people needed some clean-cut rock 'n' roll. The '80s got blown up; it became all about the party, and we needed Nirvana to give us some grit and mysteriousness to get away from the throwaway, party vibe. Where I'm going with this is that it seems like right now is the time where people want some variety, and a song with acoustic guitar and banjo seems attractive. It will play out and people will get sick of it and it will get watered down. It's probably already in the process of that.
You've got your next career as a member of a boy band all lined up, then?
That's exactly right. I'm working on my vocal chops right now (to) to get a nice five-piece boy band. But I think I'm going to have to look into some plastic surgery because I may look a little too old at this point.
That and you've got to have some AutoTune.
Well, yeah. It's 2013 and everybody's got to use some Auto-Tune.
Are there other musical directions you would like to explore?
If we keep our minds clear, too much, of a desire to be relevant, I think that will be healthy. If we stay inspired and keep finding music we love, keep living life and having life experiences, that inspires us to write songs. That will drive the bus and lead us toward where we need to go. Aesthetically speaking, we like a lot of different kinds of music. I could definitely see us doing more heavy rock 'n' roll. We also really love full-on old-time music. Not music like (what's now known as) Americana, but … North Carolina mountain music that was coming out in the teens, '20s and '30s. That certainly could be a part of the repertoire, if we continue to get better at our instruments. We try to let the song lead us. If it leads us to '50s pop music, then we will follow it. If it leads us to Queens of the Stone Age-style rock, then we will follow that, too.
I've heard a lot about your earnest, heart on your sleeve, writing style. How do you approach songs.
I always say that we try to keep it as anti-formulaic as possible; try to let it come to us as naturally as we can. But a lot of times I go at it with a melody in mind, or a melody and a phrase come together at the same time. I'm a studious kind of writer. I'll spread my notebooks and journals out on the kitchen table and even if I don't feel like writing I try to do some every day. I try to be available toward whatever development might happen. I'll log a lot of hours.
Here's a question from a fan. Her favorite YouTube clip is of you performing a gospel song a capella. Did you grow up singing those songs in church or is the influence from the music culture of North Carolina?
A little bit of both, but we definitely grew up with it. Our grandfather, whom I never met, he actually died before I was born, he was a Methodist preacher. My grandmother, whom I did know, she was a pianist in the church. My dad plays guitar and sings, so we grew up hearing those songs and singing them in church. They have been part of our musical landscape since we were kids.
Your music has that intimate, coffee house or theater feel. How do you communicate it to a large crowd at a festival like BottleRock who don't necessarily care if they talk over the music?
Hopefully some of the folks there will have already heard a song … and will have a desire for connection as much as we (do). But I take the Joe DiMaggio approach. He said, "When I go out there I try to play as well as I can because there's some people in the stands who have never seen me play. I want to represent myself as well as I can." That's what we try to do.
Follow editor Roman Gokhman at Twitter.com/RomiTheWriter.