Q&A: Bad Suns add inspiration to elbow grease on the road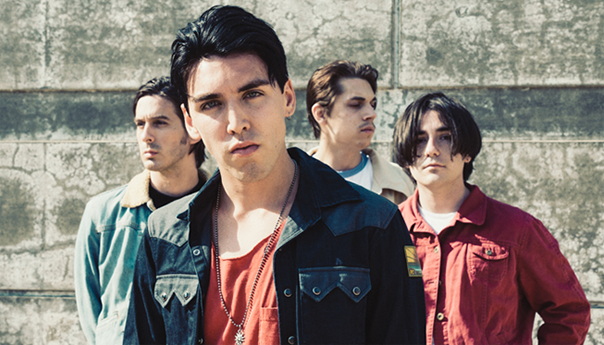 For Los Angeles new wavy indie rock band Bad Suns, the difference between a debut album and a sophomore LP comes down having the tenacity to learn from your experiences and make the appropriate tweaks.
Bad Suns, QTY, Hunny
8 p.m., Wednesday
Great American Music Hall
Tickets: $23-$48.
"Having the first go-around certainly helps a lot," frontman Christo Bowman said. "Putting out the first record [and] touring it was all such a whirlwind, and we were kind of just taking it as it came to us each day. We were really figuring it out. It seems obvious, but with the second record it was very helpful [to] take all that we had learned … for a smoother ride; embellishing what we could do and taking things to the next level. As opposed to 'How do we barely scrape by?' the goal now is, 'How do we put on a great show every night?'"
Bad Suns, who headline the Great American Music Hall on Oct. 11, came together in 2012 and made a splash with their 2014 debut, Language & Perspective.
Bowman and bassist Gavin Bennett went to high school together. Over several years of playing in the same musician community, the two had gotten to know guitarist Ray Libby and drummer Miles Morris. It was only a matter of time until the four were playing together. Their sound is equal parts new wave, dance pop and pop-punk. Led by the strength of single "Cardiac Arrest," which reached the top 10 on Billboard's Alternative chart, the album enjoyed success of its own. By that year, Bad Suns were opening for The 1975.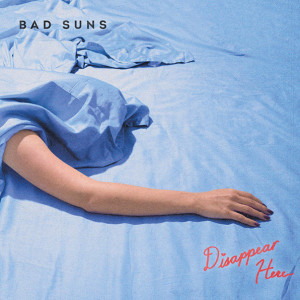 Last year, Bad Suns released Disappear Here, and are currently on their second headlining tour. But the album release was not without drama. The artist did not own the image the band had originally selected for the cover, Bowman said. This left him and his bandmates very little time to find a replacement before the release.
"It ended up being sort of 'gentle nightmare,'" Bowman said. Running behind schedule to find a cover altogether was difficult. Once they had it, they thought all the checkboxes had been ticked off. That's when the ownership problem arose. At the very end, Bad Suns selected an image of an image of a woman's arm reaching out from under bed sheets.
"I think the record cover almost kind of depicts a gentle nightmare," he said. "It sort of seems like that's what's going on, so it felt fitting."
RIFF: Your success came pretty quickly. Was it surprising, has it happened because there's many bands that work for years?
Christo Bowman: A lot of bands don't start working for years until they're about the age to when we had already been working for 10 years. We had been working harder than people our age since we were 10 years old, 11 years old, and no one else was doing that. We were always trying to be ahead of the curve as much as we can. That basically is the way we were able to secure it for ourselves.
Gavin Bennett: We wanted to be in a band our whole life. When we were growing up and when we started, we wanted to make that our career and what we did every day. The difference is then one day we woke up and that was officially our job. All we have to worry about is making our band the best thing it can be. [That's] a really great thing to be able to do; have the time and the energy to focus only on the band.
At what point did you make that realization and quit your day jobs?
Ray Libby: All of us knew that we wanted this to be our careers from a young age, and I think that's something that helped bring us together. When we were all together we could kind of realize that we are all committed and all in it for the long run. I think we've been touring for three or four years now, so that's pretty much when we were really fully able to devote all of our time to the band.
Bowman: Even at a point to when success started coming our way and we started touring, … we weren't basking in it. I think the whole time in the back of your mind you're like, "This could be done tomorrow. What do we do to make sure that this isn't gone tomorrow?" You sign your record deal; that's when the work begins. Your band becomes successful. That's when the work begins. It's about keeping it together because we've seen so many bands who just come and go in a flash. We feel really lucky and fortunate to be in this position. We've had our second record out and we're touring and it seems to be growing and expanding rather than withering away.
What sort of learning curve did you experience from your first hometown shows to where you are today?
Bowman: We started as a band playing in a basement, just playing new songs over and over again. It was like, "We're just going to show up to every city and we have these songs. We're going to play them the best we can." That's all we really [knew] how to do. We'd figure it out from there. We were playing hundreds of shows at a certain point. It was like, "What else can we do?" There comes a point where you don't want to play the same show every single day. You don't want to be the same band you were three years ago. You hope for some improvement. I think the learning curve really has to do with … what can we do different this time. What's feeling fresh? What's feeling stale?
Libby: Seeing a lot of other bands perform has been really cool. … When you see a really good show you're like, "How can we have a really good show? What did they do that we can incorporate into our live show?" Because we are such big fans of music … we've gotten more involved in our production. We [now] have lights and transitional songs and stuff.
You have performed some fundraising events for Planned Parenthood and for Syrian refugees. How did those come about?
Bowman: For us, what it comes down to in those specific causes was it was a group of people who came to our shows and [asked]. We just loved the idea. We were really inspired by the idea of young people trying to do all that they can in order to raise awareness and make some sort of a difference. At the end of the day, that's kind of the most valuable thing you can do. Position yourself with something that you believe in, then you should put your stamp on that.
Follow Roman Gokhman at Twitter.com/RomiTheWriter and RomiTheWriter.Tumblr.com.
Follow photo editor Alessio Neri at Instagram.com/windowofcolor and Windowofcolor.com.