Bryan Adams doesn't need the excuse of new music to tour America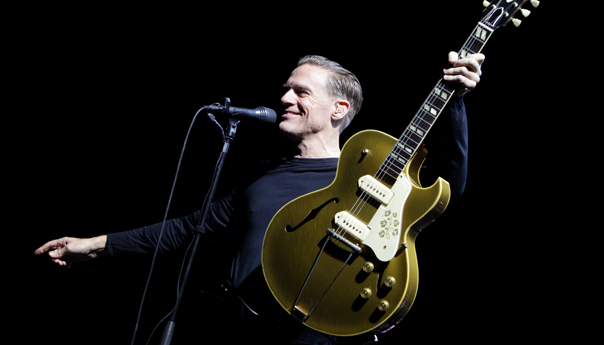 My first encounter with the music of Bryan Adams was in the late '80s. My mother's friend would come over and give me cassette tapes, several of which were of Adams. This is all to say that Adams has been around for a very long time. He's concentrated less on music for some of the last decade and more on his professional photography career. But he has continued to perform in acoustic settings on his off-and-on Bare Bones Tour, which returns to the Warfield Oct. 14. Read about the tour in a Q&A in the SF Examiner. Until then, here's a bonus teaser.
Are you looking forward to playing throughout the U.S. again?
Yeah, we've been touring with this acoustic show in the U.S. for nearly four years now. It continues to surprise me how many places we can play, and even if we do come back again, doing this acoustic tour, which I call "the Bare Bones," we continue to make friends. I suppose eventually when I get an album finished, I'll come out and do some dates with my band again. But until that time, I'm just going to go around. I'm doing this because it's really enjoyable.
What gave you the idea to come back at this time?
I come back every month. … It's not as though it has to be supported an album or it has to be supported by a song. I've got enough of a repertoire after 30 years now. People come to hear the music. There's a lot of songs that have touched people over the years, and they've come to hear the songs they know.
Based on the Bare Bones live album from a couple years ago, it seems there's a lot more audience interaction with your acoustic shows. Am I right, or am way off?
You're right on. Every night is different, so I look forward to that kind of interaction. That's what makes it exciting to keep going out.
Is there anything else you would like to accomplish?
You know, there's never been a real goal for me. I just take every day as it comes. A lot of people are asking me about what's the inspiration to do all this work. And I say, it just comes from this really simple idea of creating something from nothing. There's a real joy in working with other people to create new music or new photos or a new film soundtrack or whatever it is that I'm working on. That inspiration is what gets me going every day.
Follow Roman Gokhman at Twitter.com/RomiTheWriter and RomiTheWriter.Tumblr.com.