The Fratellis' Jon Lawler on side projects and future aspirations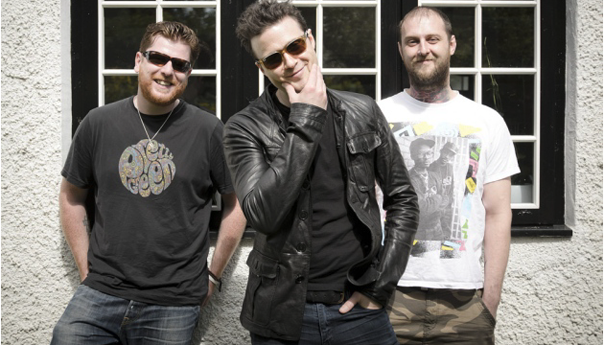 I interviewed Jon Lawler of the Fratellis a few weeks ago; my first Fratelli interview since I spoke to bassist Barry Wallace in 2007, at the height of the Scottish band's success – they were about to open for The Police, after all. Shortly after that, the bottom fell out on the band, and they disappeared. A couple of years later I went to a Metric concert and a band called Codeine Velvet Club opened. It took me the first half of their set to realize it was Jon playing guitar and singining, and the second half of the show to begin wondering whether the Fratellis broke up. To find out what happened, you'll need to read my story in the SF Examiner. Here's a teaser:
Were you on good terms during the layoff?
We didn't really speak that much. I think that's just the way it had to be. I guess in retrospect, we had just done it for too long a time. We could have done it for just a year maybe. That would have been (enough). To do it for three years was quite excessive.
I saw your side project Codeine Velvet Club – what happened to that?
I had a lot of fun doing that (it probably didn't work out because of a lack of concentration on my part).
I saw you with that band open for Metric in Oakland, and that's the first time I stopped to consider whether the Fratellis had broken up.
I remember that gig, and I'll tell you why I remember that gig. It's because I opened with the classic rock faux pas of  "Good evening, San Francisco." I heard the honest-to-God groans, and I could see they were shooting me looks, and I thought, "Oh, Jon."
Have the side projects you were involved in seeped into the new music, at all?
If it happened, it definitely wasn't consciously. The only thing that was conscious about this record was we needed something we could go out and play live. When we got back together to play some shows … most of the set was made up of songs from our first record. There wasn't even a whole lot from the second record that we wanted to play. And that really tells it's own tale, really – we hadn't made a record good enough, and we hadn't made one that we really could get up to play live. We really needed a record that we could play almost every single song live.
What was your intention going in to the making of this record? What would make this record successful for you?
Nothing that would be connected to any other factor other than that we made a record that we liked. In that respect, it's already done exactly what it was supposed to do. That's not to tell you we're not happy when some people like it, but that has to come out afterward. We wanted to make a record for our own amusement really. We didn't tell anybody that we were making anything. We had no record label. We were making music to please ourselves; that was kind of the point of the exercise. All the stuff that comes after, that's all the stuff we have no control over. I hope, though, that because it was made in that spirit… I hope people hear that when they listen to it, that it was playing for our own amusement, almost like when you make your first record. You can only possibly be pleasing yourself with your first record because you have no fan base yet.
Do you listen to your old stuff a lot; "Chelsea Dagger" or "Flathead?"
I really don't. I never did. I don't have any problem with it, but I tend not to go back. We play them at our shows, but that's the only connection I have to them.
Follow Roman Gokhman at Twitter.com/RomiTheWriter and RomiTheWriter.Tumblr.com.