Q&A: High-tech art and lowbrow humor with Saint Motel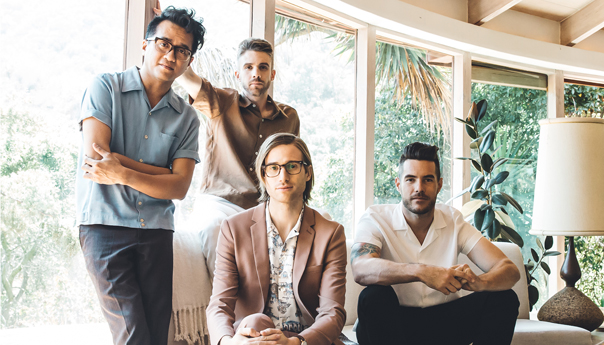 In person, the members of L.A. pop band Saint Motel are much like frontman A/J Jackson's lyrics: Direct, subversively funny and rife with double entendres. But alongside their comedic halves, Jackson, guitarist Aaron Sharp, bassist Dak Lerdamornpong and drummer Greg Erwin also have a drive to create art and innovate or rejuvenate the industry.
Saint Motel,
9 p.m., Friday, Oct. 27
The Fillmore
Tickets: $25.
The band, which fuses pop with glam rock and funk, recently completed a 3D app for all 10 tracks on its sophomore album, 2016's Saintmotelivision. The app, which the band calls a virtualizer, combines 360-degree animation with virtual reality tech. It can be viewed using a VT headset and places the listener in a room where the album plays, its cover art comes to life and the lyrics flash by. By virtue of all 10 songs being included, it becomes the first virtual reality album to be released.
Saintmotelivision is the name once attached to a variety-style multimedia production the band tried to stage in Los Angeles. The event would have included music, dance, comedy and other art forms all under the same roof, at the same time. It never took place, but Jackson and his bandmates carried over the central themes of many types of content to the album. A fall headlining tour, the band's largest to date, might push the concept further.
All four members of the band sat down with RIFF to talk about the future of technology in music, cracking jokes along the way.
Thanks for taking a few minutes to chat with me today. I won't take much of your time.
Aaron Sharp: We're done now.
Greg Erwin: Great, thank you so much.
Sharp: That's a wrap.
I'd like to know about the process and effort that went into your 3D videos. You call them Virtualizers. It's a term that I had not known before.
A/J Jackson: It's like a visualizer mixed with a lyric video, mixed with live performance video, mixed with 360-degree graphics. We call them virtualizers. We did one for every song on the album. We just put out the one for "For Elise." … Then we got like three more, and then the VR app comes out, and it's the first VR album.
So the app will be an album and will it be sold as a package or?
Jackson: The VR app's going to be free. And the idea there is [to be] like a companion piece of the album. If you've seen the album artwork there's like a TV-shaped pool. And there's a lady dipping her legs in the upper left corner. That's where you're going to be in the app. You're going to be sitting at the edge of the pool with your feet in, looking around. And you'll choose a video. You look up and you'll see the diver coming down. She'll just be frozen up there.
You (Jackson) and Aaron both studied film at school. You've also directed some music videos. Is that a huge chunk of why you put so much effort into this?
Jackson: Yeah. Because some of friends from film school got us into VR; early stages of it. So, definitely that had some impact on it.
And the rest of you guys?
Erwin: Aaron and A/J went to school together. We all kind of were into photography, video, editing and production backgrounds, so it's always been a big part of what we do. We're tired of the second dimension, and we're trying to go to the third dimension.
You have described Saintmotelivision as a collection of different TV stations broadcasting at the same time. Did U2's Zoo TV Tour and Zooropa album play an influence on the visuals.
Sharp:  Who's U2?
Dak Lerdamornpong:  I wouldn't say yes, but in a weird way, we have a kind of same concept, which is you watching us on the different stations.
Erwin: … Watching you, watching us, watching you, watching us, in that loop.
You're expressing yourselves not just musically but also visually, and showing that you're thinking about what might happen to music next.
Jackson: And facially, like really good.
I believe one of the Haim Sisters created the face success metric first.
Sharp:  Oh yeah, she kind of has a monopoly on the face thing.
Jackson: She was no. 1 on the face charts. For weeks. Longer than Joe Cocker.
What's up next for the band?
Jackson: Probably going to stop. Just get a regular job.
Erwin: I'm kind of tired of this.
Jackson: I'll do telemarketing.
Erwin: I'm getting into accounting, personally.
Sharp:  Yeah. Banking; I want to do a big bank thing.
Lerdamornpong: My next thing is dinner.
Erwin: Professional dinnerman.
What should fans expect from your headlining tour next fall?
Jackson: Imagine this Saintmotelevision concept taken to the farthest level and that's what you can expect. It's all we can say right now, until everything is officially locked in.
Erwin: Probably a lot of magic, yeah.
Sharp: By the end of the show, we'll probably disappear. Card tricks. Nudity.
Jackson: The tour will be called the "send nudes" tour.
Erwin: The Crotch Shot Tour 2017.
I can imagine the technology that you could incorporate into something like that. Hack into the phones of everyone in the crowd.
Jackson: Whoa. You stream everyone's internet history during the show, on the backdrop. I don't know if we're that brutal. We like our fans. We would never do that.
I want to talk about "For Elise," which incorporates Beethoven's "Für Elise." Where'd the idea come from? And is it because at least one of you is classically trained?
Jackson: "Für Elise" is the greatest muse mystery; mortal beloved. No one knew who Beethoven's muse was. And the idea for the song was, "This one's for the muses." This song is for the people that are inspiring the songs—to the chord structure of "Für Elise."
So it's kind of like the biggest love song of all time ever then because it's open to everybody.
Jackson: Yeah. Absolutely. We do name-check a lot of specific rock and roll muses and a big shout-out to Elise, Beethoven's muse [kisses his pointer fingers and points to the sky], whoever she was. But yeah, it's way more broad than that. It could be anybody. It's everybody. 
What is "Born Again" about? It sounds vaguely religious; is it?
Jackson: It's based on a friend of mine growing up who was sent away to religious rehab and not allowed to be my friend because I was a bad influence. I reconnected with him years later on the road. It's been a fun song to do live for a lot of reasons, not the least being that it brings out very intense feelings from religious and non-religious people who don't know which way we're leaning. And we're not leaning either way, because the concept of getting born again is … ridiculous. It gives people, sometimes, a free pass to do horrible things. But it's also endearing, it's sweet, and gives you hope and the idea of being able to start again.
In what other ways do you see music and technology blending together going forward?
Jackson: At least in virtual reality, a lot of people are getting into a live show thing. Which is not there yet, because you don't want to wear a headset for 45 minutes. It's not comfortable enough. But eventually I could see. … It'd be the same way you have free viewing of the concert, but you can pay extra to be in the box seats.
Erwin: Or like when Kraftwerk is 3D. You can experience both ways and it's still awesome.
Jackson: Eventually you'll be able to see the concert and can view the concert from anywhere.
Erwin: Like augmented reality.
Jackson: Imagine the Hollywood Bowl. You can choose where you want to be to watch and listen, and the audio will be 360 degrees from where that position is.
And you're at home or in a movie theater?
Jackson: Yeah. I mean, look at Coachella. Watching it on YouTube is already pretty fun. It's great to be at Coachella, but it's also great just to be able to watch it on YouTube in your underwear, with air conditioning.
Follow Roman Gokhman at Twitter.com/RomiTheWriter and RomiTheWriter.Tumblr.com.