Q&A: Lakou Mizik brings Haiti's joy and pride to California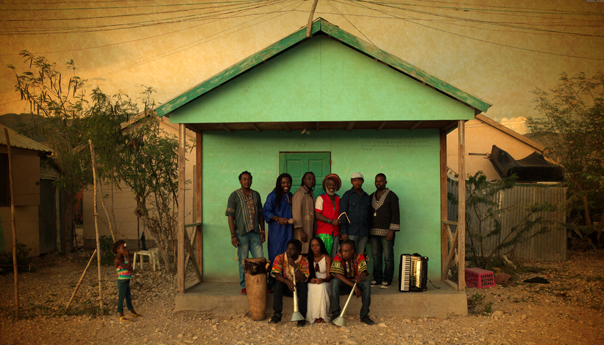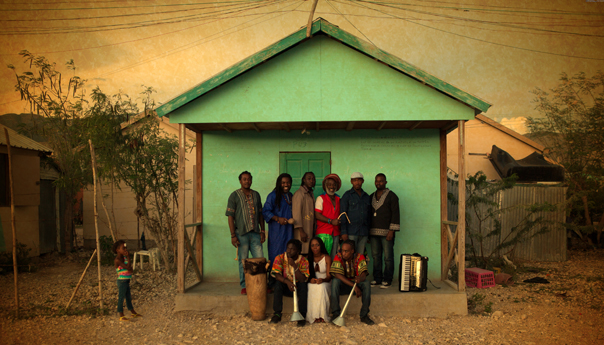 Roughly 300,000 died during and in the aftermath of the devastating earthquake that leveled huge swaths of Haiti in 2010. Everyone in the country was either directly affected or knew others who were. The hit was head-on for a country that was already among the poorest nations in the world, with many suffering from starvation. One-sixth of the population lost their homes. A cholera epidemic broke out, as did political turmoil. But while Haiti was down, its proud culture never counted itself out.
Lakou Mizik
8 p.m., Thursday
Freight & Salvage, Berkeley
Tickets: $20-$22.
After days of volunteering to clean up wreckage, many turned to song, dance and other art forms and faiths at night. That is how a group of nine musicians, ranging from their 20s to 60s, came to create Lakou Mizik, a group with a mission to help their countrymen heal. One hot night in Port-au-Prince, guitarist and producer Steeve Valcourt and singer Jonas Attis met with American producer Zach Niles in Valcourt's basement came up with the concept for the band.
Niles is best known for bringing the plight of Sierra Leone's Refugee All Stars to Western audiences with his documentary about musicians who survived that country's bloody civil war. He travelled to Haiti soon after the earthquake to document the quake's aftermath.
He, Attis and Valcourt decided to put together a band that would keep the country's rich musical history alive and raise people's spirits.
Valcourt is the son of a famous Haiti racine (roots) musician Boulo Valcourt. The younger Valcourt himself has flirted with national fame with his compa band, but found his calling in producing others. He also teaches at the country's Artist's Institute in Jacmel.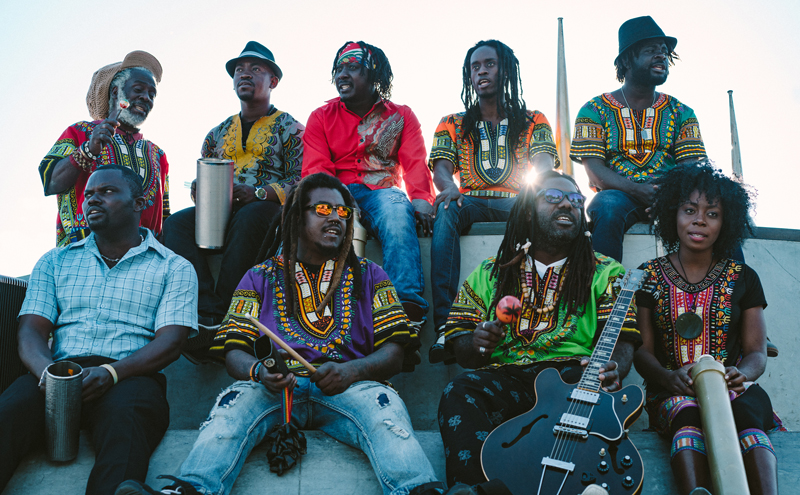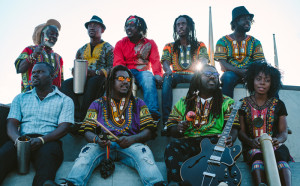 In Haitian creole, the word "lakou" means "home" or a "gathering place." In the vodou religion, which is active and practiced by many, it is a holy place. Lakou Mizik concerts quickly gained a strong following in Haiti, blending vodou ritual and rhythms, Christian church revivals, social engagement and most importantly, a party atmosphere.
The band recorded an album, Wa Di Yo. The name translates to "You tell them that we are still here," and incorporates African, French, Caribbean and U.S. influences that are all present in Haiti. Niles produced, along with Iestyn Polson (David Bowie, Patti Smith).
Lakou Mizik didn't tour outside Haiti until 2016, when the band began to make a stir in the U.S. Besides rousing critical reviews, the band made viral headlines that year when they performed on a flight delayed by six hours in Chicago.
The band's show at the Freight and Salvage in Berkeley is the first Bay Area visit—the first California visit—for all of the band members. It will be a surprising show for music fans expecting a sorrowful message from a country that has been through so much. Lakou Mizik makes party music with driving rhythms, French accordion, guitars, rara horns and positive energy.
RIFF: The name of the band literally means home, or backyard music. What does it mean to the band?
Steeve Valcourt: Because of all of the ways that music is integrated into Haitian life – we really think of Haiti itself as one big "Lakou Mizik" – meaning that it is a land or yard filled with music for every one of life's moments. What we are trying to do is show the world how strong our culture is.
In what ways have you seen your music have an effect on your countrymen?
Valcourt: These days there are very few artists, particularly young artists, who are exploring our deep culture; not just vodou but also rara and troubadou music. When we play this type of music, you can feel Haitians in the audience swell up with pride. That is the strength of our culture. When we play the rara horns or when we beat the tanbours (hand drums), Haitians automatically have to dance, have to feel good about who they are and where they come from. It's like they themselves forget all the difficulties, too. There was a time when this roots music was more popular, with bands like Boukman Eksperayns and RAM, but now there hasn't been any artists to pick up that torch. This is what Lakou Mizik is trying to do.
How were you personally affected by the earthquake?
Valcourt: Everybody in the band, everybody in Haiti was touched by the earthquake. You can't have 300,000 people killed in a country of 6 million and not have nearly everyone touched. … A small part of our house was demolished, and I did lose friends, but I know that I was lucky. There are people in the band whose entire houses were destroyed and who lost people very close to them. But it was also a time when I started to refocus my life and think more about how I, as a musician, could help people.
How did so many disparate musicians come together to form Lakou Mizik?
Valcourt: It started with Jonas (Attis) and myself visiting the camps for people who lost houses after the earthquake. We brought a guitar and a tanbour into the camps. We saw the way that playing old traditional music just made people feel better. We Haitians love our country's music so much. It brings us joy and also pride, both of which we needed. The funny thing was that we had to be smart about when we played music with vodou and music that didn't have vodou in it to make sure we didn't make anyone upset. About the same time, Zach Niles showed up one night in my studio when Jonas and I were working with a band. He talked about his project to discover old Haitian songs and use these songs to send a message to the world about Haiti. It was like we had the same idea but coming from different angles.
Zach Niles: I first came to Haiti for a film festival with a previous film [and] music project called Sierra Leone's Refugee All Stars. As so many people do, I immediately loved the country. I had discovered Haitian music while in college, when I had a world music show on my school's radio station. After the earthquake, I went down to help a film school … now [called the] Artists Institute recover from the devastation. After spending a month there, I came home and realized how one-sided the news was that we in the U.S. got about the country and felt that music would be a great vehicle to offer another view. … I served as the director of the school for two years and worked with Steeve Valcourt, who began [as] professor. … I still am an advisor and visit as often as I can.
Valcourt: The rest of the musicians came through all of our connections. We knew we wanted to have all the traditions represented, so we asked [vocalist] Nadine [Remy] and [bassist] Lamarre [Junior] to play with us with their evangelical background, and [Peterson] "Ti Piti" [Joseph] and James [Carrier], who are our rara heartbeat and come from one of the biggest rara bands in Port-au-Prince. Papa Sanba Zao [Louis Lesly Marcelin] … is a legend and a founder of the vodou racine music movement, and then Belony [Beniste] on the accordion, who brings the troubadou and contredanse culture. We started playing songs as a "project" but soon we were asked to play a show. We told them we weren't a band but decided to play anyway. That's how it all started. Zach always says he never meant to start managing a band again. It was kind of by mistake.
Steeve, you have had some musical success previously and also produced up-and-coming artists in Haiti with your father. What did that teach you about your country's musical heritage?
Valcourt: What is nice about Lakou Mizik is that there are a couple of us who have had some success and a few of us who didn't know anything about that before Lakou Mizik. Because of my dad, I've been working in music as long as I can remember. I've had a studio since I was a teenager, and it was always just what I wanted to do. So whoever came to my studio, no matter how much money they had, I would record them. Some of them turned out to become big stars. It always makes me proud. My dad always was exploring Haiti's music, too. He listened to traditional music, new music and lots and lots of jazz and blues. I was lucky that my father always respected our traditions so that even when I was playing pop music and hip-hop, I always was getting an education in our traditions.
Steeve's role in Haiti's music scene seems to parallel that of the late, great Andy Palacio in Belize. Both are musicians and educators, with the goal of making sure that the country's cultural history lives on. Is that a fair comparison?
Zach Niles: I love the Garifuna music and Andy Palacio and now Aurelio's mission to keep the culture alive. I think the biggest difference, though, is that it is literally a culture and language that is dying, being swallowed by a colonizing language. In Haiti, Haitian culture is alive. The language is strong and because of the proud history of the slave revolt, much it will be preserved in a way. Lakou's big mission is to keep the culture evolving and relevant.
The songs themselves were passed down through generations, or were some originals?
Valcourt: Lakou Mizik sings a mix of old traditional songs and originals. However, even then our old traditional songs, we have made new and original. Many of these songs have one verse and one chorus – the rest of the lyrics have disappeared forever. But we take these songs like "Peze Kate" and "Panama Tonbe," and we finish the story and add modern elements such as hip-hop and dancehall.
Tell me about vodou. What about the religion is real and what are pop culture misconceptions?
Valcourt: For Haiti, you can say that Vodou is both a religion and a tradition. There are many people who practice it as part of their daily lives. Most people, whether they are Christian or practicing vodouizan, still believe it's just a matter of whether you take it as good or bad. And no matter what you believe, you can't dispute that it is the foundation of our culture—our songs and dances, and even our language. That's why even though Lakou Mizik isn't expressly a vodou-focused band, because we play traditional music, we are considered vodou and racine music.
Niles: Even the word rasin, or racine, just means "roots," but because Haiti's roots are so deeply entangled with the vodou culture, rasin music often gets considered as vodou music.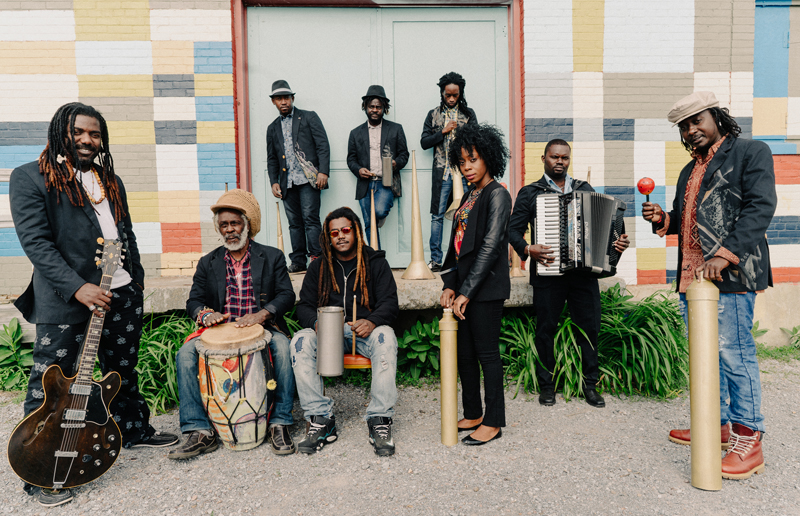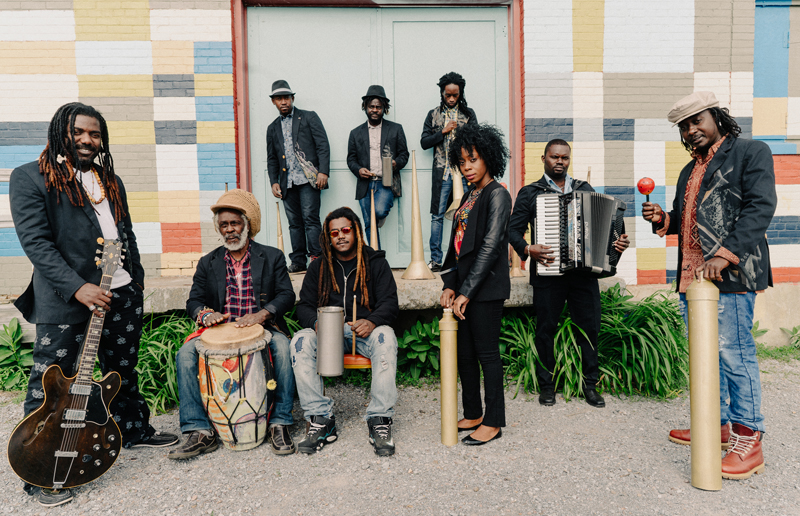 Political awakening is ever-present in your music. Is that also a cultural hallmark for Haitian musicians?
Valcourt: In Lakou Mizik we don't say we are political. But we do sing about things that are real in our country, which you could see as political. In another way, it is hard to separate sometimes because our traditions have become almost political themselves. Singing vodou songs or even playing vodou rhythms can sometimes be seen as making a statement. But sometimes our folkloric songs that seem innocent and obvious can be twisted to have other meanings by those in the politics game. That's a big part of the story of Haitian music.
You've played shows in the U.S. several times now; what kind of response are you getting from the people who attend?
Valcourt: I think people are surprised because our shows have so much energy. I don't know what people expect, but it seems like our rhythms, especially the rara music, is not possible for people to resist dancing. I think people are surprised by shows. Maybe because of what they have heard about my country.
And this is your first time performing in the Bay Area. Is this your first time here as well, or have you visited before?
Valcourt: I think it's everyone's first time here.  But I have a sister that lives there (Sonoma), so I am so excited to see her. It's California! Everyone knows about California. So now [we] come to make California know about Haiti!
Your country has it rough like few others. How do you keep hope through poverty, hurricanes, disease and a massive earthquake?
Valcourt: We get asked this a lot. We are all just humans and I think humans will always find hope. You can be frustrated or devastated or sad but you can't lose hope. Even if your hope is smaller than it once was. Like, maybe you don't want to have two cars and air conditioning and television, but now you want a roof and food, and so you work for that instead. I think, too, that musicians and artists help people with this. With our songs, we can both give people a sense of pride and voice [their] concerns. Both … are important for keeping hope alive.
Follow Roman Gokhman at Twitter.com/RomiTheWriter and RomiTheWriter.Tumblr.com.