Introducing Everywhere: In pursuit of the perfect pop song with Max Berga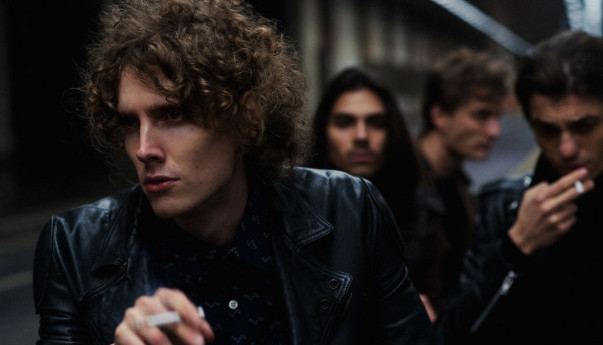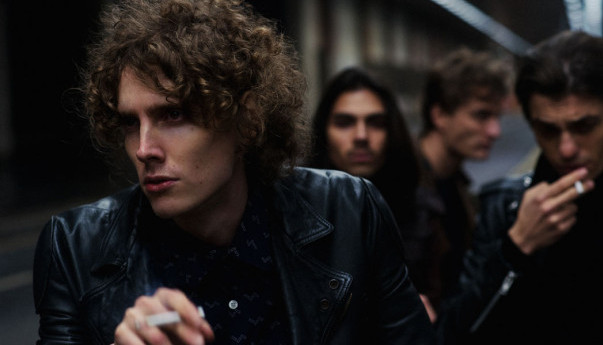 Max Berga is Swedish-born, and he believes that because of that, he is ingrained with the Swedish Hit Factory-centric determination to build the perfect pop song. His biggest challenge, at least initially, was find a cast of characters to fill a band—and then to stick around long enough to make an impact. He started Everywhere but at least 30 musicians have come and gone through a revolving door over the past three years. In 2016, he even moved from Stockholm to London to illerseep momentum going.
Berga's gift for crafting catchy hooks impressed producer Mark Needham (The Killers, 1975, Bloc Party), who invited Berga to record in Los Angeles. American Grandeur, a Needham-produced debut EP, got the attention of BBC Radio with indie rock singles like "Eddie" and "Soldier."
Everywhere's first performance outside of Sweden was alongside Palma Violets and Django Django at an NME Awards party in 2013. Berga and company went on to open for Kaiser Chiefs. Sophomore EP Fiction Act shows a nice evolution to the band's sound. Single "Some Other Dude" has been streamed more than 1 million times on Spotify as of press time. "Let It Go" and "Shades At Night" have a predictability reminiscent of synth-pop bands like The Naked And The Famous and M83, along  with an indisputable nod to The Killers.
"Heroine" is the strongest track, with provocative lyrics like: "We fuck and fight/ How good it feels/ I'm high, I'm high/ You're ecstasy." On a call from his London apartment. Berga pulled open the curtain on his songwriting process and discussed Everywhere's biggest challenges.
RIFF: Where did you grow up in Sweden and when did you start writing songs and singing?
Max Berga: I grew up in Stockholm and have always been doing music. A few years ago, I was working as a model agent [searching for modeling talent] out on the streets. I did it for a while and was quite successful. I got a take of the royalties, in that role you get a percentage of the model's income so it was passive income. It gave me some free time where I was earning money without working. It was during that period that my cousin taught me a few chords and I started to write songs. I used to make beats when I was younger. Then I had this vain idea that I was going to start a band.
Why did you move Everywhere from Stockholm to London?
A: In 2013, as a band, we were coming over to London a lot. At that time, everybody in the band was Swedish. A year ago our management in London suggested we move but the other members [together since 2012] didn't want to leave their lives in Sweden. I had the same Swedish guitarist for a while but soon realized that it wasn't really going to work. That was in January 2016, exactly a year ago. I found myself having to put a new band together.
What kind of impact will Brexit have on U.K. bands that have traveled Europe quite easily up to now?
A: It will probably mean more paperwork. We really want to tour in the States and are currently trying to put together paperwork for that. It is a very laborious process, as you can imagine. Of course we don't want to have those same obstacles in the U.K. if we want to tour Europe. But the other three guys in the band are Brits. It's kind of crazy and will make things harder.
What was it like, as a newcomer, to work with a high-caliber producer like Mark Needham?
A: The biggest take-away is how to schedule effectively. How to plan out a creative process and keep it moving forward. In the studio we had an old-fashioned live setup. We did the pre-production phase where I sent over our rehearsal room recordings. I learnt how to achieve results and have a finished EP in hand. In many ways, Mark is a simple kind of guy. He is short and to the point with advice. It was a great experience.
My favorite track on the new Fiction Act EP is "Heroine." The hook was unpredictable. How did you write the song?
A: I had this friend who works as a DJ. He sent me an instrumental piece and I came up with the chorus [lyrics]; "Fuck and fight…" It was me trying to come up with something fun and positive from a relationship with someone who had this sort of borderline personality. Everything was always in extremes and crazy. Anyway, my DJ friend never used it. So I took it to my Swedish producer friend and we started to write it in the studio. Using the old demo, we came up with a verse and bridge. He had a very scientific way of making music. It was like equations on a piece of paper. "We wait 54 seconds and then we want this to happen again." This is not sexy. We were also looking at Billboard statistics on BPM rates for the perfect pop song. It was somehow liberating to write like this. You can work with this equation but of course you have to have that spirit in a song. You know you can also do focus groups for a small fee: 100 random people will listen, then comment on a song. You can read what they say and make changes. But even with a formula, it is still difficult to make a pop song that's a hit. But I'm an artist so I'm always striving to to find that perfect pop song.
That is such a surprise to me!
A: Sorry, I know it would have been more sexy to say that I was sitting with a bottle of red wine under the full moon when I wrote that song. (Laughs)
Your sound has evolved a lot since your first single, "Eddie." That song sounded almost like Radiohead. Now it's poppier. What influenced the change in directions?
A: I wanted to break from the whole "let's have the entire band play live in a studio" [format]–that huge apparatus. So we just tried it a different way: me and the producer writing the song from scratch in the studio. We would layer the music as we wrote the lyrics and produced the track as we went along. That just delivered a poppier sound. I felt then that it was the direction to take. So we started to experiment the sound with that direction in mind. With "Eddie," I was listening to The Pixies so it sounds more like a rock song.
Follow Celine Teo-Blockey at Twitter.com/CelineT_Blockey and Instagram.com/celineteoblockey.