Q&A: MisterWives rage against the "Machine" on new album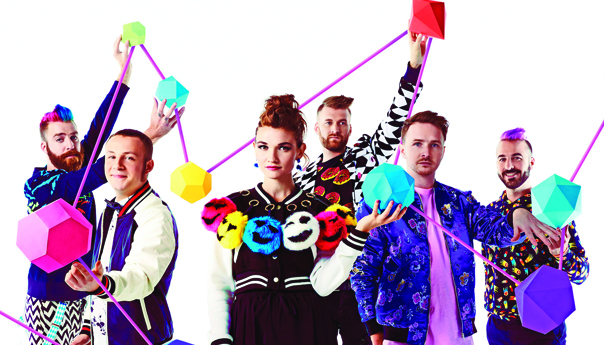 The last few months have been busy ones for New York pop band MisterWives. After completing their sophomore album, Connect the Dots, the band hit the road for the longest tour of their short careers, more than two straight months opening for Panic! At The Disco.
MisterWives, Smallpools, Vinyl Theatre
7 p.m., Oct. 4
The Fox
Tickets: $31.50.
It was the band's first time playing arena shows, and prior to the tour, MisterWives weren't sure what the headliners would think of their massive stage production elements. Then they saw what Brendon Urie and his band were doing. "Ours looked like chump change compared to them," said drummer Etienne Bowler, who is in a relationship with singer-frontwoman Mandy Lee. MisterWives discovered the level of effort that goes into producing such a spectacle.
The collective highlight for Lee, Bowler, bassist Will Hehir, guitarist Marc Campbell, multi-instrumentalist Jesse Blum and saxophonist Mike Murphy was playing at Madison Square Garden in New York.
"I used to busk outside of MSG, at Penn Station, and always dreamt of it," Lee said. "We've seen all our favorite artists play there. It's the most famous arena in the world. No pressure."
But by the time the tour hit the Bay Area, Lee was fighting a respiratory infection and bronchitis. She couldn't sing, and it hurt just to talk, she recalled in a phone call. MisterWives had to bow out of the Oakland date. And just a couple of weeks later in May, the band launched Connect the Dots into the world. The album is even more personal to Lee and her bandmates. For the first time, MisterWives worked closely together to write the material, and Bowler co-produced. Lee's vocals aggressively fight the discrimination she found in the music industry, acts as a call to arms of the times, and shows love to her family and her band.
Lee, Bowler and Hehir sat down for a call to chat about their new songs and facing the pressure of the sophomore slump.
RIFF: If there's one lesson that I take away from "Drummer Boy," it's that everything is going good for Mandy and Etienne, who are in a relationship. It's a running theme every time we chat for me to ask whether you've ever fought.
Etienne Bowler: The only thing we fight about is figuring out if we've had a fight or not.
Will Hehir: And Etienne's horrible jokes.
Mandy Lee: The dad jokes; my threshold for those is decreasing more and more, now that we're on several years.
Bowler: It's not easy being incredibly funny all the time.
Lee: You would think we would fight a lot because we're together, seriously, every second. From touring and being in the band together, and we obviously live together.
Bowler: Sometimes we watch Fight Club together.
Lee: We have our own Fight Club.
Bowler: Don't talk about it.
Is "Drummer Boy" a strictly a personal love song for you two or is it one from which fans can also pull some meaning?
Lee: All the songs are incredibly personal, and I'll draw from things that have happened in my life, but I would hope that all of the songs can be translated to other people's lives and how they feel and help them be expressive. I think that's the beauty of music—it can mean one thing to me and mean something else to the person listening.
You used "Machine" as your first single. Was there a reason that you went with that one first, besides it being one of the first ones you wrote for Connect the Dots?
Lee: I think the message and the instrumentation, and just how powerful and in your face that song was, was a really cool way to be like, "We're back!" … The message of what the song captures is staying true to yourself and letting individuality be something that is … accepted more and celebrated. That, unfortunately, doesn't exist much in the music industry and the world, and all that's going on right now, we need a whole lot more of.
The song is a personal mission statement and many have described it as a protest anthem. Is that a fair message to pull from it?
Lee: There's songs on the album that are directly protest anthem songs to what is happening politically in our country and in the world. "Machine," for me, wasn't about that. I'm happy that that's what people take away from it, but it was definitely more [about] the struggle of being a band … and not being accepted for who you are; not being allowed to just be yourself. We've come through a lot of obstacles, navigating this world that we're in and trying to just stay true to the music we make and to who we are. You wouldn't think it's a thing, but it really is, and it's mind-blowing because it's sad that there's not much acceptance of people being different. … That's what "Machine" originally drew from. We had this really intense meeting that got my blood boiling, and I went home and wrote the song in like two minutes. It's a very therapeutic process, but it makes me happy that it's able to take other life forms, and people are able to use it to stick it to the man.
Bowler: Amen.
Did you have to re-write any songs following the election?
Bowler: There was no re-writing or anything. We wrote just how everything happened throughout the year and how we were feeling.
Lee: "Revolution" was written long before—
Bowler: —the dark day.
Lee: The world has just been really crazy and sad. It can be depressing and it's unfair and unjust. The message of "Revolution" was hopefully to have acceptance and equality and love and compassion ring louder than all of the negativity that has been brewing. "Oh Love" was written as a direct response the next day. I woke up—
Bowler: —hung-over.
Lee: I wrote that song, basically, it was the next morning. We recorded it that day, and it happened very fast.
Bowler: I think ["Revolution"] was written in May of last year.
Lee: That theme and that message is something that we need more of, and it's so important in times like this to bring people together and not have a defeated attitude.
What's "My Brother" about?
Lee: A few years ago, my brother was diagnosed with being bipolar so it's just kind of a love letter to him for the times where he needs it and for my family. Family is always first, you know. The band is my other family. I'm very family-oriented. I think mental illness should be something that we're able to talk about and not be afraid and brush under the rug and act like it doesn't exist. … That song is just a way of expressing the love we have for him … through his mania, or the slumps that you go through. It's been really interesting getting a bunch of messages from kids who either have mental illness or have a brother who is sick with cancer … just really pouring your heart out to your loved ones and letting them know that you're always there is the backbone of that song.
Sonically, the song is unique for MisterWives because it's a straight-up power ballad. Did it present any songwriting challenges for you?
Lee: No, because that's kind of the music I used to write before this band. It's kind of going back to my roots. I played piano and would sing at open mics, and that was kind of how I used to write music. It felt nice to go back to feeling how I was when I was a teenager, writing music. For me, it wasn't a foreign thing.
Is the song "Coloring Outside the Lines" about yourselves?
Hehir: Yes, I don't really know how to color inside the lines.
Lee: For me, it draws inspiration from me and Etienne's relationship. We have a very unconventional relationship that most people warned us wouldn't work, but it's the best thing that's ever happened to me. I think people can also take away from it just to not live within the confines of how society wants to put you in a box and tell you how to live, and you need to do all these certain milestones and different things and abide by what's accepted as a lifestyle.
In what ways was writing the second album different from the first?
Bowler: We didn't write the songs like Mandy did. For the second record, all the songs were written in that year as we were a band. In the first record, some of the songs were really old ones [that Lee wrote when] she was 16 or even younger. These were all from the ground up and built as a band. We got to really hone in on our parts and our sound, and push ourselves as a team, sonically.
Lee: On the first one, it was really scattered and crazy, and we were recording while we were on two different tours. We were recording, then we went on tour with Bleachers, then we came home, recorded a little, went back out with Twenty One Pilots, and then had to finish it. It was very rushed. I was still writing while the guys would go to the studio to do other songs. We just kind of had the year to get to live with the songs and make them the best that they could be. I was in a much better headspace writing on the second album. … But I definitely was terrified in the beginning … of that "sophomore slump." People always say you have your whole life to write your first album and then you have to create a new album in the course of a very small time period. I had all of this pressure, but the second I started writing … there was so much that needed to be said. It all flowed out pretty organically. I didn't hit the same dilemmas that I did on the first album of feeling really vulnerable [or having] writer's block. I don't think I was in the most healthy mindset [on 2015's Our Own House].
Bowler: We didn't have to lock her in a tree house this time.
Lee: It really just the most fun, pure, honest, adventurous way to make music. That to me, I'm just so proud that we were able to stay true to ourselves and expand on our sound and really be a band and hone in on everything that we're doing. I hope we can make the next record like that.
You also did some writing or recording in California this time around.
Lee: Yes, we did. The first half we did at our house [which the band called] band camp, and then we had the privilege to work with Butch Walker, who lives out in California. We went there for a … month and a half. It was Santa Monica, a block away from the beach. It was paradise. It was a joke that we were considering this work at all. Butch is just the man. There is nobody like him; the most talented, sweet, kind, passionate, human being, and he really felt like another band member and also rock dad at the same time. He and [Bowler] co-produced the album. The two of them were peas in a pod. I was quite concerned for my and Etienne's relationship. The romance between the two of them had me worried.
Bowler: He's just an absolute legend. Everything that comes out of his mouth I just agreed with and respected. He is just so down-to-earth and kind. I remember the first day we were there, I was a little nervous to play him the tracks and show him what I had done. He just loved everything and used a lot. He used a lot of what we had recorded at band camp, which was great, so we didn't' have to re-cut everything. He was, like, "Just think of me as your co-pilot." … The vibe he created in the studio was just perfect. We all felt really comfortable. It was just the perfect way to record our record and finish what we had started.
Lee: It was very refreshing to get to work with a producer who believes in humans making music. He would have us just do a few takes and that was it. That made me feel like when I first started recording music. Now it's all changing, and we're conditioned to hear everything perfect. Everything is just snapped to a grid and AutoTuned and it's hard to find that human element in music. Butch was all about that human element and loved little mistakes.
Follow Roman Gokhman at Twitter.com/RomiTheWriter and RomiTheWriter.Tumblr.com.