Q&A: L.A.'s Night Talks take their show to SF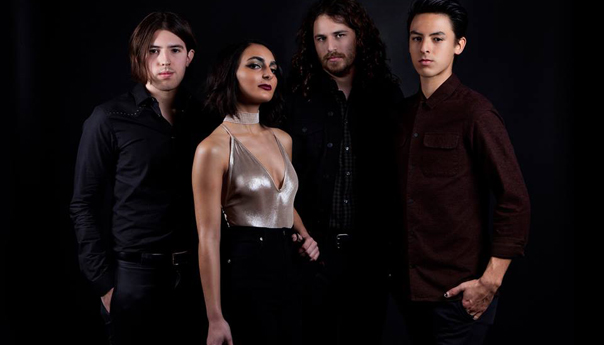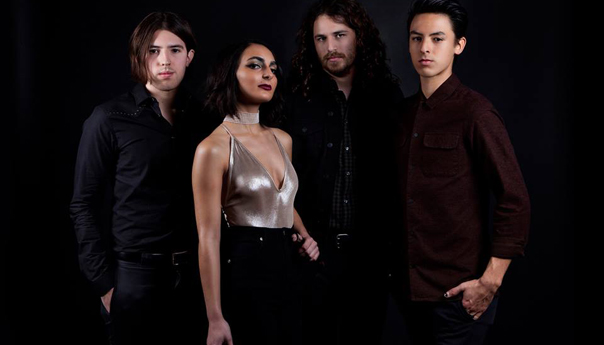 Soraya Sebghati wouldn't really murder bandmates by slicing their throats with a straight blade, asphyxiating them with a belt or stabbing them to death with a butcher knife. She just likes to play the role of femme fatale.
Night Talks
8 p.m., Friday
Secret location in SF
Tickets: Free.
9:30 p.m., Saturday, with Comfort, Madi Sipes and the Painted Blue, Night School
Neck of the Woods
Tickets: $10-$15.
And that's just what the frontwoman of Los Angeles indie rock band Night Talks does in the video for "Jungle," a song about taking pleasure in catching someone in a lie and exacting revenge.
"You're so far past being upset that you're really excited about that moment," she said of the song. And so, in the video, Sebghati takes guitarist Jacob Butler, bassist Josh Arteaga and drummer Cris Arteaga—playing the roles of rich playboys—by surprise, and takes them out very violently.
"I'm a film buff; my favorite director is David Lynch—I go to Cinespia at Hollywood Forever [Cemetery]," said Sebghati, whose band performs two shows in San Francisco this week. "They show a lot of old classics, cult movies and stuff like that."
Night Talks got its start about seven years ago. All four members attended the afterschool music education program School of Rock, where they shared lessons with, among others, The Regrettes. Originally calling themselves Blacktop Saints, they rebranded when Josh Arteaga joined in 2013. They continued to play through their college years. Sebghati attended Occidental College, where she was a radio DJ.
The band released its debut album just this past February. In Dreams is a shimmering treat reminiscent of Gold Motel and the Colourist. In September, Night Talks will hit the road with Gold Motel's Greta Morgan's solo project, Springtime Carnivore. But first, the band has some shows in Northern California this month, including two San Francisco stops.
RIFF: From where do you draw your inspirations?
Soraya Sebghati: We all have certain bands that we all really like. All of us definitely generally agree on really liking Radiohead and Queens of the Stone Age. We draw from that a lot, but we also try to take the songs that we write and make them have a bit more mainstream appeal. … I mainly listen to female artists, honestly, just because I prefer the sound of a woman's voice singing. I draw a lot of inspiration lately from P.J. Harvey because she's one of my all-time favorites. Also, I was a lit major in college, so that kind of helps me think about certain images and stuff that I want to incorporate, or certain ideas that I want to explore.
Classics, or more modern stuff?
Both. I think the area of focus I spent the most time in was American literature, both older and contemporary stuff, but one of the songs on the record is about Ulysses by James Joyce; that would be "Mr. Blume."
You were born in SoCal but you're Iranian by heritage. Both of your parents were born in Iran and moved here separately in their 30s. Do you feel like, as someone on a stage and holding a mic, you have an additional responsibility to speak up for a group people that's so often looked down on in the U.S.?
Oh, yeah, absolutely. I don't want to necessarily speak for an entire group of people because I don't know if I'm qualified, but I will say I feel a responsibility to give Middle Eastern people, brown people, Middle Eastern women, specifically, a different type of representation in pop culture. So often with movies and TV shows that we watch, the only version you see is the woman in the hijab who's being beaten by her husband … somewhere in the middle of the desert. The other versions you get are shots of Sunis; they like Mercedes, they like gold, they like carpets. I definitely feel the responsibility to show that we are just as multi-faceted as any other group of people, and I would definitely like to show positive representation for girls who are like me, who are growing up [and] struggling to find their place with Western beauty standards and standards of what would be a good, viable career option[s]. There's a lot of weight on my shoulders, but it fuels me to do the best that I can.
Night Talks have opened for The Relationship, the side project of Weezer's Brian Bell, and are set to play with Springtime Carnivore this month. Which artists have you learned from the most over the last couple of years?
A lot of our friends who play in a girls' scene in Echo Park … are already super-inspirational for us. Lauren Ruth Ward is one of those people. She is kind of starting to blow up lately, and we had her play at the first night of our residency at the Hi-Hat. She's been working really hard for a long time, and it's finally starting to pay off. It's nice to see that a talented artist can actually get somewhere from being genuinely good and working hard. [Also], a lot of the people we worked with playing at the Echo Park scene. We just opened for this band Holy Wars at their EP release show … and we had them in our residency. Cat, the singer, she had a different project for so many years, and it didn't go according to plan, and she kind of put that on hold. She was reborn, basically, as Holy Wars … and they've made such a big splash, and they've played less than 10 shows at this point.
Follow Roman Gokhman at Twitter.com/RomiTheWriter and RomiTheWriter.Tumblr.com.