African nomad guitarist Bombino used to herd goats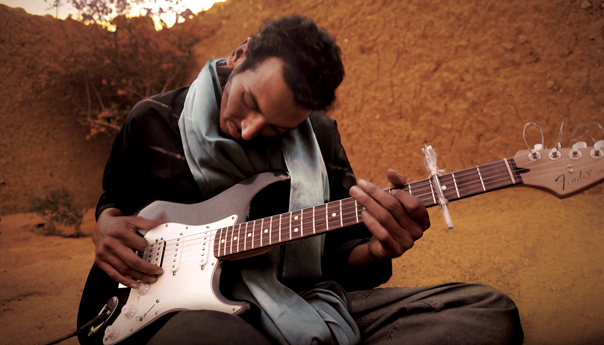 Bombino, who plays Sunday at the Outside Lands Music and Arts Festival, recently released his second album. Nomad was recorded and produced by The Black Keys' Dan Auerbach. But less than a decade ago, Bombino lived in constant danger, during a crackdown by Niger's government. Read my story on how far he's come in the SF Examiner.
Tell me how what you did prior to being a musician and performer. I read you were a herder. What did you do in your spare time? What was your family life like? Your day-to-day life?
I was a musician since I was very young, about fourteen or fifteen years old.  When I was about nineteen or twenty I left Niger to herd animals in Libya.  But I was always with my guitar.  I would just tend to the animals and play my guitar.  I had very little contact with other people.  It was a lonely time but also a very important one for me as a musician.
Does your life now resemble your life as a child?
Now, I cannot say my life … resembles my life as a child.  Everything is very different.  Most importantly, we have peace and I am able to provide a good life for my family.  These are things I did not have as a youth.
How did you come to work with Dan Auerbach of The Black Keys?
Dan became aware of my music on the internet, watching youtube videos etcetera, and he invited us to come record our new album with him in Nashville.  It was very simple like that.  He is a very straightforward guy and he is a genius on top of that.  So it was really a great fortune that he discovered my music and really liked it.
Follow Roman Gokhman at Twitter.com/RomiTheWriter and RomiTheWriter.Tumblr.com.