Q&A: Phoenix gets romantic on 'Ti Amo,' returns for holiday shows
In the corner of the trailer, a smallish TV hung from the ceiling is playing a documentary on Burt Bacharach. Right below, on a love seat, Christian Mazzalai and Deck d'Arcy of Parisian breezy pop band Phoenix are chatting about their band's newest album, Ti Amo, when they look up to watch the footage of the man they call their idol. They mention Bacharach in the same breath as Dionne Warwick.
"We love … the American tradition of some writing in this era, in the '60s, which demanded lots of, you know," Mazzalai trails off, briefly. "You can see they were working, you know? Lots of skills to create the magic."
RIFF caught up with Phoenix the day following the release of Ti Amo, as they headlined Live 105's BFD in June, to talk music and other passions. Mazzalai is a cook, it turns out, while d'Arcy is a nature buff, always up for a hike. Laurent Brancowitz loves Italian culture, travelling to the country frequently.
"He rents a scooter, and he discovers the Italian cities," Mazzalai says.
Italian romanticism, or the perception of it, wafts throughout Ti Amo. All of the band members have a connection to Italy; frontman Thomas Mars married Sofia Coppola there.
The album is Phoenix's sixth and the first since 2013's Bankrupt!. The band initially described it as "an album about simple pure emotions: love, desire, lust and innocence [and] a fantasized version of Italy: a lost paradise made of eternal Roman summers (hyper-light, hyper-clarity, pistachio gelato), jukeboxes on the beach, Monica Vitti and Marcello Mastroianni, fearless desire and antique marble statues."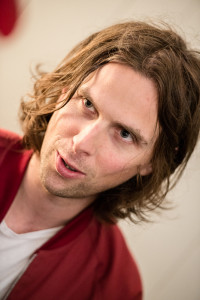 The dance-oriented title track, on which Mars woos a love interest, might be the best proof of concept, but the others add their own vibe. "Fleur de Lys" spins around a Fela Kuti rhythm. "J-Boy" (just because of you) references Michelangelo but feels like an '80s throwback.
Ti Amo is an apolitical record, made during a turbulent time in Europe—and France in particular—amid terrorist attacks, a surge in refugee migration and political upheaval.
Mars, a cryptic songwriter, however, does throw in verses here and there that recall uncertainty: "Some things they don't matter till they matter to you/ They stole that money from a homeless girl/ The truth is we're all to blame/ There are lies and moral consequences." For the most part, listeners should take the record as an escape from the harshness of the real world, Mazzalai and d'Arcy said.
Phoenix returns to the U.S. next week with a handful of new radio-sponsored holiday shows.  The closest they're coming to the Bay Area is Reno, so look for the Parisians to return again late next spring or summer.
RIFF: Have you spent much time in the Bay Area before?
Christian Mazzalai: I went with Thomas [Mars] when we were 15 years old. I went to a friend of us, who was the guitar hero of our school. He played a solo on our first record. Then he moved to Palo Alto. It's not that far from here, no? I remember we came and we played in a garage a lot. Played Bob Dylan covers.
Deck d'Arcy: And me, I spent one month [with] one of my best friends [in] Santa Cruz. OK?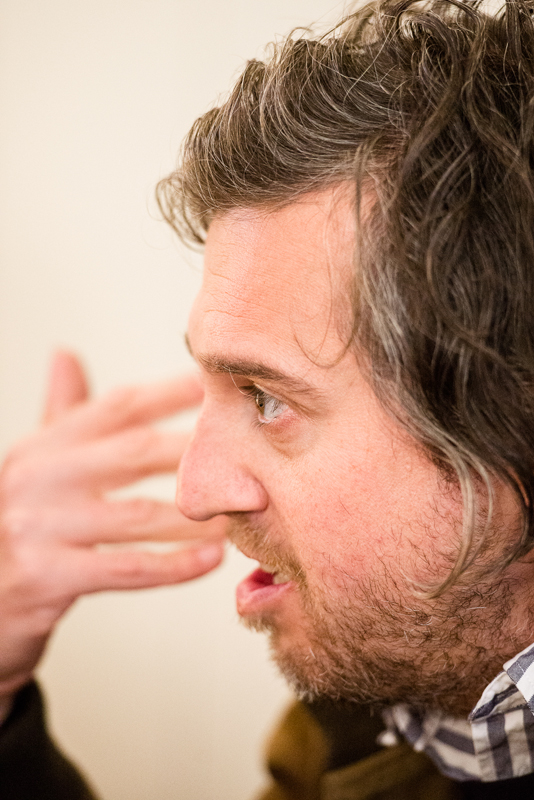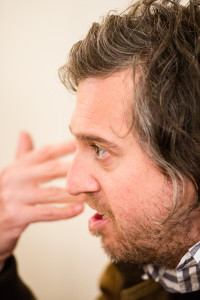 Mazzalai: Actually, this friend played on our first record, too. Fantastic piano player.
D'Arcy: Another friend of us moved in the Silicon Valley. Set up this medical devices business. I spent a month of dream at his place. It was so good; I loved it. And having great food, just a perfect life for one month, it was amazing. One of my best memories.
Mazzalai: They were all musicians like us when we are teenagers.
How do you make your songs sound so breezy and lightweight in terms of sound? Is there a certain trick to it? Or is it tools that you use?
D'Arcy: No, not really, actually. We try to find new tricks every time we do a new album. We try to set up new studios, and new instruments and stuff. We get rid of all of our tricks of the past. Well, we still have our mental tricks; [those are] hard to get rid of, but all the equipment is new. Chris bought a magnificent 12-string guitar that we never used before, and that really influenced the sound of this album. Not brand-new [instruments], but new for us. We have a bit of vintage, a bit of modern—a mix of everything.
What did you do to the instruments you used on the last record? Are they in storage right now?
D'Arcy: Yes, and they rotate.
Mazzalai: We have many more instruments to discover. We are buying them on tour all the time.
D'Arcy: We buy them early on, and then use them like a few years after. It takes a while to digest a new keyboard; you don't go right away with it.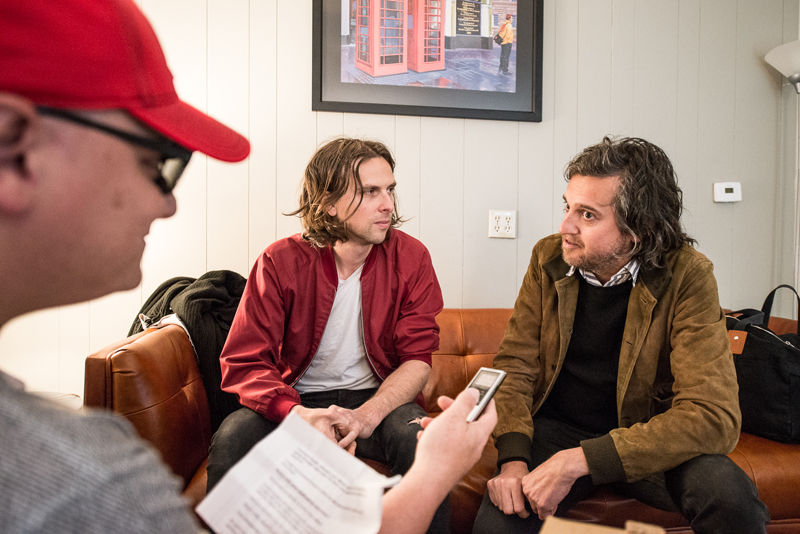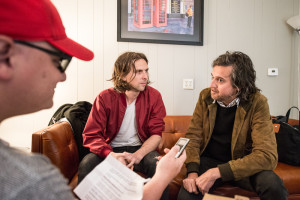 France has been through a lot the past few years. From the refugee crisis that Europe is dealing with, to Brexit and terrorism. Yet France was also the first country to defeat nationalism and fear mongering at the polls. Your album is so optimistic at a dark time. Is the album a result of what's going on?
D'Arcy: No, it's not a result of what was happening, it's just that it happened to be like this. … But it's true, it fits pretty well with the vibe at the moment, because it's kind of what you need, you know? What we need. [A] kind of a subconscious healing process, or something like that. We didn't really think about that when we were doing it, but it just happened to be right for the moment, for the time. So, a nice coincidence, I could even say.
Mazzalai: Is there really a coincidence? Everything is linked.
Follow editor Roman Gokhman at Twitter.com/RomiTheWriter. Follow Alessio Neri at Instagram.com/windowofcolor and Windowofcolor.com.