Q&A: Sea Girls ride the wave of anthemic choruses to U.K. buzz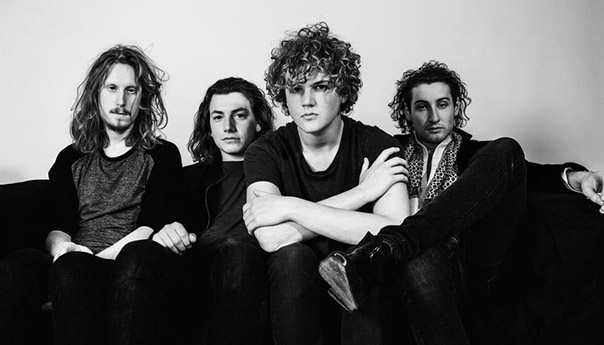 For English rock band Sea Girls, having the opportunity to play at this year's prestigious and always stacked Reading & Leeds Music Festival, alongside Kendrick Lamar, Sum-41 and The Kooks, is hopefully just the beginning of their success.
Considering the band used to record from the confines of a small London apartment above a burger shop, Sea Girls' path toward burgeoning indie rock stardom is a pleasant surprise. While it usually takes inventiveness and singularity to break through in the music industry, Sea Girls, comprised of singer-guitarist Henry Camamile, guitarist Rory Young, bassist Andrew Noswad and drummer Oli Khan continue to stretch a straightforward formula composed of angsty lyrics, epic choruses and catchy riffs while exploring an occasional mix of genres in order to transcend apparent conventionality.
Having released two EPs already in 2018, Heavenly War and Adored, this blueprint is stretched and allows listeners a glimpse into what a full-length offering may sound like in the near future.
Even with faint hues of prog influencing the band's sound, Sea Girls' musical style may feel overwrought and "too young" to some listeners, Khan said by email. However, it's hard to deny the infectious nature behind their simplicity that, alongside the band's anthemic quality and concert-friendly choruses, has contributed to Sea Girls' mass appeal.
"There's nothing wrong with an uplifting, soaring chorus, and the innate desire for a big singalong isn't going away anytime soon," Khan said. "I think when you're at a gig and hundreds of people are singing along together, it makes you feel part of something bigger. That's a cliche, but it's cathartic, for sure."
RIFF recently chatted with Khan about Sea Girls' future prospects in the U.S., their creative process, the possibility of touring in the U.S. and his mom's record collection.
RIFF: Which bands, past or present, have influenced Sea Girls' music?
Oli Khan: We try to take influence from as much as we can, either directly or through abstraction. Guitar rock rooted in the '90s and 2000s is a major contributor, but we try and pull everything from Sinatra to Nick Cave into what we do. You never know when inspiration will strike!
What is your goal when you get up on stage and perform a song like "Call Me Out?"
We just want to make people move. If we get them to think, too, then that's even better! We try and enjoy ourselves as much as possible. We want the audience to see how much of a good time we're having. To us, playing live is all about capturing that excitement and energy of when we first wrote the songs and translating that to the audience.
There have been rumblings that a full-length album will be coming out soon. What should fans expect; perhaps experimentation with different sounds or instruments? Will it differ from the Heavenly War, Call me Out or Adored EPs?
We'll definitely be expanding our sound with our debut album. The EPs have been fairly peppy and down to business so far, so it will be nice to explore another side to us that maybe hasn't shown up on our records yet. We've been playing together in different groups for years, but we're still surprising each other again and again. We all write, so having all our different perspectives naturally create diversity and we're excited to show that off.
Your mom was always spinning stuff like The Beatles, Elvis and the Rolling Stones. However, you briefly mentioned you listened to a lot of prog. Which prog bands or artists did you listen to? Does prog play any part in the band's current sound?
Mostly it was Pink Floyd, King Crimson, ELP. I think it would be great to write such a good song like Pink Floyd's "Great Gig in the Sky" with absolutely no lyrics. Everything we've ever listened to informs every decision you make as songwriters, whether it shows you something awesome that you'd like to emulate or something you realize you could do without.
How would you describe the chemistry between the members of Sea Girls?
By this point, it kind of feels like we're cousins. We've known each other for so long and we have each other's backs, but we're definitely not afraid to speak our mind to each other.
What is the most frustrating part for you in the songwriting process?
We generally enjoy the writing process, as I'm sure many do. We wouldn't be doing it if we didn't. That being said, there's definitely frustration when someone is trying to translate what they hear in their head and trying to create that and align it with three other ideas. But pushing through initial disagreement is what makes the process special as the song ends up in places you all might not have expected it to go. "Heavenly War" is a good example of that. What feels like a million ideas were bounced around, and the finished product is a blend of all these—and ultimately better for it.
Your band started in an apartment above a burger place in London, called Meat Mission. You had described this restaurant as the band's "genesis," because you were fueled by burgers. Have you guys heard of Burger Records?
Thanks to Google, I now have heard of Burger Records. That would be a good name for a record company if we started one; dang! After flicking through their Wikipedia and seeing FIDLAR, Ty Segal and the almighty Ryan Adams, I can see they don't mess around. So there we go, the door is ajar on our side, Burger Records.
Do you have any plans to tour in the U.S. in the near future? Is that something that has interested you?
At some point in every creative Brit's life, they dream of getting a beat-up car and driving coast to coast, soaking up life a la Kerouac. The U.K. is three times smaller than Texas, so just thinking about that alone is enough to boggle the mind. Just traveling to Glasgow from London seems pretty far to [us] right now. …  Just the idea of playing our music across the pond seems crazy to us, but something that's very important. The reaction from the U.S. is great so far, and we keep piquing your guys' interest as long as we're churning out the anthemic choruses!