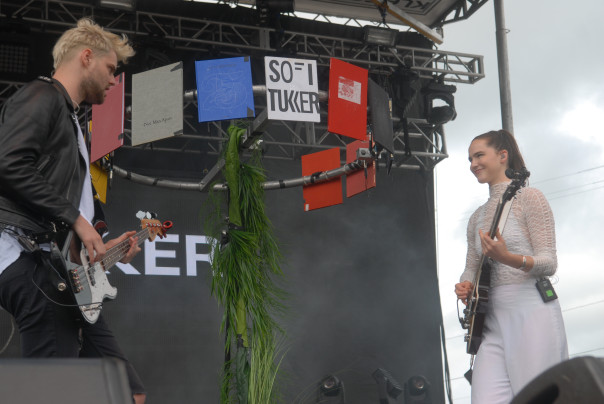 Q&A: Sofi Tukker pulls from Brazilian poetry, bossa nova to make its art
TREASURE ISLAND — During a waterlogged weekend at the final Treasure Island Music Festival, New York-based house and dance pop duo Sofi Tukker was one of the few artists who managed to avoid the rain and winds, playing hours before Mother Nature swooped in.
That gave Sophie Hawley-Weld and Tucker Halpern the advantage of playing to a dry, eager and sober crowd that picked up the duo's infectious grooves and danced along, elevating the Sofi Tukker set to one of the best and biggest surprises of the weekend.
The pair is on tour in support of its debut EP, Soft Animals, a pastiche of genres that cribs from Halpern's love of dance and house music as well as Hawley-Weld's passion for bossa nova. Together, the two created the likes of "Drinkee," a booty shaker with Portuguese lyrics that's so tasty it found its way into an Apple Watch commercial.
We caught up with the pair during the middle of the rainstorm that followed their performance at the Treasure Island festival, where Halpern and Hawley-Weld said more than anything, they feel lucky to be able to perform in front of people who care about their music. "We're really grateful to anyone who gives a shit," Hawley-Weld said.
RIFF: What was playing the Treasure Island festival like for you?
Tucker Halpern: It was really fun. It was a really big crowd. There was great reception. When the enthusiasm is that good that early, before people are really drunk … it that was great.
How did you two meet?
Sophie Hawley-Weld: We went to university together. We both went to Brown. But we weren't even friends. We didn't really know each other until our senior year and Tucker was a DJ. I was playing acoustic bossa nova. We were at this art gallery and he came early and ended up remixing one of my songs on the spot and it was really fun. Basically we started working together that day. Ever since, we've not stopped.
What did you think when you heard that remix?
Hawley-Weld: I thought it was tight. It was phat. It was much faster than I was used to.
Halpern: I sped up her song by, like, a ton. It was so slow.
Bossa nova can have more of a measured tone and pace.
Hawley-Weld: It's rhythmic, but it's certainly slower.
Halpern: It's definitely a lot different. You are not crazy for saying that.
Sophie, you spent a little bit of time in Brazil. I hear that come out in "Drinkee" and the bossa nova comes from Brazil, too. What other ways does that influence affect Sofi Tukker?
Hawley-Weld: The Brazilian style certainly comes in in the words. We have written a bunch of songs in Portuguese. We've been collaborating with Brazilian poets, so I'm not actually writing the words. It comes in in a lot of places. It has inspired my musical creativity ever since I've come back [from Brazil]. It's hard to know when.
Halpern: American music, African music, a lot of these cultures have influenced house music a lot, as well, and that's sort of my background. So it's a cool—a lot of things coming together.
Tucker, where and when did you first feel that influence and want to play that style?
Halpern: I went to college to play basketball and got sick and then got really into music when I left school for a year. I was sort of in bed and taught myself to make music and then, basically, the next couple years I started falling in love with European house music and really getting into dance music and starting to DJ.
Where do you two want to take Sofi Tukker from here? What's the next plateau with your sound?
Halpern: Hopefully no plateaus, ever. … We just keep growing as artists and as producers and as songwriters and as people, socially and in all the ways. I think the music is growing with our growth as human beings. We're just trying to stay authentic to what we feel and what's going on in our lives.
A lot of your artwork and videos feature animals so far and, of course, the name of the EP is Soft Animals. Do you feel a strong connection to nature? Or is there more of a playful intention?
Hawley-Weld: I feel like what we really want with our music or what would be best case scenario is if people feel free and fun and themselves. I feel like that's something that nature does and gives to people is that feeling of joy and freedom and connection. So, there's that. That's kind of more abstract.
Halpern: The Mary Oliver poem.
Hawley-Weld: Right, the reason that we named our EP Soft Animals is after this poem by Mary Oliver. The line that inspired the title is "You do not have to be good. … You only have to let the soft animal of your body love what it loves." So it's this idea that we don't have to measure ourselves and our value by whether it's good or not, we have to measure it by how it feels, us being animals and being in this state of feeling as the measure of our value—
Halpern: Well, we are all animals. We're instinctive animals. We're just trying to follow our authentic instincts.
Hawley-Weld: Right, just sort of us following our instinctual, impulsive, sensual selves, especially having just graduated and been in my rational mind for a long time, it's something that's really freeing.
Follow Nick DeCicco at Twitter.com/ndeciccodr and Facebook.com/nickdjournalist.