Q&A: The Sounds' guitarist won't wait in airport lines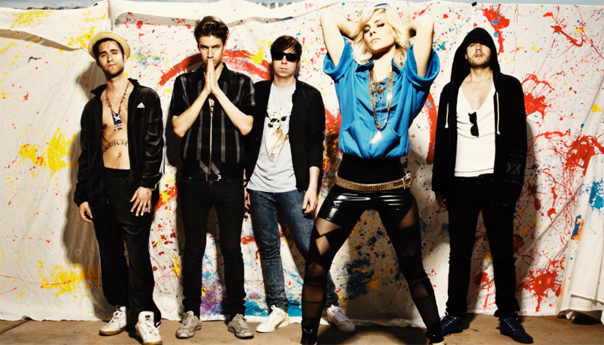 I had a quick chat with Jesper Anderberg of Sweden's The Sounds Monday. The quintet has a new album out in two weeks ("Weekend") and are in the middle of a quick run of shows in the U.S. before a lengthy European tour. Read my story here, and The Sounds perform at the Fillmore Monday. Here are the "extras" that didn't make it into the story.
I read your Tweet that you almost missed your flight from Sweden to New York. What happened?
The perfect flight for me is when they call your name because that's when you know that you haven't been waiting in line. I have this hiccup; my girlfriend hates it. That's usually my problem. This time, we were sitting around and eating, and we had 45 minutes left, and then after a while, they said that the door was closing, and we had to run. It's kind of stupid. They say the flight leaves at 6, but the doors close at 5:30.
So you would have been stuck back at home (and missed the first show of the tour, in New York), right?
Yeah, me and a few other guys. That would have been a bad thing.
You're only playing a handful of U.S. dates before going back overseas for a longer tour. What's the reason for this approach?
We come here before the release and play a few small shows and promotion shows for hardcore fans. We haven't been here in a while, so we thought it would be a good idea. They we'll do a U.S. tour in the late winter or early spring. Probably about five or six weeks.
Were there any songs that you wrote and recorded that you chose not to use because it's too similar to the work on your previous albums?
Yeah. We had four songs we didn't take on for this album. At least one of these songs I felt was a little bit more like the last album, and the other guys agreed. One didn't turn out so good in the recording, and one song will maybe be on the next album instead.
Anything you'd like to do in San Francisco next week if you have more than a couple of hours?
Usually we come back to the same cafes every time. There's a great café close to the Fillmore that we always go to around where the Fillmore is, next to the Marc Jacob store that we're definitely going to visit. We'll go to Haight Street.
Follow Roman Gokhman at Twitter.com/RomiTheWriter.